Nothing is more confusing/infuriating to people over than 30 than Danielle Bergoli aka the "Cash me Ousside" girl. Bergoli rocketed to fame when she appeared on The Dr. Phil Show during a segment called "I Want To Give Up My Car-Stealing, Knife-Wielding, Twerking, 13-Year-Old Daughter Who Tried To Frame Me For A Crime." During the taping Bergoli got tired of the "Hoes" in the audience laughing at her and exclaimed "Cash me ousside! How bow dah?" Translation: Catch me outside! How about that? Meaning she was challenging them to a fight. If you missed it, here's the original clip, with Bergoli's famous quote coming in around the 3:20 mark.
Now she's famous for, well, basically just being a dick. Here's a video of her trashing a bunch of celebrities. It's from about a week ago and has almost 3 million views.
According to TMZ, she's now getting $30-40,000 to make "personal appearances," might soon have her own TV show, and is currently suing Walmart over these t-shirts which, to be fair, are total bullshit.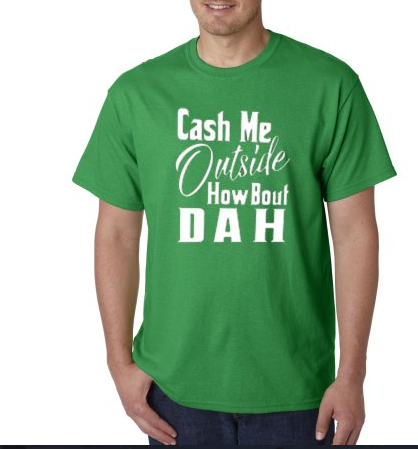 But how did the Princess of Mean fare when she ran into the King of Mean, Mr. David Spade? Spade made no effort to spare the 14-year-old's feeling when he posted a picture to Instagram with the caption: "How bow dis. ( @bhadbhabie is slightly underwhelmed to meet me 😒). Unfortunately, she stopped being famous 5 minutes before this was taken."
https://www.instagram.com/p/BTzinFLBVoH
Bergoli had no problem snapping right back though by saying she thought Spade was a waiter.
https://www.instagram.com/p/BT1yPI3gw3a/?taken-by=bhadbhabie
What makes her burn trump Spade's is that what she said was probably true. She's also not great at identifying celebrities.
H/T NY Mag