Often, when a star athlete leaves the team that loves him, he takes out an ad in the local paper to thank fans.
The Cleveland Browns' Josh Cribbs posted a farewell Instagram.
"I proved I would die for this," reads Cribbs's goodbye, captioned over a series of images of him playing and off the field.
"It's been a blessing to be in Cleveland, wishing the best to the city & the Team. If I could stay I would," he added.
Cribbs, formerly a standout player at nearby Kent State, was often the brightest spot on the usually-awful Browns, even though he only made a mark as a return specialist. He's also a prolific instagrammer, filling his feed with everything from cartoons to pictures of his kids to heavily-filtered images of himself with celebrities like Betty White.
A free agent, Cribbs is expected to sign with the Arizona Cardinals. He hasn't confirmed that on his usually-outspoken Twitter account, though. Instead, he's just tweeted a sad goodbye.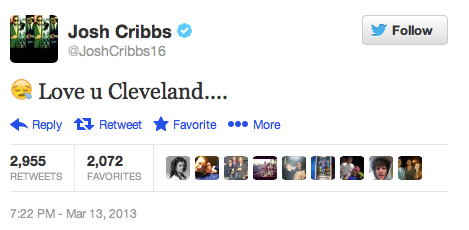 Photo via joshcribbs16/Instagram