by BEN BRANSTETTER
The UK is not banning online porn. I know you've probably been hearing about the British nanny state working overtime to scrape every side-boob off your screen, but that's not quite what's going on. Yes, the British Prime Minister David Cameron did announce a forthcoming program to enforce pornography limits through ISPs, but this does not constitute a "porn ban."
Here's why it's not. First of all, any British citizen can opt out of the program. That's a biggie. Second, Cameron backpedalled on the issue of what will officially constitute porn.
"The ISPs themselves are going to design what is automatically blocked," he told the BBC. "But the assumption is they will start with blocking pornographic sites and also perhaps self-harming sites."
Indeed, Cameron has kept the details of the ban noticeably vague. He says he doesn't "believe" erotica would be removed, nor did he inspire much confidence by admitting, "I'm not saying we've thought of everything."  In fact, without mentioning what will be defined as porn, how easy such a firewall will be to pass, or what this will mean for the UK's burgeoning porn market (Britain is the fastest growing market for online porn, according to Nielsen NetRatings), I'd be surprised if Mr. Cameron had thought of anything.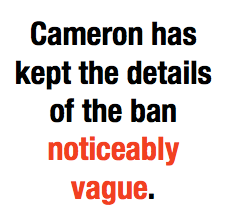 But let's take a step back and consider the intention here. Even as a voluntary program, this is the single largest proposal to regulate the Internet by a Western government. Fencing in the wild west of online content has been the dream of many a record label, congressman, or even a worried mother. Recent years has seen the Internet ready to defend itself in the face of laws like SOPA and CISPA, be it in massive lobbying efforts by powerhouses Google and Facebook or more conceptual "blackouts" by sites major sites.
Yet the industry of porn, online and off, is in fact becoming more and more constrained. Last year, voters passed a law in California mandating that porn stars use protection. Shortly after unveiling Google Glass, the search giant promised porn would be banned on the product upon wide release (though not very successfully). Tumblr attempted to quietly shut down its burgeoning porn culture, but the move was met with massive user backlash. Even porn's distant, apple-cheeked cousin profanity is in the moral crosshairs, with Russia's State Duma currently considering a law to ban the use of swear words online.
***
While governments the world over attempt to regulate the Internet—which is a worldwide medium unrestricted by geography—they way they do radio and TV, we should remember that the Internet comes with a built-in organizer. The Internet Corporation For Assigned Names and Numbers, or ICANN, is the California-centered body which governs, distributes, and regulates the sell of domain names worldwide. We rarely think of domain names in an era where people are questioning the usefulness of URLs in the face of a growing app market, but ICANN is perhaps the single most powerful body which does have a strong say in how the Internet functions.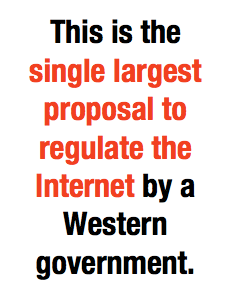 Prior to ICANN's founding in 1998, the registrar of Internet domains was handled by the US government itself. Since its founding, however, ICANN has overseen the largest growth sector of any economy on the globe, and with astonishing efficiency. Although many typical Internet users may assume search engines are responsible the organization of the chaos prevalent online in the 1990's, ICANN is the true building block of the structure that is the Internet.
In 2000, a small movement of parental groups began to encourage ICANN to develop a .xxx Top Level Domain (TLD), as in youporn.xxx. After proposals failed to pass ICANN's Board of Directors,  the International Foundation for Online Responsibility pressed on until the .xxx TLD reached its final approval in 2011.
Controversy swirled over .xxx, with porn industry fears of overregulation meeting moralistic fears of porn becoming too organized and too easy to find. Upon the opening of the registrar, Executive Vice President of the Free Speech Coalition Diane Duke stated,
"…They have disregarded overwhelming outpouring of opposition from the adult entertainment industry—the supposed sponsorship community—dismissing the interests of free speech on the Internet."
Just earlier this year, a case against ICANN brought by Manwin Licensing International (the corporate owner of YouPorn) was settled out of court after most of MLI's antitrust issues were dismissed by the court itself.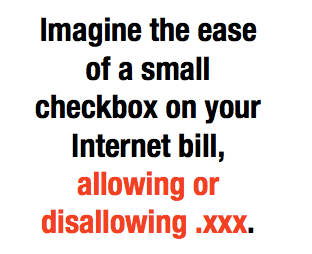 .xxx is rarely used today; Domain Name News conducted a study and found that, out of the top 1 million most visited sites on the web, only 61 use the .xxx TLD. So a mandate for porn websites would require a massive overhaul of the digital structure of the Internet and could get very, very expensive. And it's true that a mandatory .xxx registration for porn sites would enable governments like the UK to more easily ban porn. A restriction on an entire TLD is a far more efficient system of banning then the vagaries of what the UK (as well as millions of parents and workplaces) proposes, which is an ISP-built list of websites or error-ridden content detection systems.
But perhaps there is a third way out. In the same way strip clubs, sex shops, and brothels are (either legally or de facto) regaled to the "red light districts" of major cities, perhaps there's a way in which .xxx would be good for porn, porn customers, and the children.
***
The major issue at hand in regulating porn online is child porn. The current system of capturing child pornography and its creators, possessors, and traffickers is rather inefficient—not much better than putting a cop on the street to capture what goes on behind closed doors. "Bait" files sent through P2P sites, which contain tracking cookies to locate the downloader, are helpful, as are viruses sent through spam or cache files. Enforcing a mandatory .xxx registry for all pornography, however, would allow law enforcement to better set up stings for this type of lewd and very dangerous content.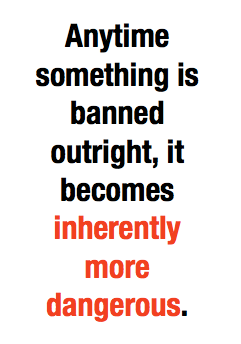 Anytime something is banned outright, it becomes inherently more dangerous. Pornography is a very heavily regulated industry for this purpose. Prostitution, when legalized under the right laws, can be a productive and safe profession for those who choose it. By forcing it into a blackout, we enable the likelihood of child porn, sex slavery, and human trafficking. The idea behind regulation is the same drive towards "clean needle" clinics in heroin-heavy towns like San Francisco or Toronto: when you bring bad behavior out in the open, it actually makes it far safer. There is a real fear that David Cameron's across-the-board ban—even if it remains optional—will drive online pornography underground, making it an inherently more criminal and less safe place for workers and viewers. The .xxx TLD would allow the UK or any other country to both have their porn and ban it, too. Imagine the ease of a small checkbox on your Internet bill, allowing or disallowing .xxx.
Even if we resurrect the idea of the .xxx domain, though, the next problem we'd encounter is one Mr. Cameron was running into head on: What, exactly, is porn? Is it only images of people having sex? What about foot fetish videos? The infamous 2 Girls 1 Cup includes no sex (caveat: I was never able to finish watching it and may very well be wrong), but surely would be the sort of thing Cameron wants covered in his ban. What about sites like DeviantArt and Wikimedia which carry a heavy mixture of content both pornographic and not? What about drawings of naked people? Will UK art students looking to do a report on the Venus de Milo be out of luck? Will you be able to see Kate Winslet laid out, like one of Jack's French girls, in Titanic on Amazon Prime? How do we decide what to force into the .xxx alleyways?
The .xxx TLD is not a cure-all for regulating porn—because there is no cure-all for regulating porn. Attempting to outlaw anything with pornographic qualities is a bit like trying to outlaw anything that could alter your mental state. The definition is too vague and likely always will be. If Cameron and other world leaders are serious about lassoing the last steer on the last frontier, a TLD regulation would be their best bet. Even so, wankers of the UK can take a deep breath of relief. No matter what system the UK develops, you can rest assured the Internet will find a way.  
Ben Branstetter is a writer and blogger living in Central Pennsylvania. He attended the Milton Hershey School and studied Secondary Education at Penn State University. His work has been published in Thought Catalog, yhe Useless Critic, God of Lamb, and he has appeared on HuffPo Live. He can be reached at www.benbranstetter.com and found on Twitter @BenBranstetter.
Photo by Bruce Tuten/Flickr