In one corner, a former English boxing champ. In the other, a troll who didn't expect his target to track him down.
When @jimmyob88 taunted boxer Curtis Woodhouse on Twitter for losing his title, he used fighting words to call the pugilist a "complete disgrace".
Woodhouse, 32, didn't take kindly to @jimmyob88's (now-deleted) remarks after he lost his English light-welterweight title on points. He offered his Twitter followers a cash reward if they could help him track down the loudmouth, and appeared to get as far as the troll's street. Except he might not have even left the house.
The boxer claimed to travel to South Yorkshire, England, with a plan to give the troll "a right pasting." He tweeted a photo of the street sign of the road where @jimmyob88 apparently lives.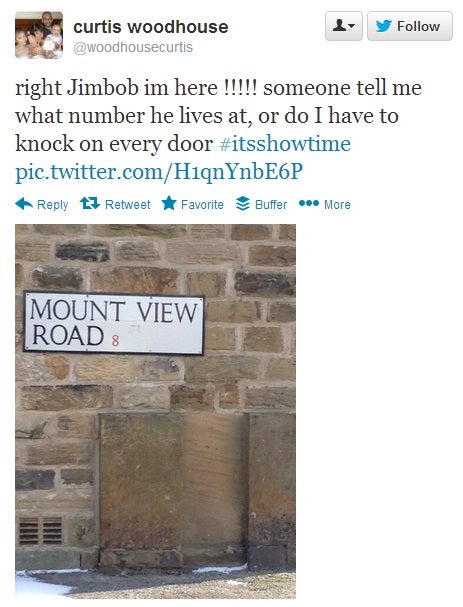 The troll quickly begged off, calling the insults "harmless fun" and apologizing for his attacks.
Sensing that he wasn't likely to get his gloved hands on @jimmyob88, Woodhouse apparently soon left for home.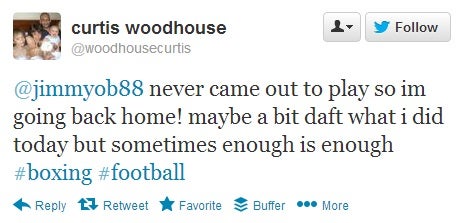 Woodhouse, a former pro soccer player, then seemed to see the light side of the feud, noting that he found out about Twitter's block function just too late to save money on gas from the car ride.
There's one inconsistency in Woodhouse's story, however. The tweets that he sent while apparently on the road were posted from Twitter's website—meaning he sent them from a computer and not a phone.
While it's entirely conceivable that Woodhouse could have tweeted from a laptop tethered to a phone, we have to wonder if he was sitting at home the entire time, getting his own back on the troll from the comfort of his living room. As far as the street sign photo goes, perhaps Woodhouse's source passed it along.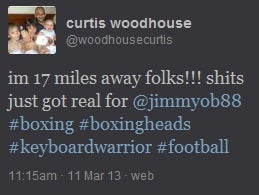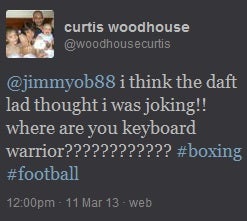 Regardless of whether Woodhouse actually took to the road, it was still an effective way to shut up at least one of his critics. Now, who'll step into the ring for round 2?
Photo via WOODDDDDDDYAFIST12/YouTube