Reports of the bomb explosions at the Boston Marathon finish line have been on the Internet for little more than an hour, and already people are starting to use the disaster as a way to pick up Twitter followers.
One account likely tied to the soulless scam is the @_BostonMarathon handle, which touts itself as "the unofficial twitter account of the Boston Marathon, the word's most prestigious road race."
The account is claiming that it will donate $1 to victims of the Boston Marathon bomb explosion for every retweet it receives. That tweet, sent shortly before 3:30pm ET, has already racked up more than 65,000 retweets. 
The account has posted five tweets so far, two of which have since been deleted. The first one the account holder deleted claimed that the account was represented by "a company out of Boston" and that "all money will be donated with proof thereafter."
The second deletion is the most recent tweet in the screenshot below, the one about how @JoeFrank_Q is the owner of the account.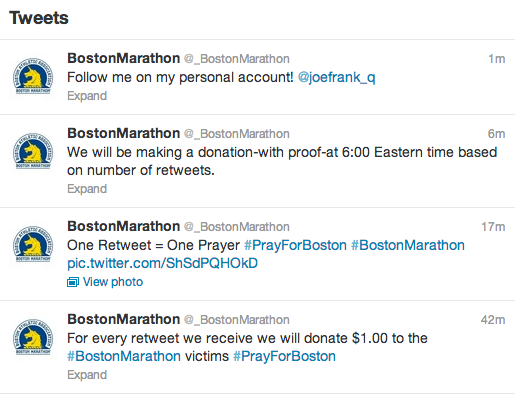 That claim's likely not true. Just a minute before it posted, @JoeFrank_Q sent a tweet directly to @_BostonMarathon that read "stop making fake accounts that use terrible events just so you can get retweets you fucking douchebag."
Also likely not true: the claim that this account will donate any money to Boston Marathon victims. Whoever's behind the account wouldn't respond to the Daily Dot's request for comment, and neither would the two individuals the account follows: an Ontario, Canada, teenager named Jake Collier and a boy named Dan who tweets under the handle of @sceneaubergine.
By 4:30pm ET, the account was suspended by Twitter. 
Photo via KUTV2News/Twitter