New York's stone-faced billionaire mayor will be leaving office soon. Why not immortalize his reign with a painting fit for royalty? For a mere $1,200, you can own a piece of history—and all you have to do is respond to this Craigslist ad.
Polish painter Ismena Halkiewicz put together this fine specimen in 2008 just before Bloomberg won his third term as mayor of America's most populous city.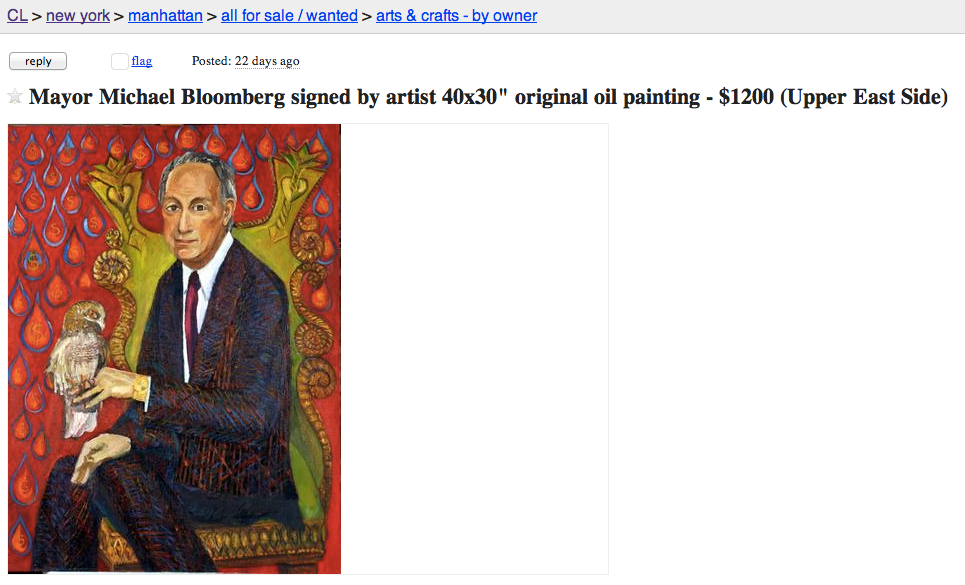 "Attention should be paid to the detail in texture in the suit," writes the seller. "The owl represents wisdom and the ability to see things that are hidden, stealth, swiftness, darkness, freedom."
Well, duh. And the blood drops with dollar signs that make up the piece's background need little explanation.
If this somehow doesn't sell for $1,200, the price is negotiable. So, yes, you can pay $1,300 if you wish.
New York, I love you, but you're freaking me out.
H/T @justinjm1