Hey there, whatcha watching on your BlackBerry Z10 phone over there?
Everybody knows it's porn.
According to a discovery posted onto BlackBerry discussion forum Crackberry.com, your phone may be telling your BBM contacts what it is you're listening to or watching—even if that "watching" involves some really hardcore porn.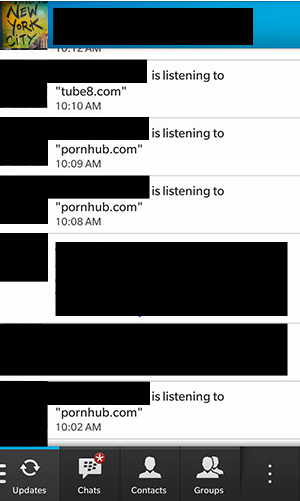 "Be very careful," one thread reader noted. "Another reason to turn off the 'show what I'm listening to' feature," added another.
So what exactly's going on?
According to Motherboard, the situation stems from Blackberry Messenger's built-in capability to record any activity to the phone's media player and push reports of that activity to your friends and contacts.
Think of it like the Facebook News Feed, or Spotfiy's Activity stream. You do something—it gets projected.
The lesson? Watch your porn somewhere else.
You can also turn your history tracking off (Settings > "Show What I'm Listening To" > Off), but come on. That's sort of like going out for dinner and stepping away from the table when everybody decides to play credit card roulette.
Photo via Jenna Jameson/Facebook