It is time for Movember 2012 to come to a close.
Since its debut in Adelaide, South Australia, in 2004, men around the world have grown mustaches each November to raise money for charities funding men's health issues such as prostate and testicular cancer. This year, "Mo Bros" raised close to $95 million worldwide.
According to the official leaderboards, the country that raised the most amount of money in 2012 was Canada, with over $31 million. Team Mo CIBC from Canada was the top-earning team, bringing in over $250,000.
In the United States, over $15 million was raised for Movember, ranking it fourth behind Canada, the United Kingdom, and Australia. Team Nuclear has achieved the coveted first-place team spot with close to $160,000 raised. A fund set up in the name of the late Benjamin Weible held the first-place ranking for an individual, with over $23,000 in donations.
Movember kicked off with an official endorsement from Nick Offerman, best known for his role as Ron Swanson in the NBC comedy series Parks and Recreation. Roughly a week before Movember's Nov. 1 kickoff, he released a video teaching participants how to grow the perfect mustache.
Midway through the month, Offerman released a second video, promising participants, "Your Mo will get fuller."
Offerman wasn't the event's only celebrity endorser this year. Homeland actor Damian Lewis kept fans updated on the progress of his 'stache throughout the month. Additionally, in an interview with Movember.com, mustachioed comic book icon Stan Lee revealed that he will help judge the Moscars, which awards prizes to the most creative Movember-related videos.
An antifeminist campaign early in November, in which users on Twitter and other sites declared Movember as a "males-only event," did not discourage women from participating. While "Mo Sistas" are encouraged to support their male counterparts, some women feel this isn't enough. Some spent Movember wearing fake moustaches. Others, like redditor AhriFox, grew out their pubic hair (NSFW). Still others, like U.K. participant Siobhain Fletcher, grew actual facial hair.
On Reddit, the 600+ subscribers of r/movember have spent the month keeping one another updated with pictures and challenges. Redditor John Burnside, a three-time Movember participant, earned over 1,000 upvotes with his unique moustache/chest hair combo.

Photo via Burnsidious/imgur
"I may have taken Movember a little too far," he wrote.
"I had a beard that I shaved off on the first of November," Burnside told the Daily Dot. "I was actually thinking about trying to shave down to a Batman symbol for the last day."
Should he opt for the hairy artwork, he has competition in the form of fellow redditor msamard: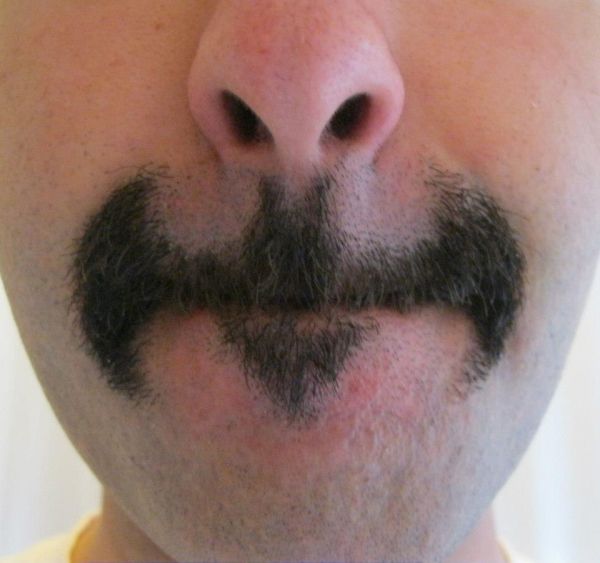 Photo via msamard/imgur
The Movember movement wasn't limited to just people. Cupcakes donned 'staches in support of the cause, and Gameloft's The Oregon Trail: Settler game featured an option to customize characters with Movember 'dos. Even London's Big Ben got in on the action this year: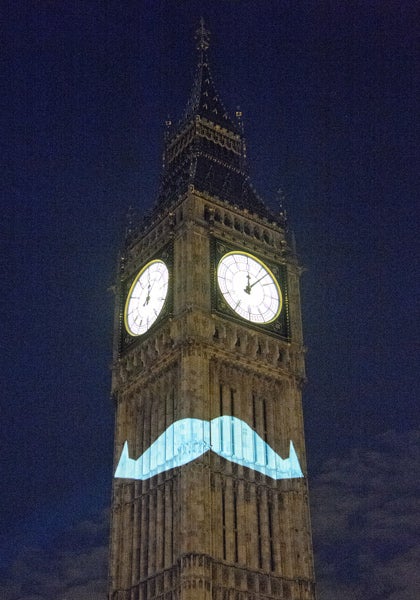 Photo via Movember
As participants and supporters nationwide welcome December with Gala Partés all over the country, we present you with six memorable moments from Movember 2012:
Movember kicks off with participants ringing the New York Stock Exchange's opening bell on Nov. 1. Fun fact: That day, Proctor & Gamble, which owns the Gillette brand of razors, saw a nine-cent increase in its stock price.
User Jason Kent, upon reaching a $500 fundraising goal, accepts Nick Offerman's challenge of eating a raw onion.
NHL players may be locked out of hockey, but that doesn't stop them from participating in Movember. Here, Toronto Maple Leafs forward Mike Brown shaves off his massive beard for Movember.
No wonder Canada raised more money than any other country during Movember: Awareness of the cause is even discussed in government! Here, Len Webber, a member of the Legislative Assembly of Alberta (representing Calgary-Foothills) speaks about the popularity of the moustache.
User cocoreysa creates a slideshow of his Minecraft character Steve tackling Movember.
Derick Watts and the Sunday Blues, a comedy/pop duo from Cape Town, South Africa, commemorate Movember in a parody of "Call Me Maybe."
Photo via marktristan/Flickr