I thought a story about a flatulent deer would be the best thing in my news feed this week, but I was wrong. Farts are so hot right now. Farts are basically the new black. 
On Thursday, HuffPost Weird News gave us this gem:

Isn't nature beautiful?

A video originally uploaded to YouTube in 2011 is making a big comeback on Reddit. Why? Because farts are hilarious and witnessing a deer fart is like seeing a unicorn.

A beautiful, majestic, disgusting unicorn.

While the fart looks real, there's a large possibility the actual noise has been dubbed over. But that doesn't stop it from being the best thing we've seen all day.
A farting deer who doesn't think anybody's watching: It's a beautiful little story. Surely we all can empathize with that deer. 
The fart beat got even more explosive Monday. We saw not one, not two, but three major gas articles go viral.
The first: BroBible's lovely "Ohio Craigslist Missed Connections Ad: 'You Ripped the Nastiest Fart in the Taco Bell,'" complete with a photo of a Doritos Locos Taco. An excerpt:
Here's a fetish you don't see everyday. Hell, here's a fetish I'm kind of jealous of. If you've ever lived in a one-bedroom, one-bath apartment with your significant other, then you know what the fuck I'm talking about.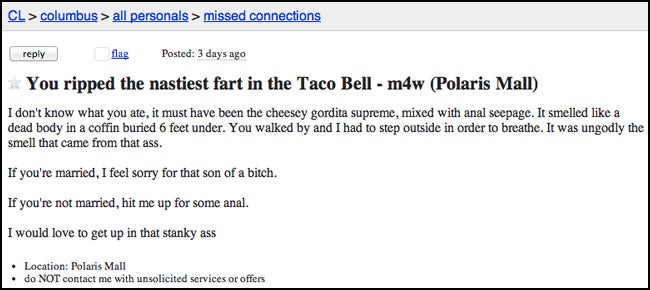 Uproxx had an equally riveting headline: "This Craigslist Ad About a Disgusting Fart Doubles as the Most Romantic Story in Taco Bell History."
Then Gawker hit us with a sob story about an opera singer who had surgery and couldn't stop breaking wind. It got so bad, she lost her job.

Amy Herbst, who has performed at the Nashville Opera Company, filed suit against Fort Campbell's Blanchfield Army Community Hospital earlier this month, claiming that the episiotomy she received during child birth last February caused her to lose control of her flatulence and, on occasion, bowel movements.
Finally, this too-good-to-be-true scooplet, via Reuters's Berlin-based cow reporters: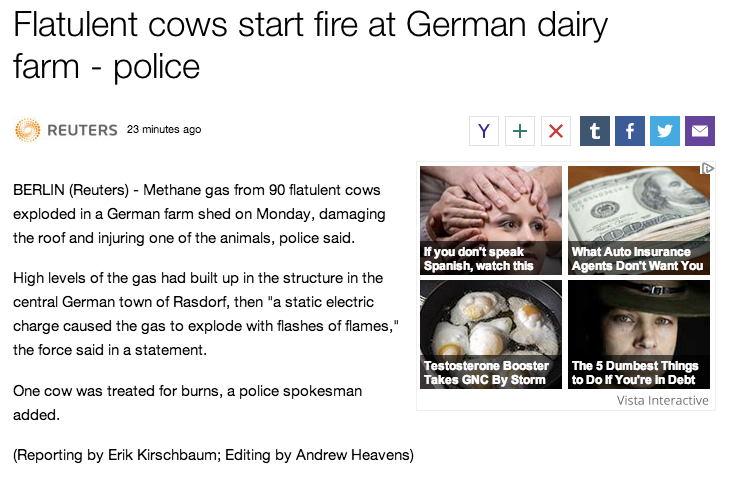 Poor bovines. 
It's a truly historic day. Despite this uptick in toot-related coverage, Google Trends reveals that online news reached peak fart in January 2004, but several other stories have caused spikes in traffic. 
In March 2013, Jim Carrey announced that Fox News would be remembered as "nothing more than a giant culture fart." In November 2008, Britney Spears, then 27, told Good Morning America that she feels "like an old fart." So while there's plenty of brou-haha over breaking wind this week, it is shockingly not the most we as a people have been captivated by this particular bodily function. 
But don't lose faith in humanity and media just yet. Headlines about the riots in Ukraine absolutely dwarfed anything flatulence-related. 
Photo via dblue/Flickr