The harrowing scenes of a burgeoning revolution are frequently softened by the muted and dispassionate language used by the major newswire services. But in the age of social media, activists and bloggers in the midst of ongoing riots in the Ukrainian capital of Kiev are painting vivid portraits of a city burning and a movement unsure of its own way forward.
One such blogger from outside Kiev was compelled to travel to the capital last week after hearing about the sudden outbreak of violence between anti-government demonstrators and the Berkut (Ukraine's secret police force). Ilya Varlamov spent two days in Kiev and generated a dramatic account of the events unfolding in that city on his LiveJournal page. He disputes some of the generalizations that have been made about the insurrection and gives a detailed rendering of what life is like for those fighting in the snowy, fiery streets.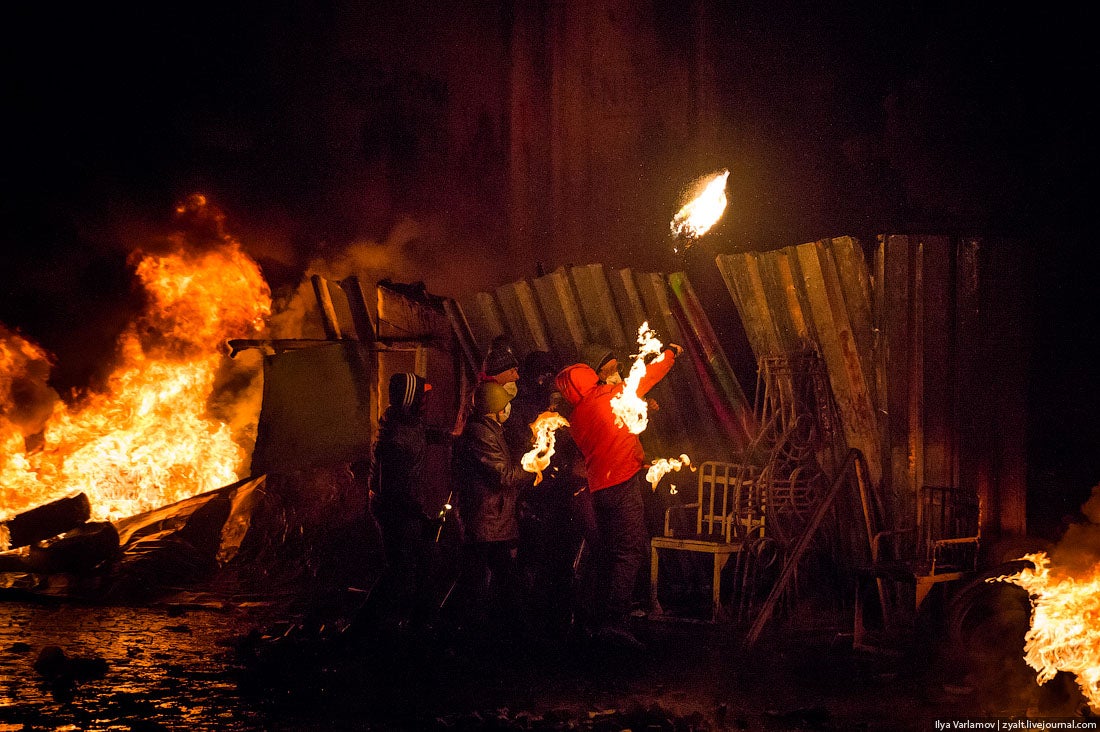 "I came to Kiev. I came to see for myself what is happening here," Varlamov writes. "Of course, an hour after arriving at Maidan [Kiev's Independence Square], you begin to understand that everything what you've read in dozens of articles, saw in TV news reports is total crap."
Varlamov arrived in the city Wednesday. By that point, protesters had already been clashing with riot police for nearly three days in open rebellion. Though protesters have been assembled in Kiev's government district since late November, things turned violent after President Viktor Yanukovich enacted anti-protest legislation that could see demonstrators imprisoned for up to 15 years. Rather than obey the directive and disperse, protesters openly defied the new law with intensity.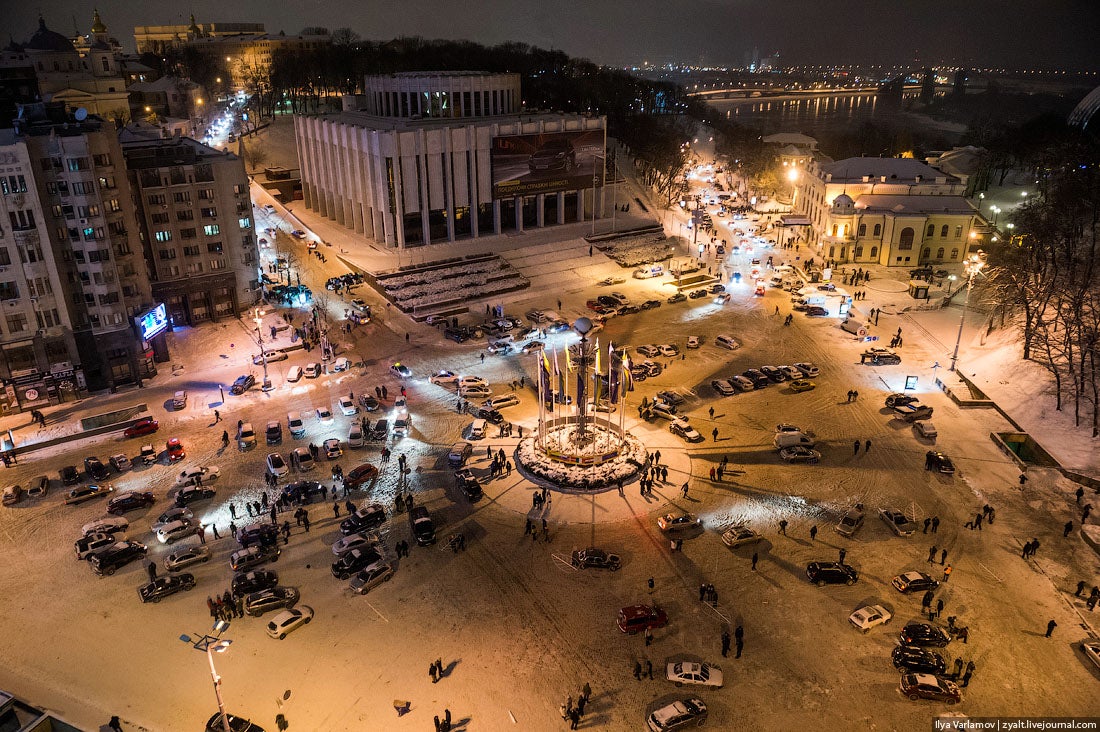 By the time Varlamov arrived in the city and checked into the Dnepr Hotel near European Square (an area he describes as the rear base of operations for the opposition forces), violence had reached a fever pitch. By the end of that day, several protesters would be dead as Berkut lobbed stun grenades, fired bullets, sprayed water, and launched tear gas over a flaming barricade constructed out of old tires by the protestors. In kind, the opposition forces responded with Molotov cocktails, rocks, and catapults.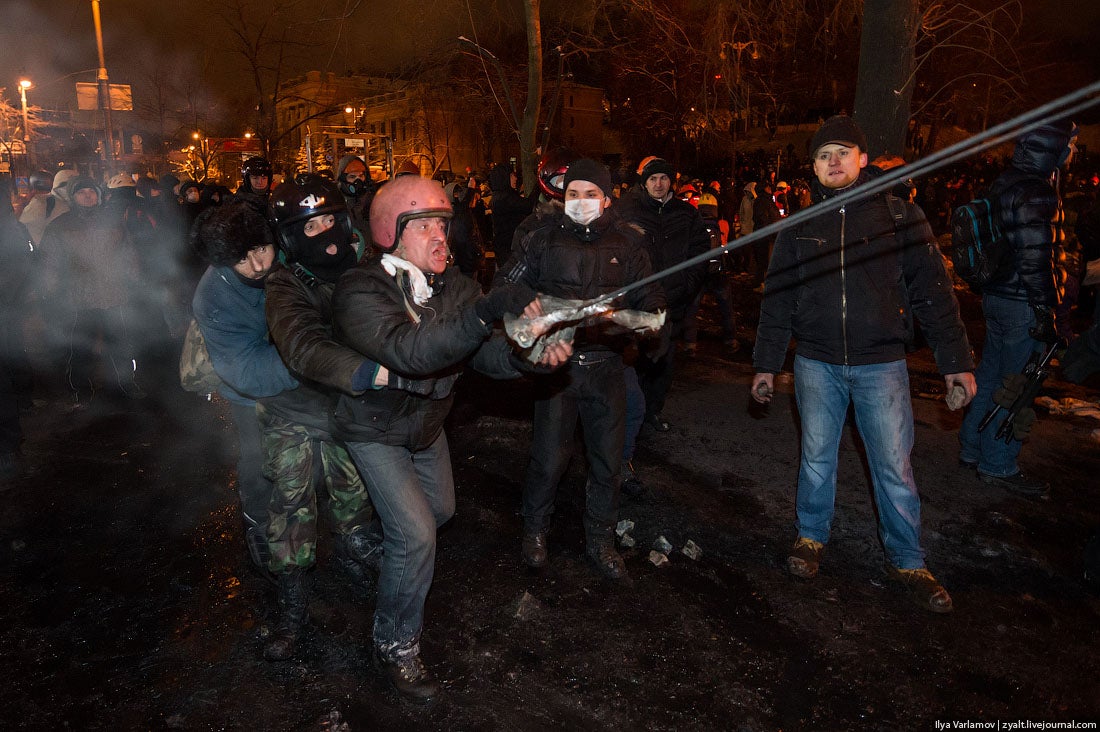 Varlamov described the haphazard nature of the opposition's organization. Supporters of the populist rebellion have brought in many supplies. But still, Varlamov describes a situation in which glass bottles for the rebellion's weapon of choice—Molotov cocktails—are in dwindling supply. 
On the day he arrived, Varlamov said the protesters had scored a lucky break in that wind was blowing the smoke of the burning barricades toward the Berkut and away from themselves. But the well-armored and better-trained government forces were still capable of carrying out swift and brutal retaliation.
"The assault is always sudden and everyone fear its," Varlamov writes. "This morning Berkut has already shown that if the need be they can scatter everyone in five minutes."
By Varlamov's second day in the city, Thursday, a cease-fire had been declared so that Yanukovich could meet with two of the opposition's leaders. In the photo-rich LiveJournal account, Varlamov's images turn from frenzied chaos to uneasy calm. Many of the photos show protesters using the time to reinforce barricades and tend to the wounded. Some merely sit and wait.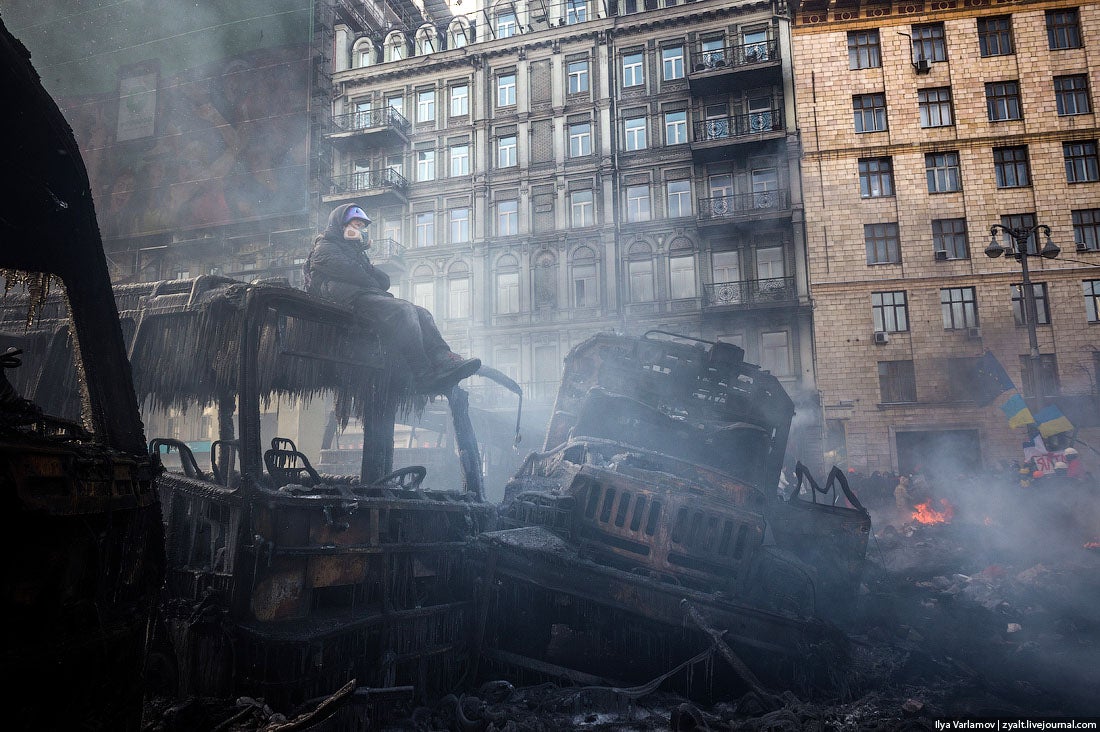 Ultimately, negotiations between the president and opposition leaders fell through, and hostilities resumed. Demonstrations continued through the weekend, including a solemn march following the funeral of Mikhail Zhiznevsky, 25, who was killed Wednesday.
Varlamov recently translated his LiveJournal post to English in order to spread what he deems a more accurate description of the events taking place in the Ukrainian capital. One of the biggest misconceptions, he said, is that the demonstrations are a purely anti-Russian movement. 
It's been widely reported in Western media that demonstrations began in late November after Yanukovich eschewed an economic deal with the European Union in favor of a stronger bond to Russia. And all though this did stir up some minor protests, it wasn't until Berkut violently disbanded a peaceful student demonstration that many more protesters streamed into the city, broadly speaking out against Yanukovich's entire administration. 
Though he was, by most accounts, democratically elected, Yanukovuch has angered many in his country with charges of corruption, a crackdown on free speech, and a consolidation of government power under his control, according to Ukrainian journalist Taras Ilkiv.
It's a narrative backed by Varlamov's account. Though he describes a great deal of disorganization in the movement's leadership structure and a fundamental disagreement on how the protesters should proceed (according to him, protesters are split on whether they should overthrow the current regime by force or appeal to the United Nations), there is one thing upon which all seem to agree.
"The only thing that is completely clear – people came out against Yanukovich," he writes.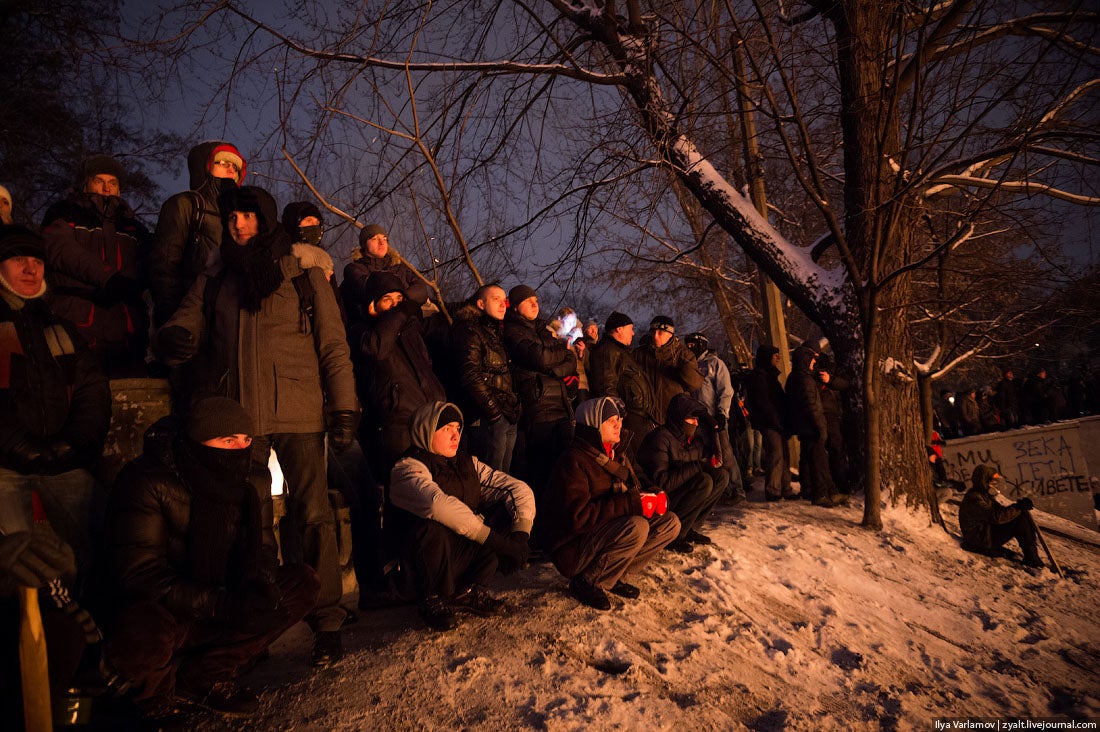 Though antiquated in the United States, Varlamov's social platform of choice, LiveJournal, has actually remained popular in the countries of the former Soviet Union, proving to be an invaluable tool for social reformers. For instance Alexei Navalny, a leading voice of political dissent against Vladimir Putin in Russia built his movement from LiveJournal. 
All photos by Ilya Varlamov/LiveJournal