Last weekend was a typical one for the police of Petoskey, Mich.: They did patrols, cuffed offenders, and arrested Batman.
"Batman," a.k.a. Mark Wayne Williams, is a Petoskey resident who refers to himself as a "citizen defender." He was arrested Saturday—again—while trying to assist police in conducting an investigation after a car accident.
Local news WPBN reported that Williams and his girlfriend, Brittany Scott, a.k.a. "Batgirl," conduct weekly "patrols" of the area around Petoskey while in costume. Scott announced the arrest on her Facebook shortly after it happened. "Batman got arrested last night. Obstruction of Justice apparently," she posted, leading commenters to make the inevitable jokes: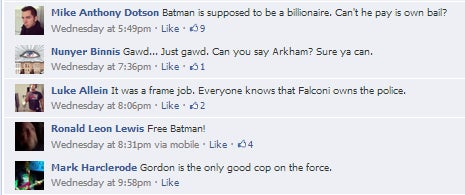 But the police weren't laughing when they arrested Petoskey's masked crusader for the second time in a year. The Petoskey Times reported Wednesday that Williams could be facing felony charges, after police arrested him for getting in the way of their search of a vehiclist who had fled on foot after a hit-and-run accident.
Williams was arrested 18 months ago for hanging off a building while dressed in a Batman suit and carrying potentially dangerous weapons—a "baton type striking weapon, a can of chemical irritant spray, and a pair of lead lined gloves," according to the Department of Safety's press release. For that offense, Williams received six months' probation—during which time he was forbidden from donning his trademark cowl. But when his time was up, he and Scott were at it again.
"Petoskey's own Batman saved my life when I was just thirteen years old," Scott wrote in her Facebook bio. "He was in my life for a short second and saved me, and then disappeared for over ten years. He then appeared again in my life when I needed him the most." She describes herself as a "Crime Preventer."
Williams, who describes himself as a "geek" on his Myspace profile, told WPBN that wearing the suit for his nightly patrols was symbolic. "[P]utting on a suit and everything…draws attention to what I'm doing and it's basically showing people that there is someone out there trying to make a difference."
Scott and Williams both implied they felt Williams was targeted because of his Batman persona. But Michigan State police stated that Williams' presence in the area "obstructed the security, search, and preparation" for a canine unit investigation."
In other words, Batman's scent screwed the pooch.
Though Williams got off easy last time, he could face a harsher penalty for his second offense—up to two years in prison. But no matter what the verdict of Williams' court date on Oct. 18, he'll still be a hero to the people of Gotham.
Er, make that Petoskey.