A life-size replica of Barbie's Malibu Dreamhouse is available to rent on Airbnb in no other than Malibu, California. For $60 a night, four guests can live out their childhood dreams IRL.
The listing is hosted by none other than Barbie herself.
"As a homeowner and entrepreneur, I am excited to be hosting my Dreamhouse for the first time on Airbnb," Barbie's listing reads. "I've traveled all over the world, but the Dreamhouse has always been my favorite place to call home. It's full of inspiration, like pictures of the 200+ careers I've had and the role models in my life, so I hope it inspires you to remember that you can be anything!"
Overlooking the Pacific Ocean, the house has bubble pink accents throughout the villa and, of course, a barbie-worthy walk-in closet. And as any Dreamhouse should, the mansion includes a tennis court, a movie theater, and a two-story waterslide that connects to the infinity pool.
"From her hobby room and personal cinema, to the infinity pool and outdoor meditation zone, every corner of the house reflects Barbie's lifetime as a role model to young women everywhere," an Airbnb press release reads.
Barbies Barbie Malibu Dreamhouse on Airbnb. pic.twitter.com/qrfnOiPvKh

— PetiteAnge (@PetiteAnge_) October 17, 2019
The Mattel (maker of Barbie) and Airbnb collaboration is devoted to the doll's 60th anniversary, according to Pop Sugar. Included in the stay is the chance to meet several friends from Barbie's squad who "will swing by to inspire and teach you new things."
"Learn how to fence with Ibtihaj Muhammad, create an exquisite meal in my fully stocked kitchen with chef Gina Clarke-Helm, get a makeover with hairstylists from Mane Addicts Creator Collective while meeting with celebrity hairstylist and girl boss Jen Atkin, and even take a trip to the Columbia Memorial Space Center with pilot and aerospace engineer Jill Meyers," the listing reads.
It is a girl gang, to say the least.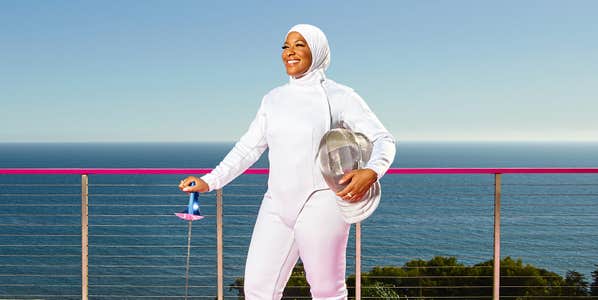 Unfortunately, only one group of four guests will get to live out their Barbie girl dreams because you can only book your one time, two-night stay from Oct. 27-29. The booking for the Dreamhouse opens on Oct. 23 at 11:00am PT.
READ MORE:
H/T Bustle