Who knew Auburn Head Coach Gus Malzahn could be even more nimble than his star quarterback Nick Marshall? Watch him get down in this video while dancing to MC Hammer's hit '90s song "U Can't Touch This."
In a 2009 article, AL.com hinted that this video existed, but it finally surfaced online on Sunday night when it was uploaded by a former student. The video, posted by YouTube user Remington Myers, dates from Malzahn's days as a high-school football coach in Arkansas:
I believe this video was made while he was head coach of Shiloh Christian High School, but I'm not completely certain. I have a copy of it on my 2001 Springdale High School Highlights DVD.
On Monday, during his weekly radio show, the coach confirmed that the video was filmed in 1996 while he was on a family vacation.
"I was out at Six Flags over Texas with my family and it's one of those booths over there," Malzahn explained. "You see people lip sync and all that. My girls, family said, 'Hey, do this!' No, no, I'm not doing it. Finally I had enough and I said, 'No, I'm going to do it.' So, I went in there and of course we got it done."
Malzahn said that starting in 1998, he would share the clip with the seniors at Shiloh Christian and then Springdale High School each year. "I would show that video to them to show them I'm a real person," Malzahn said.
When asked if his players at Auburn had said anything to him about the video, he replied, ""They haven't said anything to me yet, but I'm sure they've seen it."
Maybe they're just hoping that Coach Malzahn will show off some of those same moves during the team's next "Tiger Walk."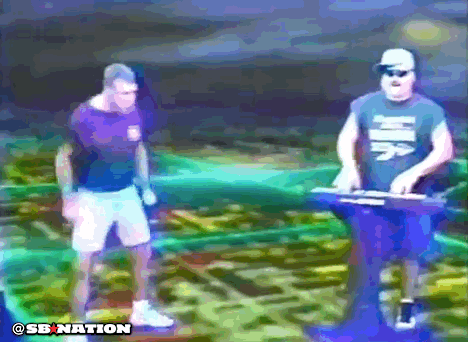 GIF via SBNation
Photo via Curtis Palmer/Flickr (CC BY 2.0)