Melissa Chadburn is a lover and a fighter, a union rep, a social arsonist, a writer, a lesbian, of color, smart, edgy and fun. Her work has appeared in Guernica, Salon, and the Rumpus, among others.  In Ask a freelancer, Chadburn fields questions about writing, the blogosphere, platform building, and all things scary. She don't presume to know everything but she knows people that know more things than her and if there's one thing she's learned it's that there's nothing to be gained from withholding information. Reach her at fictiongrrrl(at)gmail.com or follow her on Twitter. She loves your whole outfit right now.
Dear Freelancer,
         I'm new to writing and would like to break into freelance work. I have been given an opportunity to write a column for an online journal but they cannot afford to pay me. Should I work for free?
—Free Freelancer
***
Dear Free,
Wow, what an excellent question! One that I am often still faced with. Let's think back to why we do this writing thing in the first place. In Marge Piercy's poem, For the young who want to, Piercy says regarding writing: "You have to like it better than being loved."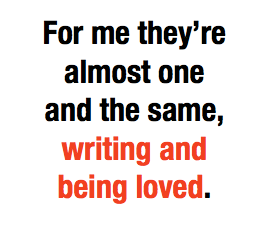 For me they're almost one and the same, writing and being loved. So maybe the question is would you go on a date with this project? Like would you go on a date with this project for the sake of a free meal even though it's kind of a drag? Would you go on a date with this project because it thrills you even if you may not get a meal out of it? Some of my best dates have been with raunchy muscled workers with no money and some of my worst—all-expense paid swanky surf and turfs.
The beginning of my writing life was the same as the beginning of my lying life. I was in the second grade and we were given a book report assignment. At the time I was reading Jackie Collins novels, and could not do a report on a book called The Bitch. So I made up an age-appropriate book with an age-appropriate theme. I called it Suzy Wins The Big Race. I went on to make up a half dozen more bootstrap-themed children's stories to report on. The main ingredient missing in these fictitious stories was the rampant bodice-ripping passion.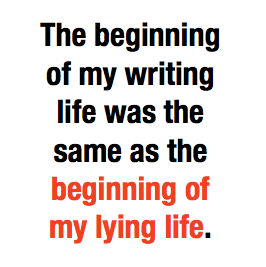 Some writing I've done for free has gotten featured on websites such as Longreads or Byliner which act as a curator of all online journals for avid readers but also agents and book editors. Once you have work featured on those sites people often approach you and solicit you for more work.
Sometimes I think I was put on this planet to get my heart broken. I fall in love a thousand times a day. It's an occupational hazard all this heart break, in every profession, except writing. Listen up! This is the most radical thing you'll hear all day: Let your heart break. This is the one place where you are entirely safe to let your heart split to smithereens. When faced with whether or not I choose to do a project I wonder first whether or not the project allows me to smash my heart on the page. If I do that well and honestly then it almost always breeds more work for me.
I used to have this bad habit. On the surface it would look like a habit of insecurity. I couldn't make some basic decisions so I'd go around taking a short survey on what I should wear, what I should order, who I should date, shit like that. Really what I was doing was not taking responsibility for my own choices. I was trying to pawn off responsibility on others. If we allow ourselves to be still enough we get the answer to most of our questions. There are some journals and some editors that are like my ace boon coon that I will do anything for and write anything for happily, so my personal answer to will I write for free? Is if it lets me be vulnerable and honest and love more then hell to the yea.
—Freelancer
Illustration: medieval writing desk, Wikimedia Commons; remix by Fernando Alfonso III