What is the Facebook profile of a suspected kidnapper and rapist like? Pretty boring, actually.
On Tuesday night, the New York Times' The Lede blog uncovered the social network profile of
Ariel Castro, the man suspected of kidnapping three women and keeping them locked up in the basement of his Cleveland, Ohio, home for more than a decade.
Castro's page, which is still currently online and visible to the public, was created on Feb. 18, 2013. It's not rife with clues that would have tipped people off about his horrific and criminal actions. Instead, Castro commented on his family.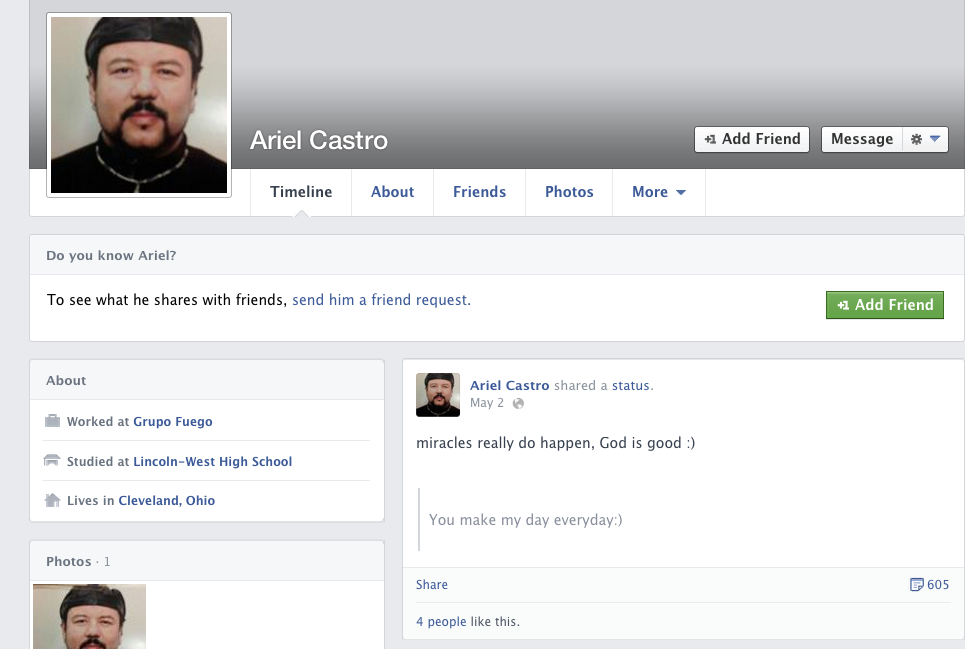 Screengrab via Facebook
In one post, he celebrated the birth of his newest grandchild.
"Congrats to my Rosie Arlene," he wrote on April 11.
"Wishing you a fast recovery. She gave birth to a wonderful baby boy. That makes me Gramps for the fifth time, (2boys 1 girl 2boys. Luv you guys!"
Castro also took to the social network to talk about motorcycles, a hobby of his first referenced by Charles Ramsey—the man credited for helping Amanda Berry, Gina DeJesus, and Michelle Knight escape—in his now-viral television interview with local ABC affiliate Newsnet5.
"That was a nice rumble that just passed in front of my house, makes me wanna jump and get out and ride! lol," Castro noted on May 1, just days prior to his arrest.
In terms of likes, the 52-year-old former school bus driver was a fan of salsa musician Rey Ruiz and of a type of dog called Chinese Cresteds.
When the New York Times reported on the profile, Castro had 41 friends. As of this writing, that tally is down to 38. Clearly three people felt uncomfortable being associated with a man accused of forcing one of his prisoners to miscarry a pregnancy by starving her for two weeks and then repeatedly punching her in the stomach.
Worthy of note is the fact that several of Castro's posts, particularly those that express optimism, have been shared hundreds of times since he was thrust into the national spotlight. But instead of paying tribute to Castro, like they did with the Aurora, Colo. shooter or the Boston bomber, Facebook commenters repudiate him.
Photo via Ariel Castro/Facebook