Swedish bloggers are learning something Americans have known for quite some time: American Apparel ads are sexist and objectify women.
On Tuesday, 24-year-old Emelie Eriksson wrote a piece on her blog "En Blommig Tekopp" lambasting the Los Angeles-based company for using sexualized images of women to promote their unisex clothing while showing fully-clothed men to push the same products.
Eriksson juxtaposes photographs of both men and women wearing the same shirt and inserts her own snarky commentary.
"No. I think I'll give this shirt a miss. Cos I kinda think I want to wear pants with it. I'll probably catch a kidney infection walking around with a bare ass like that before summer," she notes.
"Because it seems as though women can ONLY wear this shirt (ONLY) if they tie it to the front. But if I were a man, well I could have worn this shirt whilst hanging out with my friends, chilling, smoking. Crap. Oh well, I'll wait."
It's not just Eriksson who's offended. News outlet The Local confirmed with the Swedish Advertising Ombudsman that they had gotten multiple complaints over the ads. Unfortunately, because the images were posted on a site that doesn't use a Swedish .se domain, there's very little the government agency can do.
But just because the Swedish Advertising Ombudsman is powerless, it doesn't mean that others are taking this lying down. On Wednesday, online retailer byPM responded to the offensive images by posting one of their own, only this time around it's a man who has his derriere exposed.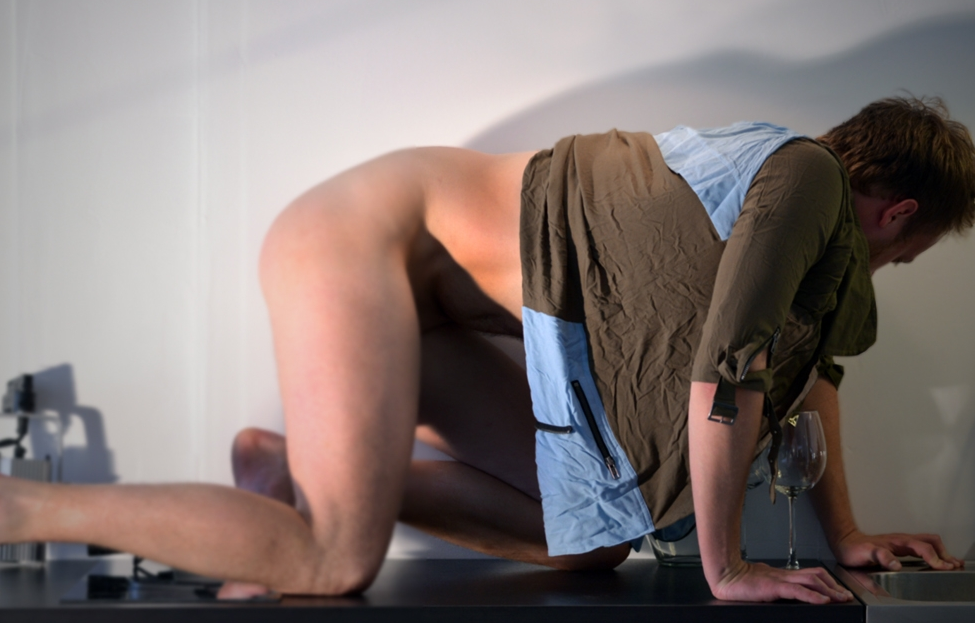 Photo via byPM
The model baring it all is Peter Lindqvist, byPM's founder and co-owner.
"We wanted to do something of our own and reverse gender roles to see what happens when a guy is in the same position," Lindqvist explained to Swedish newspaper Aftonbladet.
"We wanted to open people's eyes by turning things on their head. People don't think it's okay to see a naked man in the same way."
For its part, American Apparel is deflecting any criticism by claiming that bloggers are misunderstanding "artistic photography" for "product photography."
"We don't think there is anything in these pictures that deviates from the norm and we think they show our clothes and the models in an attractive way and aren't discriminating in the least," company representative—and professional media manipulator—Ryan Holiday told Aftonbladet.
Photo via Guilhem Vellut/Flickr