Whether intentionally or not, YouTube has given radio host Alex Jones and his conspiracy theory cohorts more ammunition for their latest claim.
On Tuesday morning, Jones wrote on his Facebook page that a month-old Family Guy episode foretold the tragic events that transpired during Monday's Boston Marathon. His post also included a YouTube video that showed the supposed link between the two.
The clip was originally uploaded to Prison Planet Live, an account belonging to a site owned and operated by Jones, but was eventually taken down from the video sharing site and replaced with the following notice: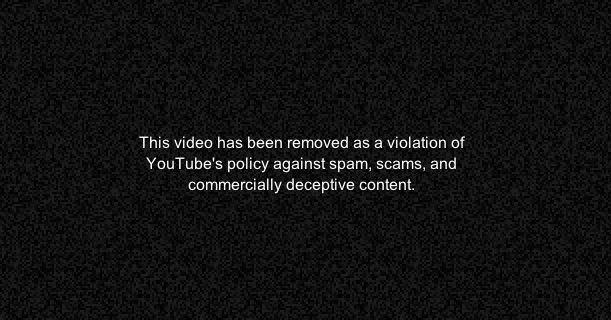 Photo via YouTube
Jones has only been emboldened by the takedown of the video, accusing YouTube of censorship on Twitter.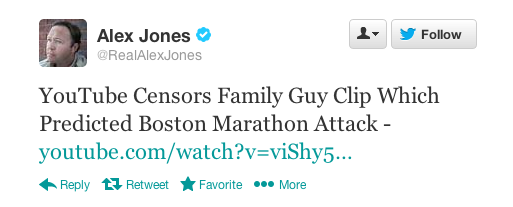 Also backing the dubious censorship claim is Paul Joseph Watson, writer and editor for Jones' InfoWars and Prison Planet.
"YouTube has now censored a commentary video which merely pointed out that a recently broadcast episode of Family Guy contained scenes eerily similar to those that unfolded during the Boston Marathon attack," he wrote in an update to a post he penned for InfoWars earlier today.  "YouTube deleted the video claiming it contained, 'spam,' 'scams' or 'commercially deceptive content,' when it contained none of these things. YouTube has also placed a strike against the host channel and threatened to delete it."
Watson also admitted that two separate clips from Family Guy had been edited together—in the actual episode, the bombs in question don't detonate at the marathon—but said that this didn't make his and Jones's assertions false.
He concludes his note in true InfoWars fashion, by alleging that this is yet another attempt to silence those who speak the truth.
"This underscores the fact that if they will censor a cartoon in the aftermath of a terrorist attack, they will censor anything—including your right to merely talk about it."
In addition to updating his post on InfoWars, Watson uploaded a follow-up video to YouTube:
YouTube hasn't exactly made it easier for the conspiracy trolls to go away. Instead of stating that the video was in violation of someone else's copyright—Fox owns the rights to Family Guy—the company used a different notice, one that contained two words—"scams" and "commercially deceptive content"—that do not appear anywhere on YouTube's community guidelines.
Also not helping is the fact that Fox announced that they were pulling "Turban Cowboy," the episode in question, from Fox.com and Hulu.com.
YouTube has yet to respond to the Daily Dot's request for comment.
Photo via Alex Jones/Facebook