Conspiracy theorist Alex Jones will share every crackpot idea that comes to his head regardless of how absurd it is.
The radio host took to his Facebook page on Tuesday to claim that a month-old Family Guy episode predicted yesterday's Boston Marathon tragedy.
"An episode of the popular show Family Guy which was first aired less than a month ago eerily predicted the Boston Marathon bombings," Jones wrote, "depicting the main character detonating two bombs in addition to winning the marathon by killing the rest of the participants."
The post was accompanied by a YouTube video that shows the aforementioned footage taken from the episode "Turban Cowboy," along with a voiceover saying that this proves the theory that yesterday's bombings were "pre-scripted."
The video—uploaded to the video platform by Prison Planet Live, a site owned and operated by Jones—also cites Illuminati, a 1999 card game, as proof that this is all a conspiracy.
The Facebook post was the second attempt by Jones to capitalize on this tragic event in order to push his deranged agenda. He also tweeted that the bombings were a "false flag."
To Jones's credit, "Turban Cowboy" does depict Peter Griffin detonating two remote bombs via a phone, and it does mention the Boston Marathon.
But his video is edited in a way that makes it seem like these two incidents happened in the order that Jones and his cohorts presented it. According to Wikipedia, Peter Griffin winning the Boston Marathon came in around the three-minute mark. The explosions were shown 15 minutes into the show.
Also, Family Guy is notorious for including several non sequiturs in each episode—the old "let's throw a bunch of crap against the wall and hope something sticks" approach—so this can't be anything but a coincidence.
But don't tell that the Alex Jones fans. In two hours, the ridiculous post has been reshared more than 1,800 times, has amassed 1,736 likes, and has received more than 700 comments, including this one: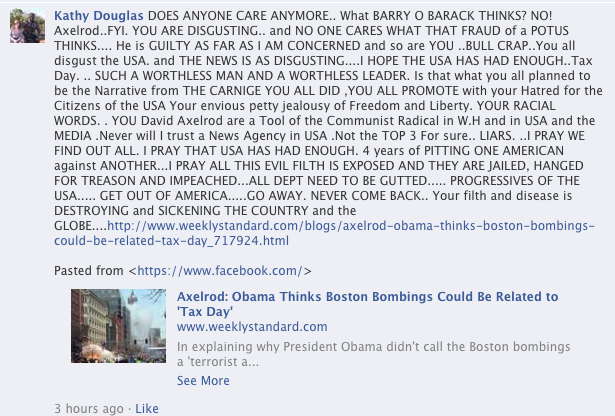 Photo via Alex Jones/Facebook