He's Antoine… wait! He's Kevin Antoine Dodson, a one-time YouTube star who's now apparently renouncing his sexuality and coming out as, that's right, a "True Chosen Hebrew Israelite descendant of Judah."
The Internet celebrity, who first emerged within the national spotlight in 2010 after appearing on a television news report to talk about an intruder who broke into his Huntsville, Ala., home and tried to rape his sister, announced last night in a series of off-kilter Facebook posts that he is "no longer into homosexuality" and now "know[s] that there are certain things we can't do."
Among them: driving a Mercedez Benz, buying a big house in Beverly Hills, and, oh yeah, apparently dating other men.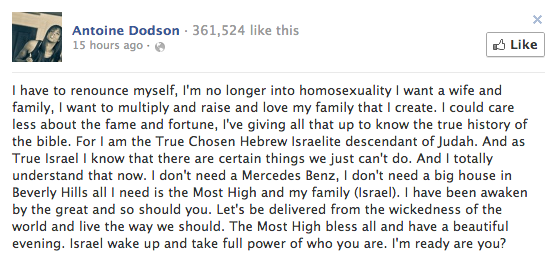 Considering the strange nature of the announcement and the altogether un-Dodson-esque verbiage and writing style used within the posts, it's understandable that some people may think that Dodson's accounts were hacked and that the sentiments expressed within the four posts were not exactly his. Dodson went onto YouTube this morning to refute those thoughts, calling TMZ a liar for accusing him of worshipping Satan and declaring that he's proud to be a part of his "true history."
"To all my fellow Hebrew Israelite descendants of Judah, Levi, et cetera," he said. "Go to Deuteronomy, read all the way down to [verse] 28, and see if you fit in that category. I know I do."
Dodson's sexuality was never the focal point of his fame, but it was certainly a difficult distinction to ignore. The Alabama native has always fallen on the flush side of flamboyant, and his second most iconic pop culture moment occurred in the summer of 2012, when he took to YouTube to say that he'd still eat Chick-Fil-A even if its CEO was an opponent of gay marriage.
Dodson's had a hard time breaking out of the "Bed Intruder" trap in recent years, releasing new YouTube videos regularly but rarely eclipsing the 20,000-view mark. Last week, he released a 2:25 video that finds him rapping a cappella in a friend's living room. 
Here's guessing that those watching over Dodson in the Jewish faith won't be so cool with the rap's final line: "Bitch, where my fuckin' money? Bitch, I'm looking for that ass."
H/T HyperVocal | Photo via Antoine Dodson/Facebook