Earlier this month, as most network television shows were wrapping up for a summer break, there were two shows just getting started.
One, a fast-paced thriller returned for a limited-series revival after the show was originally cancelled in 2008. The other, a smart comedy that had been on hiatus for nearly two years.
As the premiere episodes for 24: Live Another Day and Louie both aired on May 5, they had one thing in common.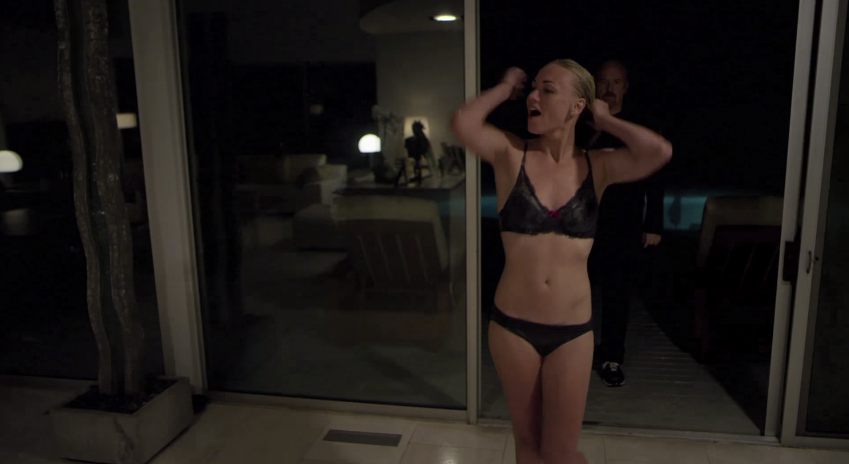 On one night of explosive TV, Yvonne Strahovski managed to show up as two equally memorable characters: Kate Morgan, an impulsive CIA agent in London, and Blake, a model who manages to seduce Louie C.K.
Some people may not have even noticed that the two characters were played by the same actress, but her fans felt like they just hit the TV jackpot.
Strahovski may not yet be a household, but she is a well-loved star who has a large fan following. If you're new to the Stahovski fan club, here are a few reasons why she's become a cult favorite before she ever went head-to-head with Jack Bauer and Louis C.K.
She's played a CIA agent before
Strahovski's been acting since 2004, but many first noticed her when she was cast alongside Zachary Levi in the NBC show Chuck, an action-comedy about a computer genius who gets a copy of the U.S.'s greatest spy secrets embedded into his brain. Stahovski plays a CIA agent charged with protecting Chuck from enemy spies.
At the time, she was described as "an angel sent for geeks everywhere," but Sarah Walker wasn't just a character to oggle. She was a fully-realized character with her own flaws and a complicated history, and she often took the reigns to save Chuck from danger.
Of course, there can't be two main characters interacting on a show without a group of fans shipping them together. Thus, "Charah" was born, and luckily for them, it eventually became canon during the show's run; another character even used the portmanteau couple name in a later episode.
The show lasted five seasons, much of it spent on the verge of being cancelled. In a way, Chuck was the predecessor to Community and successor to Jericho in that respect. Its fanbase managed to keep the show on the air by pulling off flashmobs, using Twitter to their advantage, and organizing a mass purchase of Subway sandwiches. Nestlé even sent over 1,000 packs of Wonka Nerds to NBC.
As a result of the show, Strahovski and Levi were embraced by the nerd community, something she certainly doesn't take for granted.
"All of us on Chuck, those fans will follow us wherever we go," Strahovski told Complex in 2011. "It feels like the show has survived because of them rallying for us. We hit the jackpot with a fanbase that's so passionate for our show and for us as actors."
Years later, Strahovski still has affection for Chuck and hopes that Levi may one day be able to revive the show into a movie, a la Veronica Mars, another TV cult classic.
Nerd party !!!! pic.twitter.com/liUHfVOvBp

— Yvonne Strahovski (@Y_Strahovski) July 20, 2013
She made the last two seasons of Dexter watchable
Many Dexter fans will tell you that the show went downhill after the fourth season. While it may seem that it lasted longer than it should, Strahovski's Hannah McKay was a highlight. She started out as a guest star, but eventually returned for the show's eighth and final season.
McKay was seen as Dexter's serial killer soulmate by many, although her motive to kill was more calculated and free of emotion than Dexter's. She eventually survives a finale not many people liked, but that's something that Strahovski, who has long embraced the fandom, respects.
"You definitely cannot please everyone at all," she told Digital Spy. "I mean, the finales that cause the most debate are the ones that are talked about the longest."
If you've played Mass Effect, you already know her voice.
She's voiced human Cerberus Officer Miranda Lawson in the Mass Effect video games, and the character was based on her likeness in Mass Effect 2 and 3. If you've only seen her on TV, you've been missing out on her Australian accent.
She might not be a gamer, but she signed on after Mass Effect initially approached her. It's an entirely different process from acting on a TV show, but it's something she's certainly enjoyed
You're going to see a lot more of her
She starred in I, Frankenstein with Aaron Eckhart earlier this year, and after being spotlighted on two different shows, she'll still have plenty to do on 24.
Her legions of fans, some active on her very own subreddit, are more than thrilled. Soon enough, the people who are just discovering her may very well dive into her other work.
And by no means is that a bad thing.

Photo via Gage Skidmore/Flickr