A-Kon is America's oldest annual anime convention. But when it convened for the 24th time in Dallas over the weekend, it had new problems to contend with, as its cosplayers ran headlong into a trolling attempt designed to tap into the ongoing tensions surrounding sexism and women in geek culture.
The tactic? The Twitter hashtags #Gropecrew and #Rapecrew, a concerted effort to troll A-kon attendees by threatening them with sexual assault and physical violence.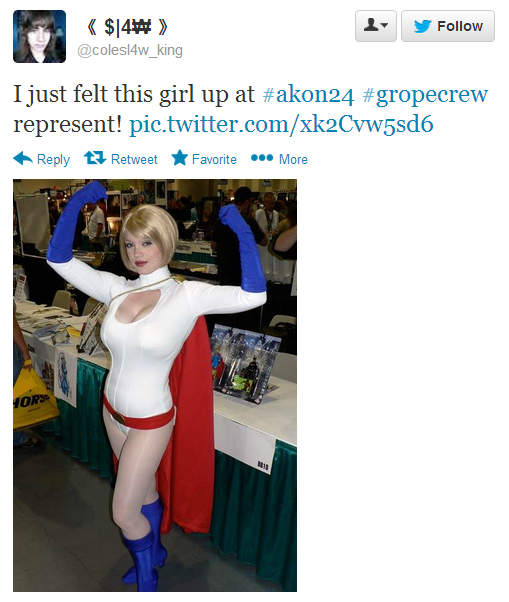 Photo via the Internet Chronicle
The originator of the hashtags seems to be MeepSheep, a system admin at notorious Internet troll site Encyclopedia Dramatica.
@kilgoar Funnily enough, this is what I thought when @ms_meepsheep first suggested it.

— prince fl0ssington (@negrosec) June 2, 2013
A pastebin document from ED members created shortly before the convention which mentions MeepSheep and trolling was originally tagged #gropecrew. The mention of "cwc" could be Twitter user colesl4w_king, who, along with MeepSheep and a handful of others, sent threats of rape, harassment, and even murder to con attendees over the weekend.
hitting up #akon24 with my fellow #gropecrew brothers

— Wazmo Nariz (@WazmoNariz) May 31, 2013
The now-banned Twitter user xplsvs, using the #gropecrew hashtag, sent one Twitter user a picture of a murder victim with slit throat.

Screengrab via Topsy
Other participants joked about infecting con attendees with HIV ("poz" is slang for having the virus):
@ms_meepsheep can't wait until they find out they just got pozed #poz #rape #rapecrew #gropecrew #akon24

— MTW (@superMTW) May 31, 2013
Some, not all, of the Twitter accounts involved were quickly suspended. But the unease among convention-goers took longer to die. The Mary Sue's Jill Pantozzi first sounded the alert to convention attendees at large.
ALL COSPLAYERS, CREATORS & CONVENTIONS PLEASE BE ON THE LOOKOUT. The hashtag #gropecrew is being sent to female attendees.

— Jill Pantozzi (@TheNerdyBird) May 31, 2013
At least one Twitter user alleged that the Grope Crew took the trolling offline and actually made good on its threats.
oh yeah btw those @/fl0ss @/Ms_Meepsheep dudes have already groped girls today it's not just Trolling after all sooo #akon24 #gropecrew

— colin (@ANTI_NAKED) June 1, 2013
While this is an unconfirmed rumor, it underscores the very real threat of sexual harassment that female cosplayers and other con attendees routinely face when they step into mostly male-dominated geek circles. As more women grow confident about calling out such incidents, reports of rape threats and harassment have been coming from cons on what seems a near-continual basis.
And while the trolling attempt seemed obvious from the start, no one was laughing except the trolls.
"I'm tired of being eye-raped by teenage nerds every time I dress up as a sexy cartoon character," the anonymous con-goer whose picture was tweeted out by colesl4w_king told the Internet Chronicle. "This [year's convention] has been a paranoid nightmare since the Grope Crew tweeted my picture."
Photo by David Yu / Flickr