The Daily Dot has spent a considerable amount of time this year reporting incidents of sexism, misogyny, and attacks on women that have occurred throughout the gaming and comics industries this year. These are two often-overlapping mainstays of geek culture that have traditionally been seen as male-only spaces and are plagued with severe systemic gender inequality.  
A noted essay by gamer girl Lucy Gillam argued in 2005 that within gaming fandom, "true gender equality is actually perceived [by male gamers] as inequality." Seven years later, women account for 47 percent of gamers and actually comprise a majority of the membership of some gaming and comics fandoms.
Yet they are far from having equal representation among either creators, producers, or characters in the media they're consuming. One game developer appeared to actively exclude certain female demographics from its recruitment efforts, while DC Comics's percentage of female writers and artists fell at one point to a jawdropping 1 percent. All the while, some male geeks have grown more and more threatened by the increasing presence of women in their communities.
Geeks have previously seen major blowups like the 2010 Dickwolves incident and the 2011 Comic Con Batgirl controversy. Blogs like Fat, Ugly, or Slutty have tracked sexism across geek culture for a while now. But in 2012, there seemed to be new cause for alarm at every turn, with characters getting raped, players getting harassed, and critics getting death threats.
2012 was truly not a good year for female geeks. Here's how the year looked on a month-by-month basis.
February
March
April
May
June
June-July
July
August
September 
"It's not that it's not an abhorrent cliché that sums up everything that's wrong with their line in one tidy scene, because it certainly is that, it's that this just seems to be how it is now. Rape and rape threats have become a cornerstone of the DC Universe. Complaining about it at this point is like complaining about Marvel having a bunch of comics about mutants. It's just something they do in their books because they don't know any other way to tell stories."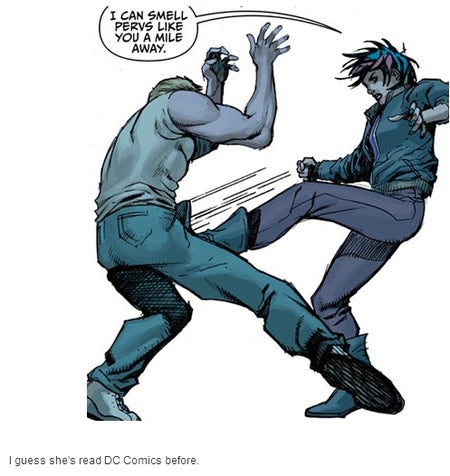 Screengrab via Comics Alliance
October
November: Finally, some signs of change?
…or maybe not.
December
Taken together, it was an embarrassing and frustrating year in geek culture. But as the events in November illustrated, there were a few glimmers of hope.
Here's hoping they shine even brighter in the new year.
Correction: The original version of this story stated Anita Sarkeesian's Kickstarter campaign raised $600,000. The correct amount was $158,922. We regret the errior. 
Screengrab via Hitman: Absolution/YouTube