You potentially just had your heart ripped out after watching The Fault in Our Stars. Now what?
People might scoff at the idea of falling victim to crying up at yet another tearjerker, but the risk of it happening is very real. Despite having been warned by critics and audiences (as well as the people who've read TFIOS since it came out over two years ago), some might feel like they'll make it out of the theaters in one piece.
In reality, probably not.
It may be a rough few hours while you handle the emotions, but dammit, we're gonna get you through this. Plenty of people are taking out their frustration on TFIOS author John Green, but this might be a slightly healthier way to get through everything.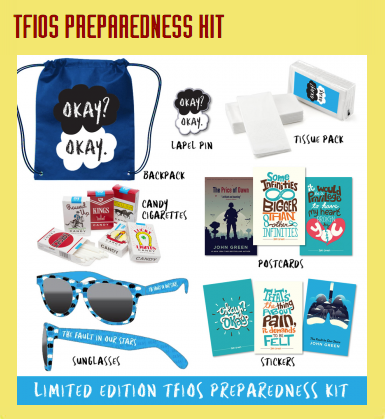 DFTBA Records put out a "TFiOS Preparedness Kit" before the movie's release that included sunglasses, candy cigarettes, a drawstring backpack, and of course, tissues. Even if you ordered it now, it might not help you for when you see the movie in the next few days.
Let's be real, @realjohngreen: I already have my survival kit ready. @TheFaultMovie pic.twitter.com/zefJrdtLnZ

— Veronica Roth (@VeronicaRoth) June 5, 2014
Some people have prepared their own survival kits for after the fact, and we've got you covered when it comes to one of the top films bound to make you cry this year.
1) Tissues. Lots and lots of tissues.
This is a given, especially if you already cried when you read the book, or if you haven't read the book and don't know what's coming.
(I mean, if you're fine with using napkins from the movie theater or a handkerchief to be environmentally friendly, that works too.)
Like I said, it's a tearjerker. You're gonna need them.
2) Comfort food
denny's is open 24/7 if you need somewhere to eat and finish your sobbing after tfios tomorrow

— Denny's (@DennysDiner) June 6, 2014
Find your favorite thing (chocolate, other assorted candy, ice cream, etc.) and just gorge on it, if that makes you feel better. Why not even go for a donut or some Munchkins in honor of National Donut Day?
Besides, who needs dinner, anyway?
3) A shoulder to cry on (optional)
You can still enjoy the movie without one, but if you're seeing it with friends, family, or a significant other, you might want to designate who will sob on whom or else you'll have that one person feeling left out. If you end up seeing TFIOS alone, you can ignore this one or make a new friend in line at the theater.
4) Anything to hold as a source of comfort, really
This is a judge-free zone. If you've still got any stuffed animals laying around, go ahead and grab 'em.
5) Comfortable clothing
Because who wants to have to worry about getting out of nice clothes and/or getting them wet with tears? I certainly don't.
6) For the bespectacled, whichever is the lesser of two evils in the glasses vs. contacts debate
When I saw TFIOS last night, I went with contacts because I figured I'd rather deal with those moving around a little bit than dirty, foggy glasses. But ultimately that decision is up to you. You know your eyes better than I do.
7) A TV show to binge-watch
The second season of Orange Is the New Black just came out. What better way to spend the next 12 hours?
8) Waterproof wear
@michejaw a floatation device and galoshes. Incase there are too many tears.

— Victoria Nyquist (@VicksNyquil719) June 6, 2014
This might be an exaggeration, but hey, I like it.
9) Pets
If we can ignore the inevitability of oblivion, then this should help. But if that doesn't at least help a little, I don't know what to tell you.
Photo via 20th Century Fox/YouTube