In January 2014, Flappy Bird went viral, and the Internet lost its collective mind. The side-scrolling mobile game was incredibly (and addictively) simple, and spawned a kind of digital mania: Porn parodies, 3D models and multiplayer homages abounded. When app creator Dong Nguyen pulled the game from app stores, claiming the pressure had ruined his "simple life," iPhones with the game pre-installed were listed on eBay—for hundreds of thousands of dollars a pop.
Since then, the hysteria has largely abated—replaced by 2048, or the ice bucket challenge, or whatever viral craze happens to be flavor of the week. But we may be about to see a return to "flappymania": A new game from Nguyen is set to be released this week.
My new game [Swing Copters] will be released on iOS and Android. pic.twitter.com/9ACbDxlzMN

— Dong Nguyen (@dongatory) August 19, 2014
Swing Copters is due out on Thursday, Aug. 21, and will be available for both Android and iOS. It's free-to-play, though users can pay $0.99 to remove ads, and gameplay-wise, it looks an awful lot like Flappy Bird. Toucharcade, which had an exclusive first look at the game, reports that it "captures all the "just one more try" of Flappy Bird, and seems even more brutally difficult."
Infinitely scrolling, like Flappy Bird, the player is tasked with controlling a character with a head-mounted propeller, steering whilst airborne past platforms and wildly-swinging hammers. And it's no walk in the park: Toucharcade's Eli Hodapp writes that "just getting through the gates themselves would be tricky enough, but adding in the swinging hammer things below them is just ridiculous, particularly as you're desperately trying to control your guy as he swings wildly from one direction to another."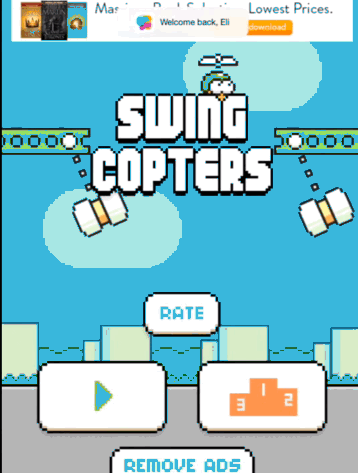 The original Flappy Bird enjoyed more than 50 million downloads before the Vietnamese developer removed it in February, The Guardian reports, with paparazzi camping outside Nguyen's parents' house playing a part in his decision to take it down. At the time, Nguyen said that he "cannot take this any more"—but the imminent release of Swing Copters suggests the developer is finally ready to step back into the limelight.