Stephen Colbert revealed his Comic-Con disguise almost two months after the convention, but the Internet saw right through it months ago.
He famously dressed as his character from The Hobbit: The Desolation of Smaug to moderate the Hobbit panel, but he went onto the floor as something else entirely. Not to go incognito, like many other celebrities, but to gauge the interest on a new superhero movie.
He introduced audience to Prince Hawkcat, "the most popular human-animal franchise ever published in Esperanto," as a way to get in on the cash cow of superhero movies. He dressed as the half-hawk/half-cat and went to test out cosplayers' vast knowledge of comics.
Of course, when the first thing to pop up on a Google search of Hawkcat is a Reddit thread asking who Prince Hawkcat was, the odds are stacked against you. The closest people got to guessing Colbert's character was the similarly-named Marvel character Starhawk, and trying to market the movie to people didn't work out much better.
Even if people are unable to guess the name of your made-up superhero, you can't fool them entirely. On that same thread asking about Prince Hawkcat, redditor Archardy hit the nail on the head more than a month ago.

And the sleuths over on Twitter may have even spotted him earlier. Bleeding Cool noticed that attendees asked the question after spotting or taking a picture with Prince Hawkcat and thought he looked rather familiar.
@SD_Comic_Con #sdcc moment Prince Hawkcat walking the exhibit floor. The host of The Hobbit panel? Maybe… pic.twitter.com/B3HxbJtPVe

— Herman (@rastawhite1) July 30, 2014
Um, so did anyone else see hawkcat and experience mañana manana at sdcc or was that a fever dream? I'm looking at you @WarnerBrosEnt peeps

— Lindsey Rostal (@lindseyrostal) July 29, 2014
was "hawkcat" at comic-con really @StephenAtHome?!!? I SHOULD HAVE SIGNED THE APPEARANCE RELEASE https://t.co/ti928RTjRv

— Norm (@nchan) August 1, 2014
And to make fools of us all, Colbert actually briefly showed Hawkcat on his show back in July and we were none the wiser.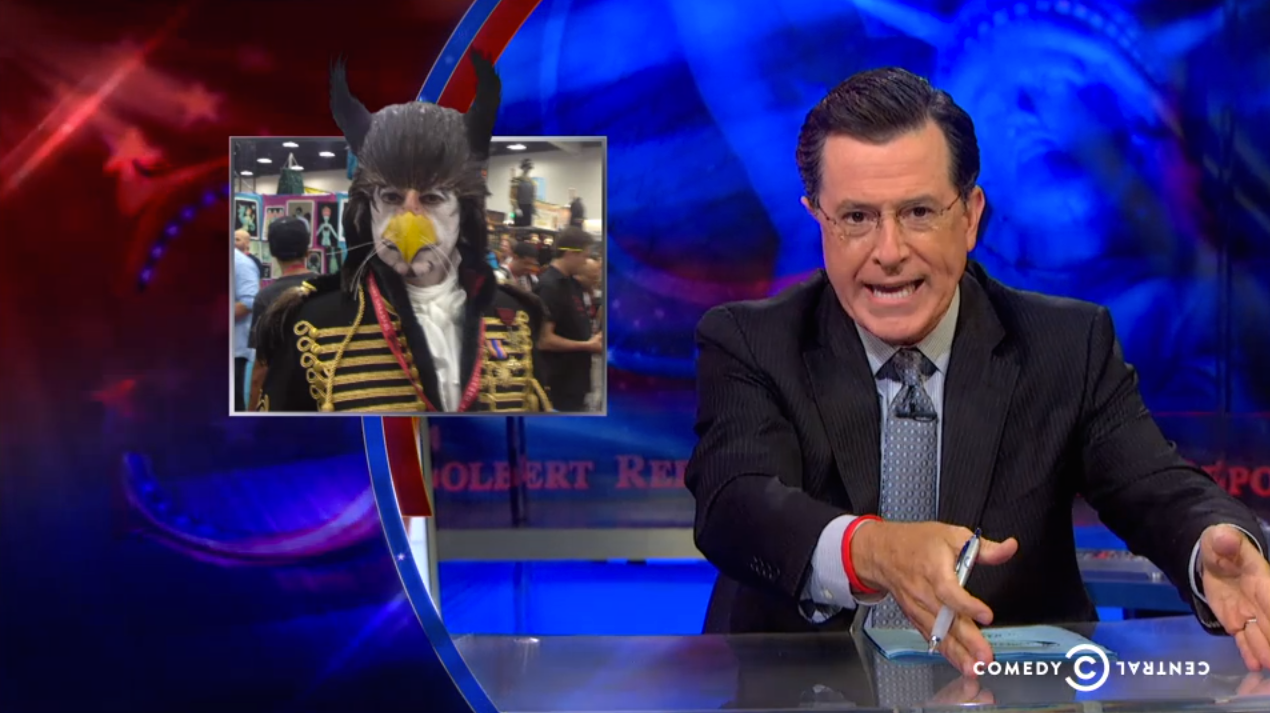 As for the return of Prince Hawkcat? Keep an eye at your cinema for hints.
Prince Hawkcat will return in The Avengers 2! Look for him in the scene where a security guard throws Prince Hawkcat off set.

— Stephen Colbert (@StephenAtHome) September 18, 2014
H/T Digg | Screengrab via The Colbert Report