Once upon a time, the Warcraft franchise was based on real-time strategy games where humans and orcs waged military campaigns against one another—a far cry from the outlandishly successful MMORPG hit upon with World of Warcraft. For a few years now, developers have been trying to open up the world of sci-fi analogue StarCraft in a similar way, and they look to be pretty close to their goal, give or take $80,000.
StarCraft Universe would be a mod for StarCraft II: Wings of Liberty, and it picks up where that storyline left off. The creators, Upheaval Arts, intend to release it as a series of custom titles through Battle.net, the Blizzard Entertainment multiplayer gaming service. This wouldn't be feasible without Blizzard's blessing—which, perhaps unexpectedly, has already been given. StarCraft Universe would be free for anyone who already has the original game.
Of course, it still needs funding to become a fleshed-out reality, and a lot of it. While crossing the $80,000 threshold would unlock a few storylines and open the beta release for multiplayer action, a stretch goal of $100,000 would have to be met before you could play as a Zerg character. And let's be honest, who doesn't want to be a slime-oozing, hive-minded alien monster?
The Kickstarter page is prepared to receive up to a cool $1 million, in fact, from esager StarCraft fans: new storylines, explorable zones, and character models would come along with $25,000 or so. The true obsessive is welcome to donate $8,000 in one fell swoop, for which they will get a slew of enviable perks: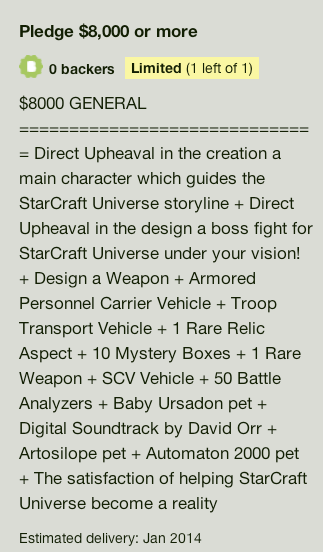 Since we can sense how impatient you are for all this to become reality, check out the hectic trailer below, or just dive right in and play the demo version for North America, Europe, Southeast Asia, or Korea.
Photo via Upheaval Arts