On March 11, Crimea's leading legal authority, Attorney General Natalia Poklonskaya, was introduced to the world. Her press conference was uploaded to YouTube, where it quickly went viral.
Most of the comments written in Russian address Poklonskaya's professional background and whether she will be instrumental in bringing peace to the Ukrainian peninsula.
The comments written in English, on the other hand, took a different approach: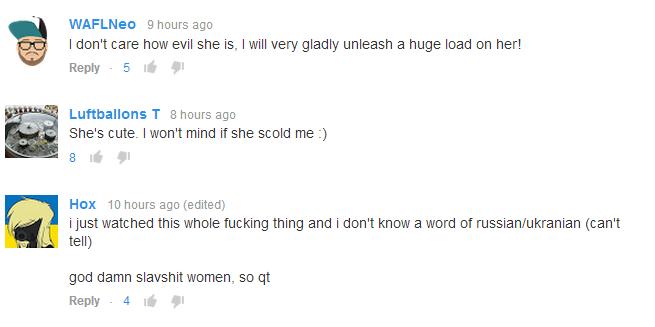 The gushing spilled over into Facebook and Reddit, where two forums sprung up, dedicated to sharing photos and illustrations of the 33-year-old. Poklonskaya has collected 11,000 Facebook likes and 2,000 Reddit subscribers since Monday.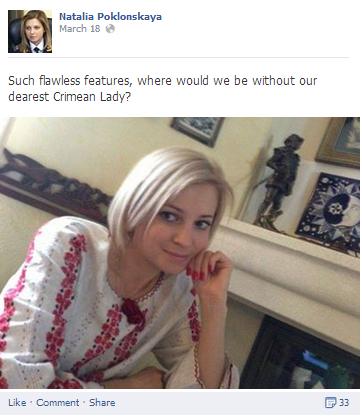 The same sort of obsessive devotion could also be found on Livejournal and Tumblr.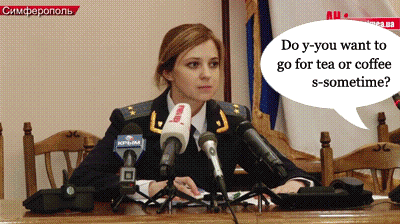 GIF via Tumblr
While most of the discourse on Reddit and Facebook has sexualized Poklonskaya, some redditors have have created flattering portraits of the lawyer and have focused on her professional accomplishments.
[S]he plays piano and draws, probably she attended music and art school in her childhood. Natalia worked as attorney for 12 years, according to her own words, and just sometime ago her workplace was in Kiev, in main attorney office of Ukraine. I don't know much about attorney's job in western countries, but in ex-USSR countries attorney's work is very significant: they take part in investigations, act as accusers in courts, collect petitions from citizens and check if police and courts maintain the laws. People often think they are more trustworthy than police and judges. Her career seems very successful and productive for me. She tells about numerous criminals and gangs she sent to jail. Her most well known enemy was "bashmaki" gang, one of the biggest and strongest gangs in Ukraine, famous for their criminal wars, for using RPG (and missing, destroying some unrelated building by mistake), jailbreaks, murders of police, former "alpha" (russian analogue of SWAT) members and hundreds of other crimes. Now she is lieutenant colonel. During the events in Kiev, she was working in main attorney office in Kiev. She is the witness of Maidan and her harsh words about the ukrainian government should be considered along with any other evidence, because she saw everything with her own eyes. After the putsch in Kiev, she left attorney office and returned to Crimea. Crimean council of ministers offered her to take over a post of crimean attorney and she accepted it.
Poklonskaya takes over as Crimea's leading legal figure during the most complicated time in the peninsula's history since the end of WWII.
As of Monday, Crimea was teetering on the edge of becoming a Russian property after a vote revealed that 97 percent of people supported Crimea severing ties with Ukraine and joining the Russian Federation. That same day, Crimean authorities passed laws to "pave the way for annexation to Russia," the Washington Post reported.
Photo via Facebook