Men in Black: International is an action-comedy with no decent jokes or action scenes, made all the more disappointing by the knowledge that Chris Hemsworth and Tessa Thompson can do so much better.
Men in Black: International
RELEASE DATE:
6/14/2019
DIRECTOR:
F. Gary Gray
RELEASE:
Theatrical
Starring 'Thor: Ragnarok' duo Chris Hemsworth and Tessa Thompson, this lackluster action-comedy is disappointingly unfunny. A forgettable addition to a franchise that peaked with its first movie.
Hemsworth has a real talent for goofy comedy, and we know from Thor: Ragnarok that he and Thompson have great chemistry. There's barely any sign of that here, partly thanks to slow pacing and a dull script, and partly because Thompson's role is a letdown. Agent M is a try-hard newbie to the MIB, partnered up with the more experienced Agent H (Hemsworth). He has a lot in common with Hemsworth's most famous role, Thor, an irresponsible party boy whose heroic image is protected by his powerful father —or in this case his father-figure, senior agent High T (Liam Neeson).
Agent M gets recruited due to her lifelong obsession with aliens, but instead of being a true weirdo like Kate McKinnon's character in Ghostbusters, she's more like the straight man to Agent H's arrogant fratboy hero, an unfortunate echo of the old trope where the man is the rule-breaking "fun" one while the woman is more sensible. It's a weird choice for Thompson, who we all know is fun, and it doesn't help that H and M's dynamic is oddly unclear for most of the film. At first it seems like she has a crush on the handsome, accomplished Agent H, but she soon realizes he's actually an incompetent drunk, and then… they become buddies, I guess? It's a far cry from the original Men in Black, where you instantly knew where you stood between Will Smith's youthful energy and Tommy Lee Jones' granite-faced deadpan.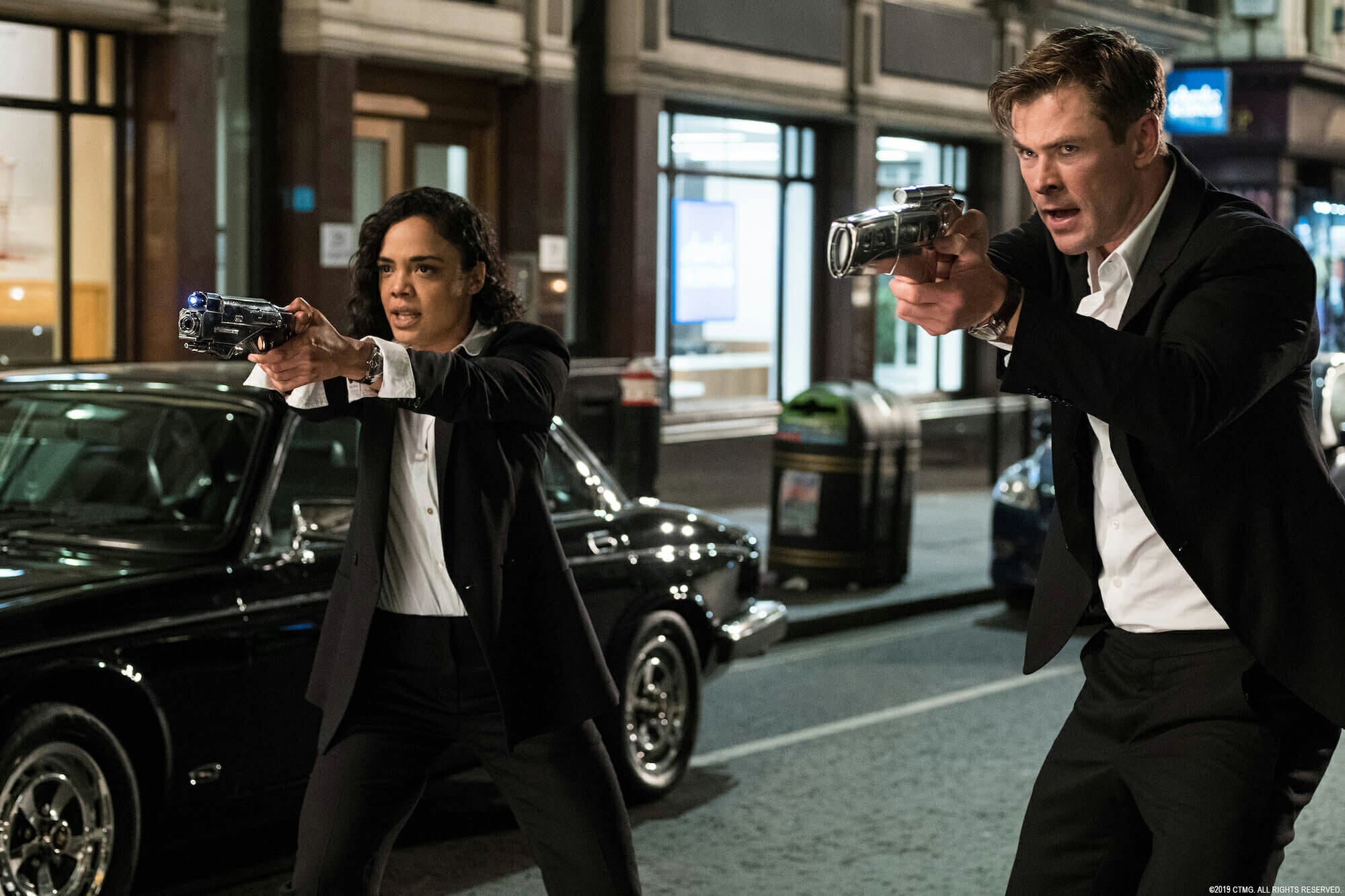 Every Men in Black movie follows the same simple formula, with an odd-couple partnership tackling alien invaders. Despite a downward trend among the sequels, the first film remains thoroughly rewatchable today. Brimming over with absurdity and imagination, it's full of smart little touches like Will Smith's Agent J seeing through some allegorical racial profiling during his MIB entrance test, and Vincent D'Onofrio giving a memorably bizarre turn as a decomposing alien bug. Men in Black: International is a pale imitation, discarding everything that made the original film interesting and joining the growing list of forgettable 2019 sequels. The neuralyzer mind-wipe jokes are unavoidable. In fact, I already forgot that Kumail Nanjiani got third billing for voicing H and M's tiny alien sidekick. (He's fine, by the way.)
Directed by F. Gary Gray (The Fate of the Furious) and written by Art Marcum and Matt Holloway (Iron Man), Men In Black: International is mystifyingly low-energy. Most of the back-and-forth banter scenes feel like offcuts from a longer improv session, and the pacing is too sluggish for what's meant to be a zany comedy. Hemsworth's slapstick skills are still in evidence, but they're frustratingly limited to a handful of hand-to-hand fights. The bigger action sequences are just disappointing, which is a real problem when every summer blockbuster features at least two epic setpieces.
Men in Black: International isn't offensive or outright incompetent like Dark Phoenix, so if you have a crush on Chris Hemsworth and/or Tessa Thompson, this film will deliver two satisfying hours of them looking pretty in well-tailored suits. That's the only sustainable appeal here, and it's an understandable one. Just don't expect much from the script or action scenes.