Warning: This article contains spoilers for Avengers: Infinity War.
Ahead of Avengers: Infinity War's theatrical release, Marvel Studios stressed the importance of not spoiling the movie for fans, going as far as starting a hashtag and releasing a PSA. But all of that may have been for naught, because Mark Ruffalo just blurted it out anyway.
Ruffalo—who's been part of the Marvel Cinematic Universe since The Avengers—doesn't have as much of a reputation for accidentally spoiling movies as, say, Tom Holland, but he did accidentally stream the first 15 minutes of Thor: Ragnarok on Instagram Stories during its world premiere last year. His first accidental Infinity War reveal, however, happened earlier and on a much bigger scale.
Speaking to Good Morning America in July 2017 during D23 Expo, Ruffalo was paired with Don Cheadle to discuss what little they could about Thor: Ragnarok and Avengers: Infinity War. The interviewer, who's off-camera, mentions how Marvel superhero movies don't often end well for the heroes, whether they're injured, die, or lose loved ones.
"Wait 'til you see this next one," Ruffalo teased. "Ha—everybody dies."
Although Ruffalo caught himself rather quickly and said, "everybody dies," it sure sounded like he was about to say "half" of the characters die in Avengers: Infinity War.
Uh oh, @DonCheadle, is @MarkRuffalo going to get in trouble with @MarvelStudios now!? #InfinityWar #D23expo pic.twitter.com/WR5C1QCBTb

— Good Morning America (@GMA) July 16, 2017
Cheadle stared at him, and the rest of the clip derailed rather quickly while they tried to play it off and Ruffalo walks back what he said. At the time, it came off as something of a troll move—one of those moments meant to get fans talking.
Now that we've seen Avengers: Infinity War, we know that Ruffalo initially started saying "half" (before he caught himself) was actually right. On top of more permanent-appearing deaths like Loki, Heimdall, Vision, and potentially Gamora (depending on how Thanos' sacrifice was affected by the Soul Stone), a dozen other heroes disintegrated at the end of the movie including Black Panther, Spider-Man, Doctor Strange, Bucky Barnes, Scarlet Witch, and most of the Guardians of the Galaxy. The survivors, on the other hand, encompass the original Avengers, War Machine, Rocket Racoon, Nebula, Okoye, and M'Baku with wildcards like Hawkeye, Ant-Man, and Captain Marvel highly likely to appear in the untitled fourth Avengers movie.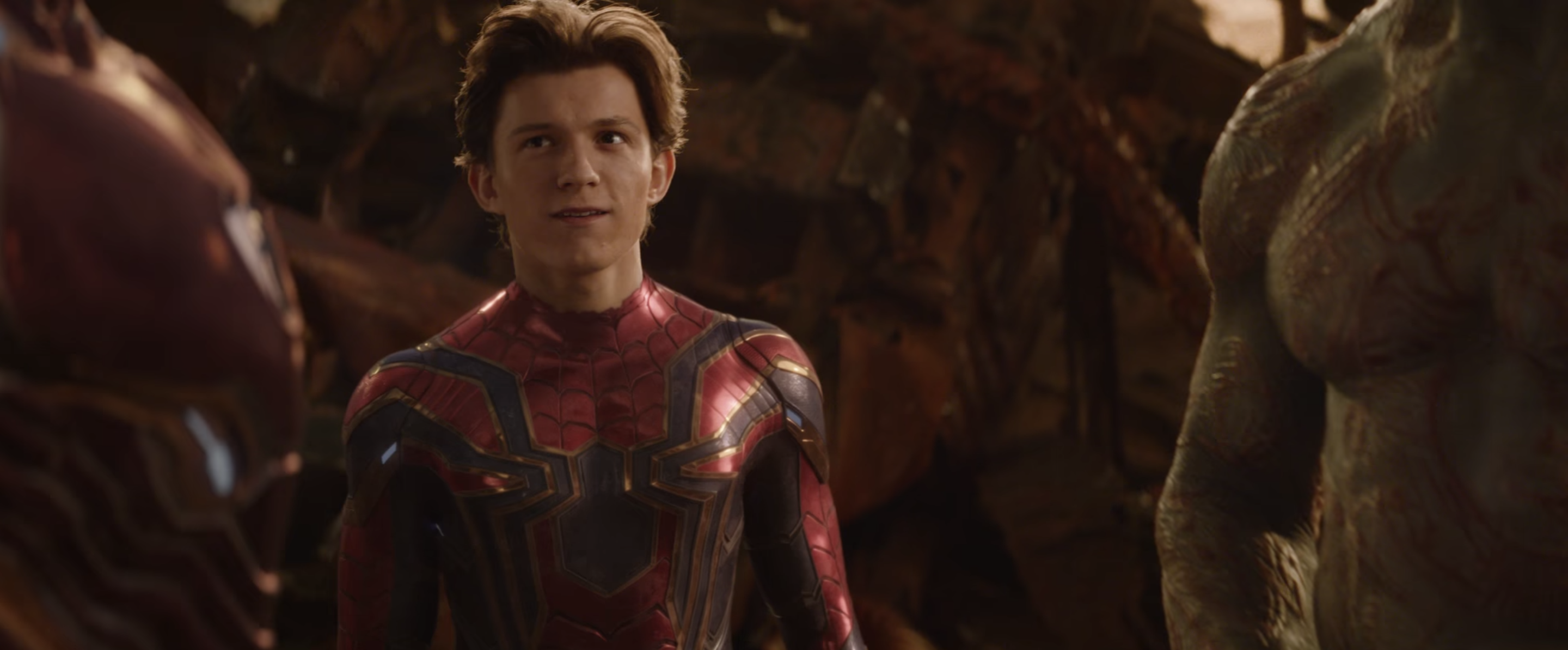 While Ruffalo's spoiler could have been ignored or interpreted as a troll move, Holland almost definitely offered a spoiler during an Avengers: Infinity War screening over the weekend. For much of Avengers: Infinity War's press tour, Holland has been reeled in from spoiling anything by Benedict Cumberbatch, but he was helpless to stop it during a recent screening of the movie in Los Angeles. According to those who witnessed it, Holland offered a spoiler before fans had even seen the movie as he appeared on stage.
"I'm alive!" Holland said before he discovered that the audience hadn't yet seen the movie.
*Spoiler Alert*
@KevinFeige @Russo_Brothers @TomHolland1996 and Benedict Cumberbatch introducing Infinity War at @ArcLightCinemas Hollywood
Part 2 (the one where Tom spoils the movie) pic.twitter.com/OaW8HCTE91

— Claire Loudis (@foxdragonfilms) May 1, 2018
As we saw in Avengers: Infinity War, Spider-Man is among the heroes who are disintegrated after Thanos obtains all six Infinity Stones and snaps his fingers. But many don't see those deaths as permanent, arguing that many of them will be restored in Avengers 4. And if Spider-Man: Homecoming 2's presence on Marvel's release schedule didn't convince fans that Spider-Man was coming back, Holland just might have.