Transformers are robots in disguise, more than meets the eye—you know the theme song. And they're apparently mostly male. That last fact is why Hasbro's poll last year to create the first-ever, fan-built Transformer ended up causing a bit of a stir when it resulted in the female bot named Windblade, now the focus of a four-part IDW Publishing comic book miniseries. Female transformers are nothing new to the franchise, but few of them exist. Despite the fact that the robots never address gender, it is assumed the majority are male based on how they are drawn, that they refer to each other using male pronouns, and they're voiced by men in the cartoons and movies.
The reason Windblade's addition to the comics canon is so important is that right now in IDW continuity, the only other fleshed out female bot is Arcee. Arcee's origin is troublesome because it's said she's the result of an experiment by a Cybertronian scientist to introduce gender to the Cybertronian genome. The experiments messed with Arcee's systems so much that she's basically on the verge of psychosis and extremely violent. When the only woman being represented in your universe is driven to be a psychopath by her gender, it's not exactly sending a great message and has turned off some female fans of the franchise.
It's easy to see why the anticipation for Windblade's miniseries was high, especially because it's created by an all-female team. It's written by Mairghread Scott, a writer on The Hub's animated series Transformers: Prime and the first woman to officially write a canon Transformers comic. Before the comic's release Scott said she didn't "intend for Windblade to originate from the same place" as Arcee, leaving many to wonder how her gender might be addressed in the series.
Luckily Windblade's gender is far from the focus of Issues 1 and and 2 of the comic. Whether you're a diehard Transformers fan or new to the franchise, it looks like this series will have something for you.
Editors note: Possible spoilers for Transformers: Windblade Issues 1 and 2 ahead!
With two issues released so far, the stage has been set for readers to get into the heart of the miniseries. The fan-built bot first made an appearance in the Dark Cybertron comics and her series picks up six months later as Cybertron deals with the aftermath. Readers who skipped the Dark Cybertron story arc are given a brief overview on the first page, which introduces us to a world where the Autobots, Decepticons, and newcomers like Windblade joined forces to save the universe.
Beyond that, new readers don't need to know much to get the most from Windblade. The first issue is a great entry point into the comics, with some confusing terminology as the only obstacle. All you really need to know is that Windblade is a cityspeaker and the only one who can understand and give voice to Metroplex. He's a titan from where the Cybertronians live who was injured—one can assume during the events of the Dark Cybertron series—and as a result can only speak in an old language only understood by Windblade.
Much of the first comic is spent introducing us to the characters we'll be seeing throughout the series, from Windblade's bodyguard Chromia to the current ruler of Cybertron, Starscream. The initial plot isn't packed with action, but it is full of intrigue as we see Windblade as a dedicated worker in service of the planet, yet her instincts tell her something isn't quite right. It all leads up to an explosive ending that kicks off a more action-packed storyline in Issue 2.
It's in this second issue, released in May, that we see Windblade and Chromia realize Starscream might not have the planet's best interests in mind. As they work to unravel the mystery they turn to some familiar faces like Ironhide and Waspinator. It's fun seeing them all try to piece together what the notorious Starscream is up to and why he might want to kill the one person who can help heal Metroplex. It leads up to another exciting ending pitting our good guys against the conspirators and finally lets us see Windblade whip out her sword.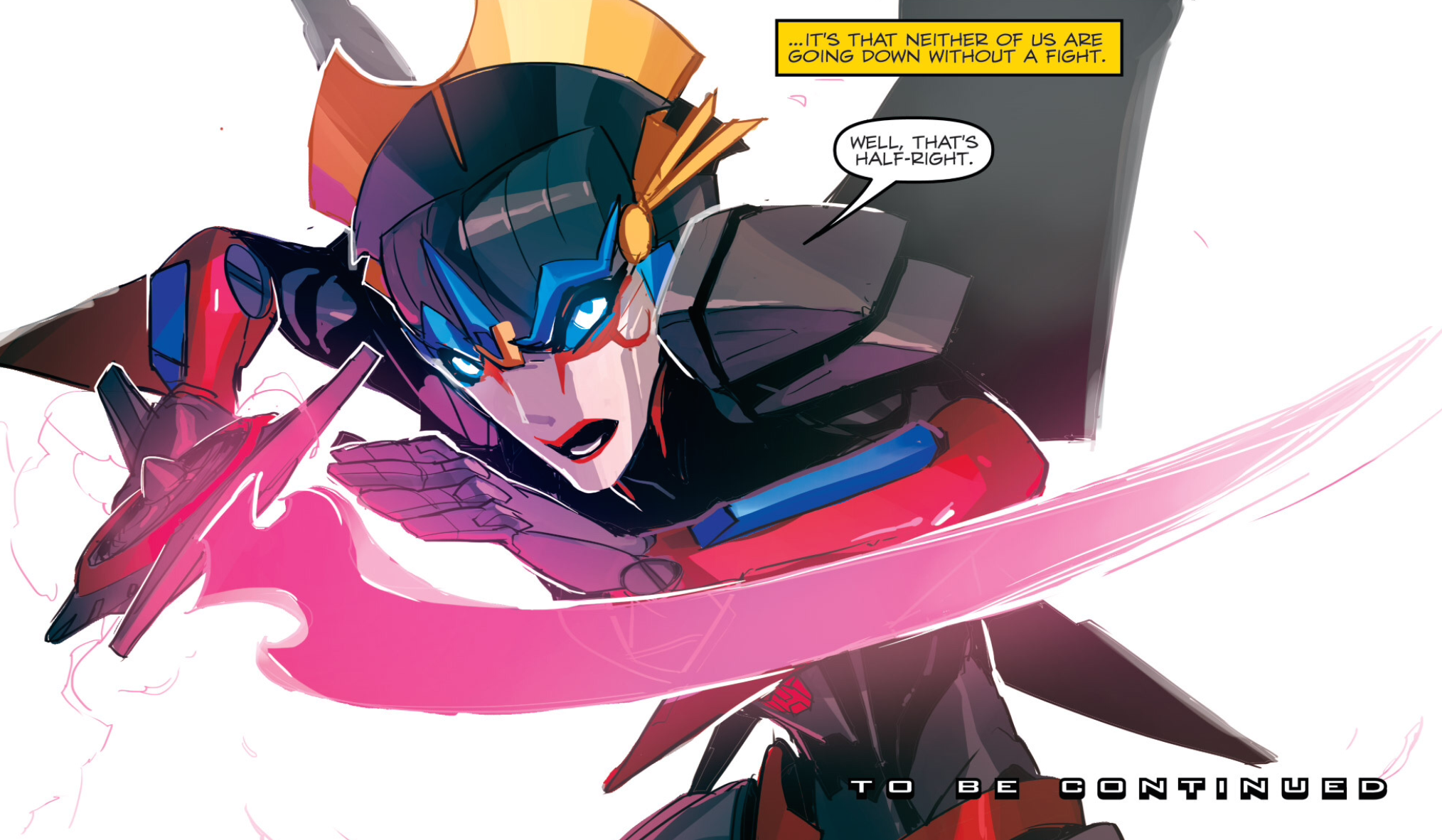 Despite all the attention Windblade's gender received leading up to the comics, the fact that the story isn't defined by her being a female Transformer makes it even better. When Windblade interacts with a few familiar male faces for Transformers fans at the local bar, none of them make a big deal about Windblade's gender at all. Windblade and Chromia are referred to as "she," but there are only two times any attention is drawn to the fact they're female. The first is a humorous moment between Rattrap and Chromia in Issue 1 and the second is when Waspinator refers to them as "lady bots" in Issue 2. Both are moments that will most likely make you smile and the first instance is just enough of a commentary on the issue that you hope it's never really addressed again in the series.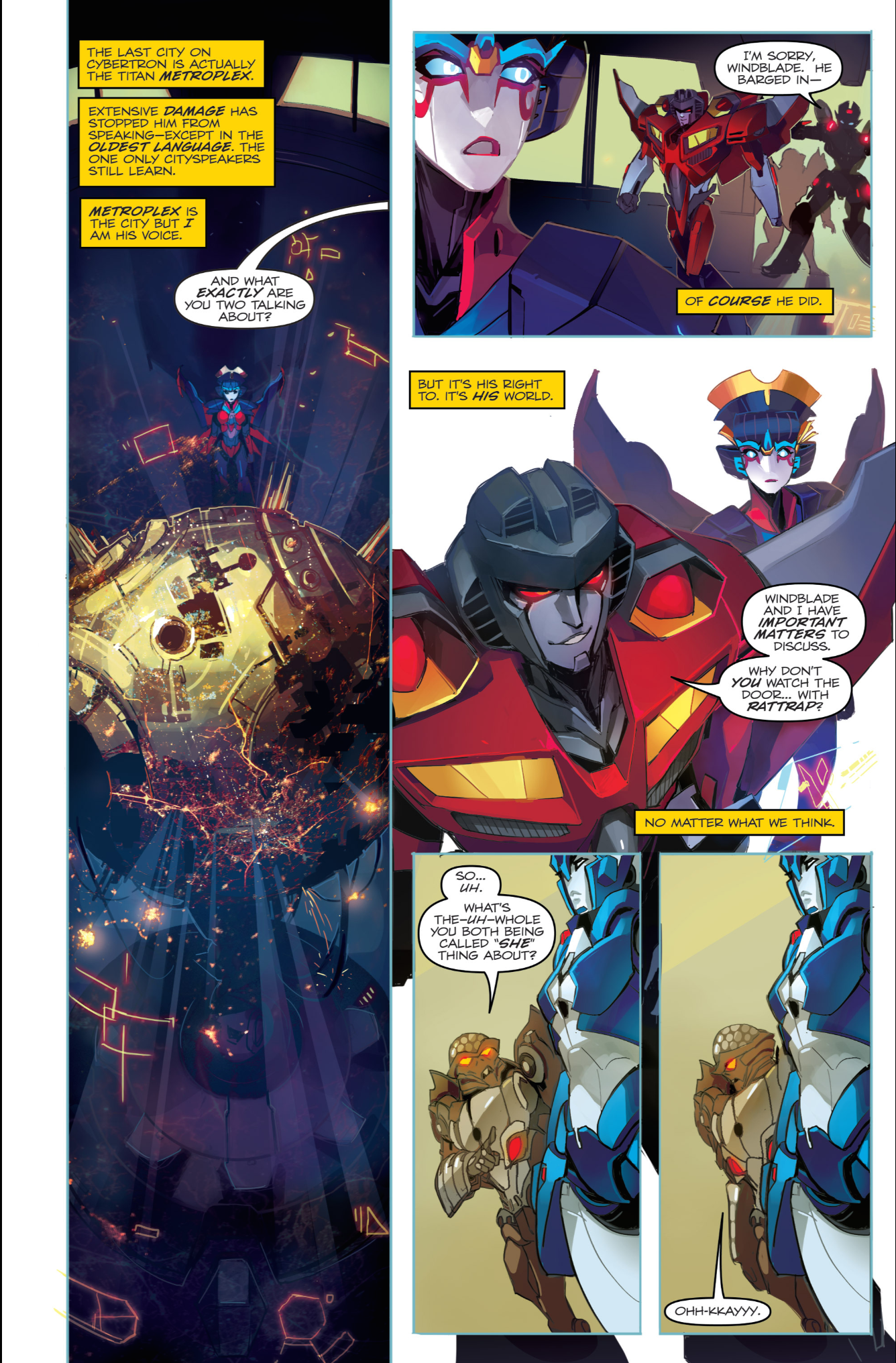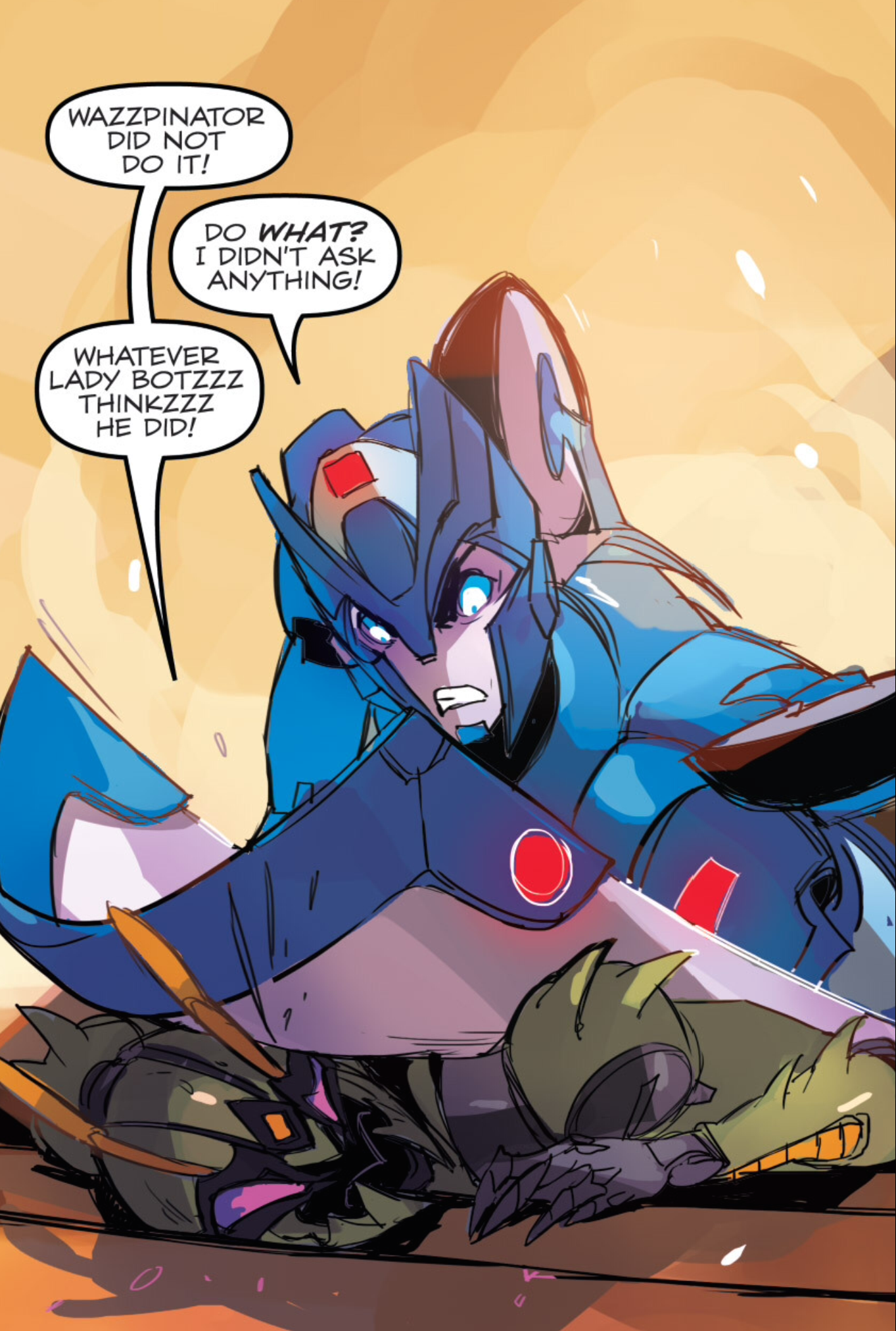 The only bit of the plot that might bring up the gender issue again is mention of Caminus, where Windblade and Chromia came from. We've learned a little bit about the civilization of Caminus, but not enough to answer all our questions. Windblade's "kabuki" face-elements are apparently changes made in devotion to Caminus, who is a titan like Metroplex and who created this other civilization of Cybertronians on a new world. Learning more about Windblade's home could lead to an interesting story of why female Transformers seem to exist there more naturally than Cybertron.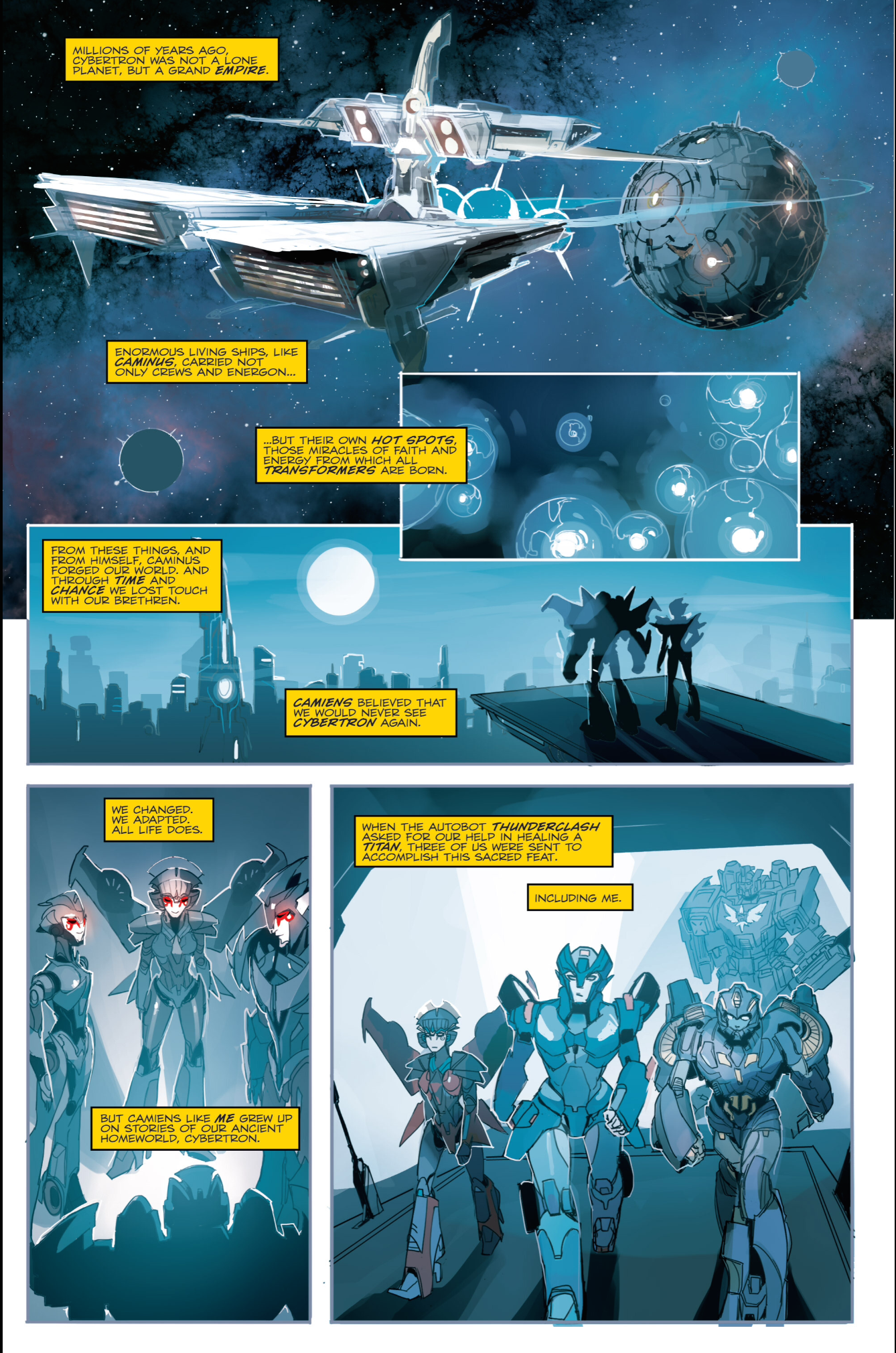 Overall, Scott and artist Sarah Stone have taken a character created by fans with no back story and built a compelling Transformer. Scott's brilliant writing and the beautiful visuals by Stone succeed in drawing readers into this fascinating and dangerous world. As a newbie on Cybertron herself, Windblade will especially connect with new Transformers readers as they explore the world for the first time along with her.
The hope is that Windblade will become an ongoing series after this miniseries. From these two issues, it's clear there's a lot of potential for a great longer run if it's given the chance.
Issue 3 of Transformers: Windblade will be released June 18.
Art by Sarah Stone, screenshots by Lisa Granshaw via the IDW Publishing iPad app