Just when you'd finally kicked the habit, Flappy Bird is back—and it's got a two-player option. You and a friend can go head-to-head as you try to navigate the torturously addictive game, now with new obstacles (like ghosts!), and possibly strangle each other out of sheer frustration.
On Friday, the 29-year-old Vietnamese creator of Flappy Bird, Dong Nguyen, released Flappy Birds Family on the Amazon App Store for Android, Polygon reported. The game is apparently compatible with Amazon's Fire TV, but hasn't yet appeared on Apple's App Store or Google Play.
A listing for the game on Amazon boasts new features, like the ability to "drive the bird through pipes and ghosts" and "challenge your friends." Screenshots for the app suggest the "ghosts" will look like little white cyclops blobs.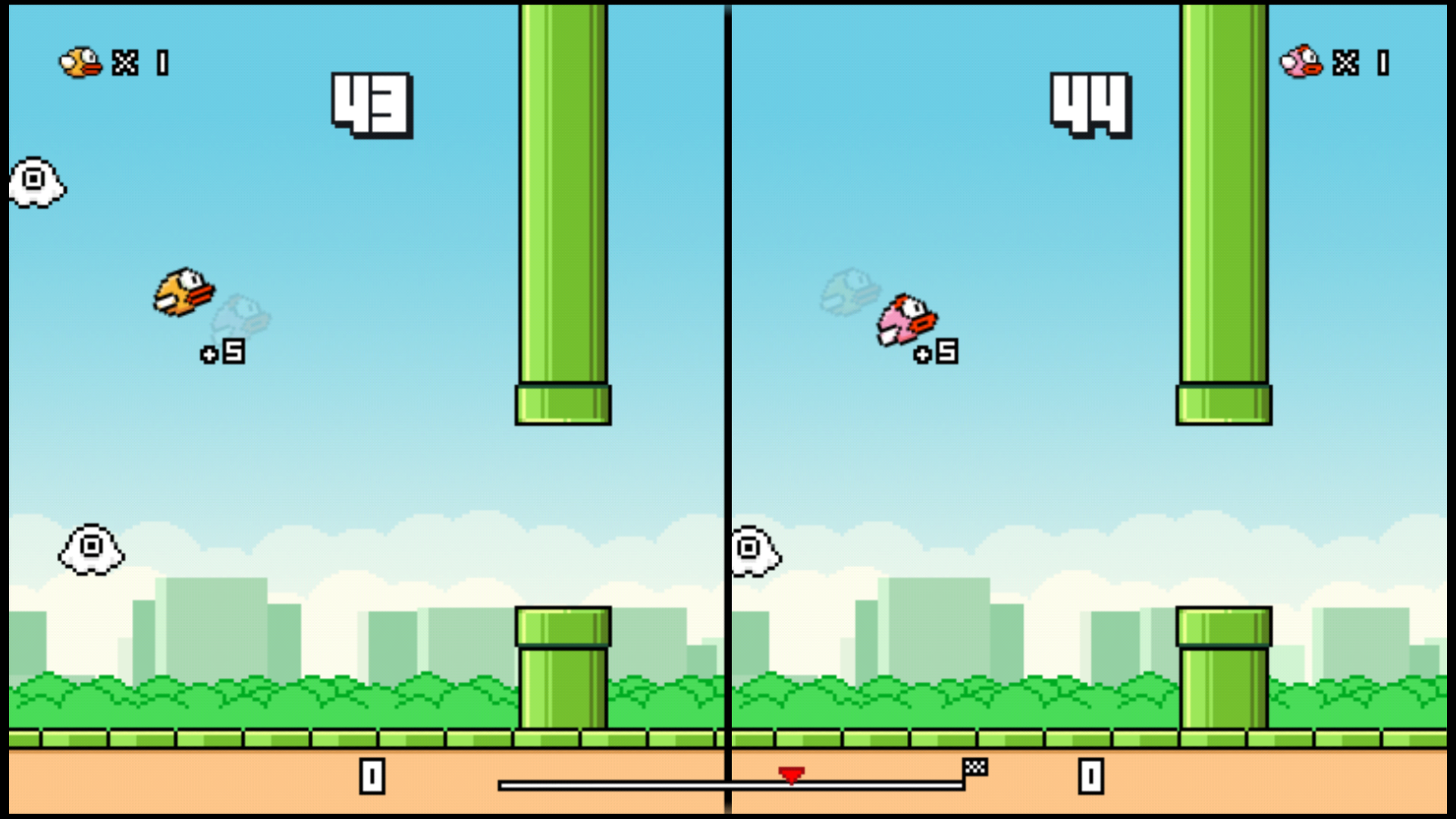 The original Flappy Bird, which was released for iOS in May 2013, became one of the App Store's most popular free apps in early 2014, garnering 68,000 reviews. Nguyen found himself at the center of a flurry of gaming press coverage (and attention from the mainstream media), and reportedly made as much as $50,000 per day in ad revenue at the game's peak. But the success apparently became too much for the creator, and he pulled Flappy Bird from the App Store in February, faulting its "addictive" nature and tweeting, "I cannot take this anymore."
Press people are overrating the success of my games. It is something I never want. Please give me peace.

— Dong Nguyen (@dongatory) February 4, 2014
I can call 'Flappy Bird' is a success of mine. But it also ruins my simple life. So now I hate it.

— Dong Nguyen (@dongatory) February 8, 2014
I am sorry 'Flappy Bird' users, 22 hours from now, I will take 'Flappy Bird' down. I cannot take this anymore.

— Dong Nguyen (@dongatory) February 8, 2014
We've been expecting a revival of the game for some time now; in May, Ngyuen told a Twitter fan he'd be re-releasing the game after making a few tweaks, but "not soon." While Ngyuen suggested at the time that the game's beloved 8-bit design would be updated to something more sleek and stylized, the Amazon screenshots suggest the game will have a similar look as the original.
Remembering the frenzy that erupted last time Flappy Bird became popular, Nguyen offered this advice to players in the Amazon product description: "Enjoy playing the game at home (not breaking your TV) with your family and friends."
One reviewer commented, "This version is not as addictive as the original, and for that I am thankful!"