When conventions like San Diego Comic-Con come around each year, geeks everywhere enter planning mode. There are lots of decisions to be made if you're attending one of these events, including where to go, what to do, who to see, and most importantly, what to wear. From complex and beautiful cosplays to simple graphic T-shirts, attendees can show off their fandom pride in many ways. 
If you also want to add a little geekiness to your outfit but plan to avoid cosplay or T-shirts, Emily Ong, creator of the blog The Stylish Geek, told the Daily Dot there are plenty of options to incorporate geeky stuff into daily outfits. A blogger for over 10 years, Ong has been a geeky fashionista most of her life and seen a shift in availability of these items, particularly in recent years.
"If you asked me 15 years ago, I would say [women would] have to raid the men's department for a geeky shirt and then deconstruct it to make it fit. But now that geek is more mainstream, there are so many options for women," Ong explained. "Sometimes you can find cool leather cuffs,  jackets, hoodies [etc.] from the men's department, but the great thing about all the geeky girl products is that there is so much variety!"
While there have been more options appearing for women, there has been less growth in the men's department, which is still limited to T-shirts, hoodies, and occasional accessories like watches and sneakers. Ong thinks there is definitely room for improvement, since there are geeky guys out there who like to dress well and would be interested in classy, geeky ties or bowties.
Still, if you're planning your Comic-Con outfit now, here are seven tips from Ong about how to put together a geek chic outfit that will blow your fellow convention attendees away.
1) Accessorize
"Accessories can take an outfit really far and this can range from jewelry to a geeky purse or even a geeky headband," Ong told the Daily Dot. 
These accessories can be found in a wide range of genres. Ong has sported comic-inspired headbands to add some geek to her normal outfits and recommends 1928's new line of classy, Marvel jewelry to those looking for necklaces, bracelets, or earrings. As for purses and bags, you can find these in subtle designs like a comic print bag or sport something a bit more bold like a Chewbacca backpack.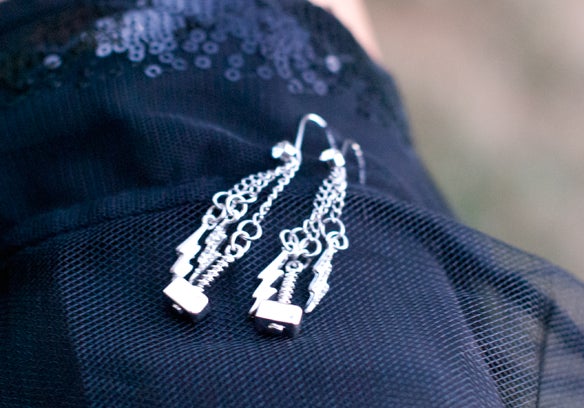 However Ong does have a word of warning when it comes to wearing these items: Don't go overboard! 
"You want to showcase the cool accessory, not drown it out with a ton of pieces. Keep balance to the Force!" Ong explained. 
If you want to wear a statement piece like this AT-AT necklace, Ong advises only wearing one other geeky thing. If you're sporting something more subtle like the Marvel jewelry, you can probably get away with wearing two or three other pieces. Keep in mind the size of the item and how "in your face" the piece is.
2) Cosplay without cosplaying 
"You know how you see a color combination and just think 'Hey, that looks like Mario!'? Sometimes just wearing a certain combination of colors can reference a certain character—think Mario, Luigi, maybe even Superman or Robin—without actually being in a full on costume," Ong said. "It shows your outfit was intentional, but obviously not a cosplay and fans will still appreciate that!"
There are a number of blogs where you can get ideas for putting together outfits inspired by different characters including the Tumblr's Disneybound and Console to Closet. Ong also suggests looking at American Apparel for ideas.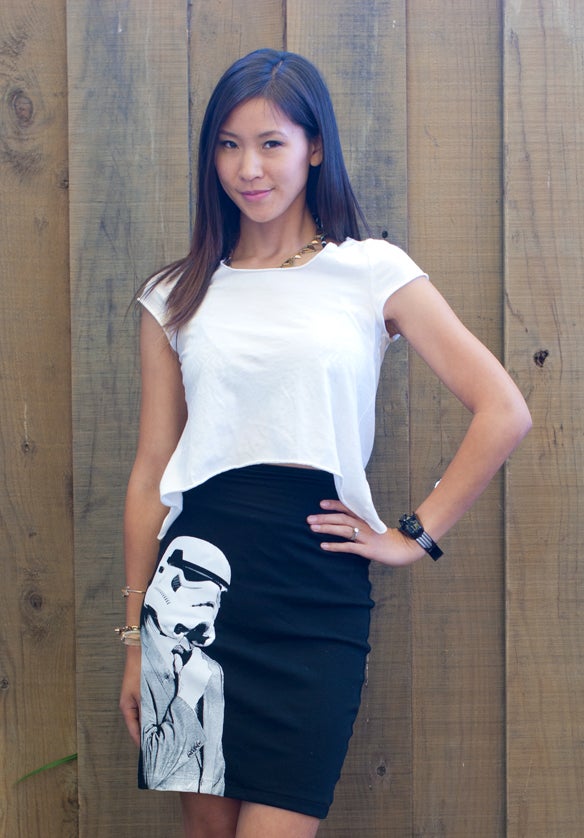 3) Rock dresses and skirts
Don't hesitate to check out these creative options for your look. You can try creating your own, like Ong did by crafting a skirt out of vintage Star Wars bedsheets, or look on Etsy, where you can find options like a Stormtrooper pencil skirt.
"Find a dress that fits. There are so many creative geeky dresses [and skirts] out there that can really make a girl feel feminine while also displaying her favorite game, character, or movie," Ong said.
If you're looking for something that's not handmade, Blackmilk, Hot Topic, and Her Universe also sell great geeky options.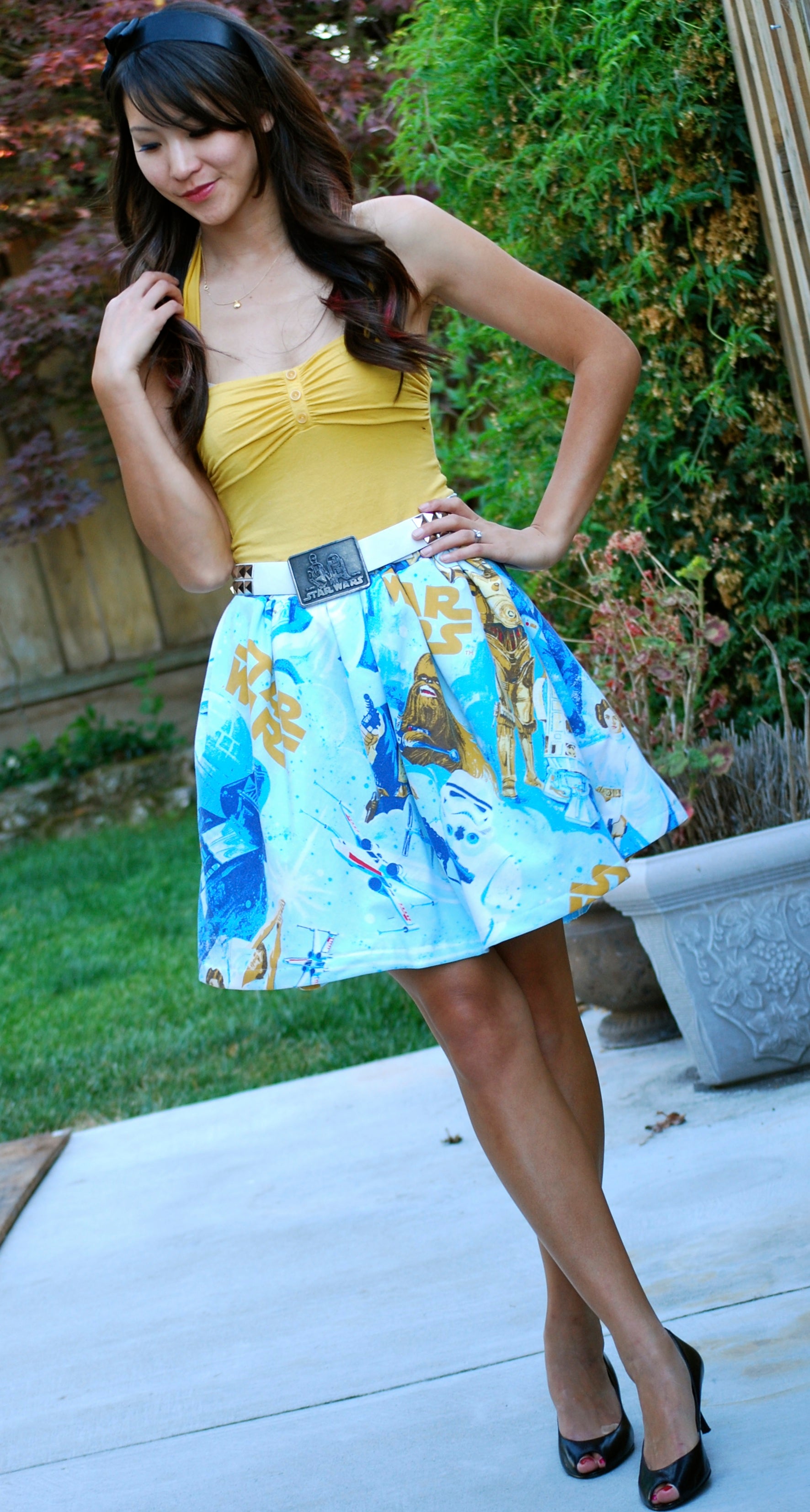 4) Try leggings
Sporting geeky leggings can be a daring move since they're often bright and bold patterns. But Ong is a big fan of leggings and said there's no need to be nervous about working them into an outfit.
"Since they are such a major statement piece, I would wear a simple, but modern piece on top," Ong said. "Something like a trapeze tank, hi-low shirt, or maybe a sheer button-up. For shoes, you can't go wrong with black booties or even Converse hi tops."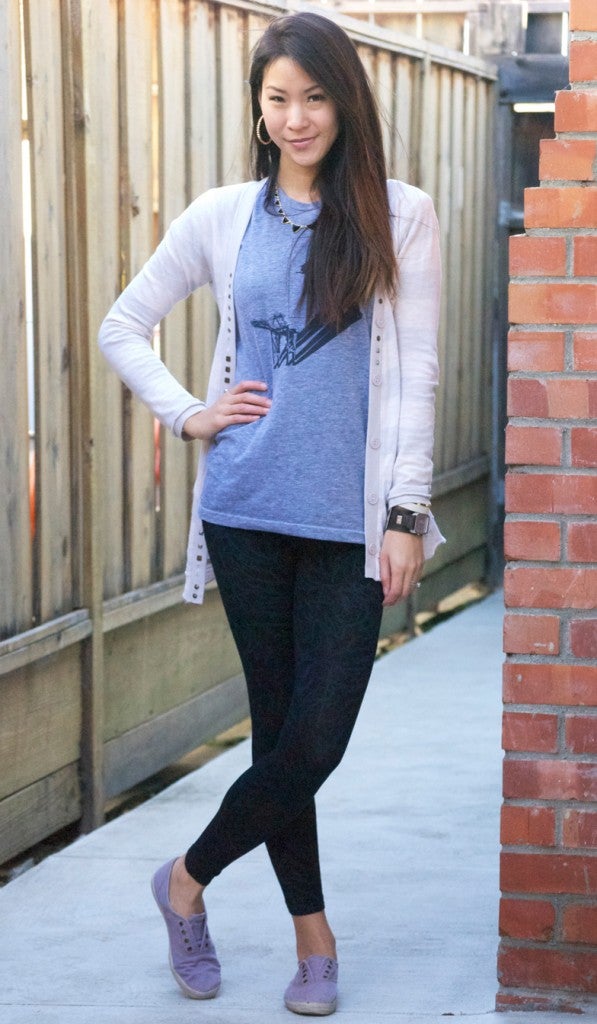 5) Add geekiness to your party attire
If you're attending one of the many Comic-Con parties during the convention, you don't have to leave your geekiness at home if you want to wear a more formal look. Ong suggests partygoers keep their outfits fun and add in items that can be great conversation pieces like a comic book skirt.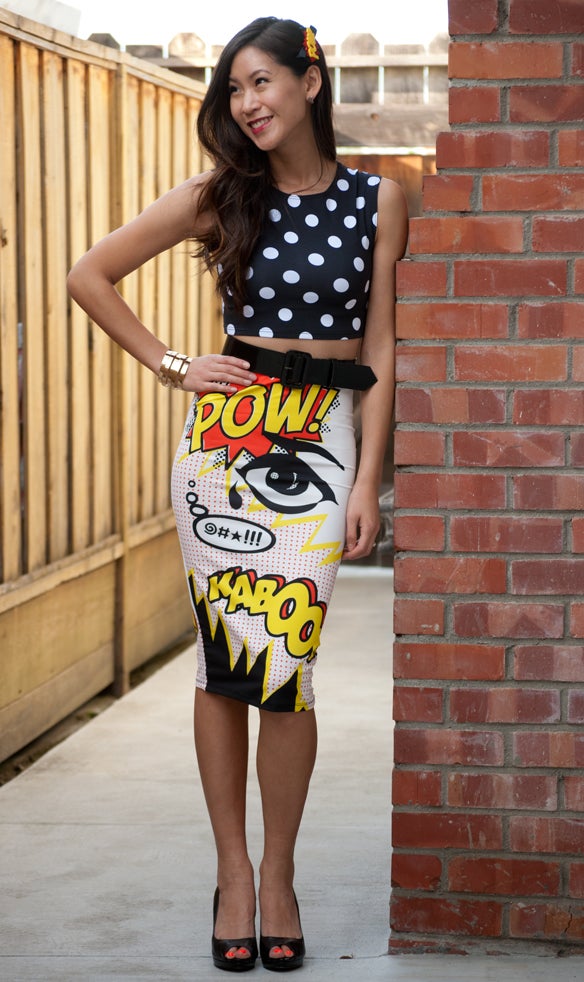 If you're planning to wear a little black dress to a party, Ong recommends adding "something like a cute comic book headband, maybe [a] Punisher necklace, or maybe even a cool statement ring."
6) Customize anything
Have a barrette you love to wear but it's not geeky? Or maybe you love a certain leather cuff but it doesn't show off your fandom? Don't be afraid to take creativity into your own hands. According to Ong, when all else fails, there's nothing wrong with trying for a unique homemade piece. For example, Ong customized her own Star Wars headband by adding mini LEGO figurines to it.
If you're uncomfortable transforming something you own yourself, look for a similar item on Etsy or eBay where someone else may have customized an accessory like yours that displays your geek interest. 
7) Be comfortable
The most important thing to remember when putting together your geek chic ensemble is to be comfortable.
"A great outfit is nothing if your body language says otherwise, so make sure you feel confident in whatever you wear!" Ong said.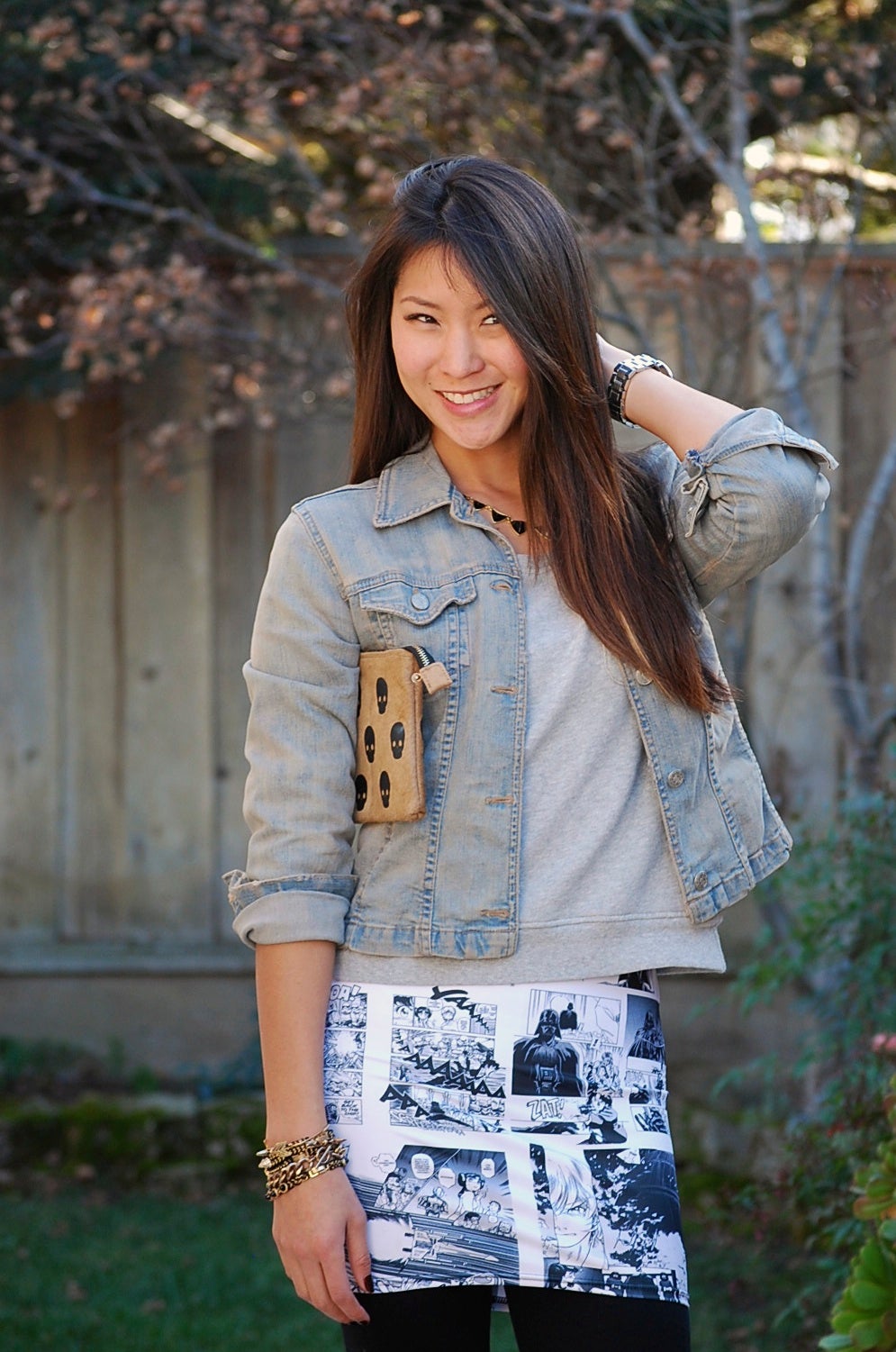 It's also important to remember that there's no right or wrong way to dress for Comic-Con; it's all about your own unique style and crafting a look that you think fits your geeky personality. Dress in a way that's most comfortable for you and makes you feel good!
Photos via The Stylish Geek