After Hot Topic allegedly used an artist's work without permission, deviantART and Tumblr users are worried that deviantART's terms of service might allow the site to sell people's art to third parties.
In a post that now has almost 100,000 notes, Tumblr user joyouscatus highlighted the many similarities between a piece of Adventure Time fanart on deviantART, and a t-shirt on Hot Topic's website. "Hot Topic are still taking art from artists without their permission," wrote joyouscatus. "This is disrespectful and appalling."
At first, this seemed like yet another example of plagiarism in the high street fashion world, as has happened several times before with Urban Outfitters and various Etsy sellers. But after a reblog from Tumblr user adu101 last week, the plot thickened. "EXCEPT YOU DID GIVE THEM YOUR PERMISSION," adu101 wrote in response to joyouscatus's original post. "BY AGREEING TO TERMS AND CONDITIONS ON DEVIANT ART THEY SOLD IT TO A THIRD PARTY ROYALTY-FREE."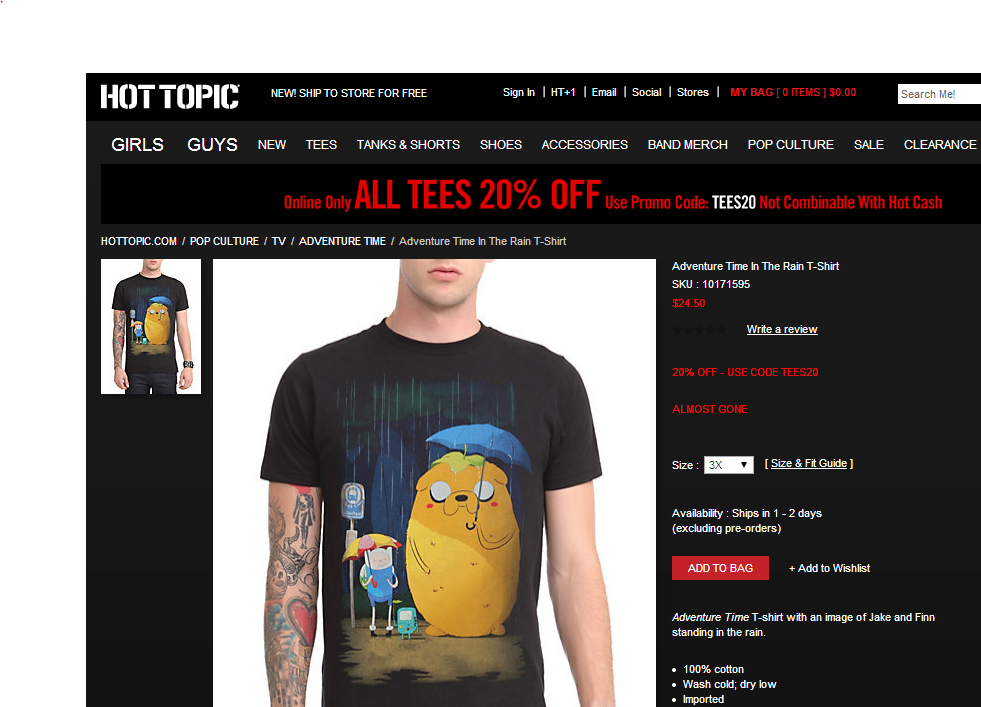 Screencap via joyouscatus/Tumblr

Screencap via joyouscatus/Tumblr
This quickly inspired a wave of panic among deviantART users who, like most people when joining a new web forum, had not read the terms of service in much detail. However, the good news is that deviantART does not retain ownership of everything posted on their site, and definitely does not have the right to sell things on to third parties, royalty-free.
On their official Tumblr account, deviantART clarified the situation.
"We appreciate the rallying of the community around the rights of this artist. Rights and ownership of artwork are an important cause which we do not take lightly. DeviantART does not retain any ownership nor right to ownership of any artwork posted to deviantART. The point of question in our Submission Policy is one which gives us the right to present the artwork you submit to deviantART on deviantART.
By the same token, because we do not retain any ownership of artwork submitted to deviantART, we cannot license it to others either (be it individual or company) without the express permission and written agreement of the artist."
There is now a section on the deviantART FAQ page explaining that "At no time do you lose ownership of your original work by submitting it to deviantART."
So, it looks like this particular piece of art made its way onto a Hot Topic t-shirt without any input from deviantART. The illustration on the shirt even includes the artist's signature from the work on the deviantART page, and the original artist, J.J. Harrison, already commented to say that it was used without permission.
The Daily Dot contacted Hot Topic for a response to the situation, and awaits a reply.

Photo via Hot Topic