If Disney has, in fact, stolen the artwork of a popular fanartist, the floodgates could open on a whole new discussion about plagiarism, copyright, and protection for fanwork.
Katie Woodger is an illustration student from England, currently studying in Japan. She's well-known on DeviantART and Tumblr. And she has a breakout memetic hit: a portrait of a girl in an Alice-blue dress who's standing on the other side of a mirror, painting roses white instead of red.
Woodger's artwork, which was posted in 2010, is very clearly fanart of Lewis Carroll's childhood classic Alice in Wonderland. It's so popular that several people have had it tattooed on their bodies, as Woodger showcased on her blog in 2012.
But is it also fanart of the Disney movie of the same name? And if so, does Disney have the right to take Woodger's image and use it on their own merchandise?
In a post that's garnered over 40,000 notes in 24 hours, Woodger alerted Tumblr to the fact that the House of Mouse apparently took her well-known artwork and put it on a canvas Alice bag that otherwise displays images clearly recognizable as belonging to the Disney film.
Woodger notes that Disney also has a t-shirt with a very similar design model to the one on the bag; but while the t-shirt does have some distinct features and a different drawing style, the canvas bag is very clearly an exact copy of Woodger's art, as if someone simply lifted it and screened it onto the canvas.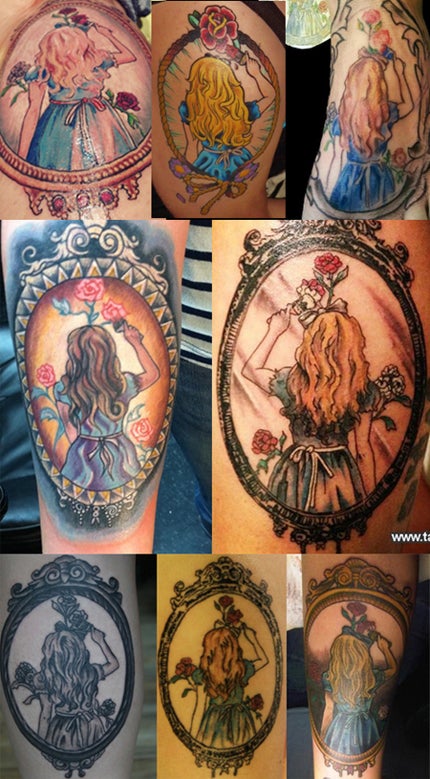 Photo via katiewoodgerillustration/Blogspot
Despite the fact that it's built its name largely on animated feature films that borrow from stories in the public domain, Disney has always been notoriously stringent about enforcing its own copyrights and trademarked images. The behemoth lobbied for the "Mickey Mouse Protection Act" that pushed the date of copyright expiration from 50 years after the creator's death to 70 years after death. And it's long been known for aggressively pursuing copyright claims—it's only been a few months since Disney sent a cease-and-desist letter to the creators of a comic once published by Marvel, in an attempt to assert that it was Disney, not the creators, who owned it.
Disney has come under fire for plagiarism before, such as when, a decade after its release, people began to talk about the marked similarities of characters and composition between The Lion King and famed animator Osama Tezuka's Kimba the White Lion, which the company never acknowledged or credited.
In this case, Disney seems to be banking on trademark, while Woodger has what is essentially a copyright case: Alice is in the public domain, so Woodger should own the copyright to her original art of the character,
Ironically, it's Disney who usually tries to make a clear distinction between copyright and trademark, as evidenced by this cheeky copyright tutorial using only Disney characters:
But even if Woodger's claim to the art seems fairly straightforward, calling out one of the biggest companies in Hollywood is far less so; and right now Woodger seems overwhelmed. In a post made earlier today, she stated that she had contacted Disney and was awaiting a response. In the meantime, she declared that she was turning off her inbox and asked that people stop contacting them on her behalf. Our request for comment went unreturned.
The word is already out, however; and it looks like the Twilight Bark to hold Disney accountable for their questionable choices when it comes to dealing with copyright may not be silenced any time soon.
Photo via katiewoodger/Tumblr