Over the last few months, geek fashion has been going through a renaissance. While women continue to demand fair representation in the pop culture fashion market, the successes they've had over the last few years have led to increased interest in seeing progress in another area: geek couture. Finding geek-inspired style you can wear to a party or fancy event often means looking for handmade apparel instead of options from mainstream designers, but things are changing—quickly. 
In the winter and spring, high-end designers Rodarte and Preen impressed with couture looks inspired by Star Wars and in July San Diego Comic-Con held the first-ever Her Universe geek couture fashion show with great success. Now a new fashion company called Cozday Clothing—a play on "Cosplay for everyday. Cosday."—is hoping to be the first brand to offer geeks designer options inspired by their favorite fandoms.
Cozday was founded by Leetal Platt, a filmmaker turned fashion designer who studied fashion design at Paris College of Art in France and then attended Los Angeles' Fashion Design Institute of Design and Merchandising for her associates of arts in fashion design. She thought of Cozday when one of her professors in Paris mentioned that her designs didn't match the clothes she wore. While surrounded by Paris high fashion, Platt was wearing a Scott Pilgrim "Sex Bob-Omb" T-shirt and a Pac-Man belt.
"I suddenly realized that I was stuck between these two forms of fashion: One that referenced my old life going to comic-con and loving movies, and the fashion world that I was now entering," Platt told the Daily Dot. "I figured, although there's some menswear that does this, there's nothing out there for women that goes beyond the basics. I saw there was a void to fill and it needed to come from someone with a fashion perspective."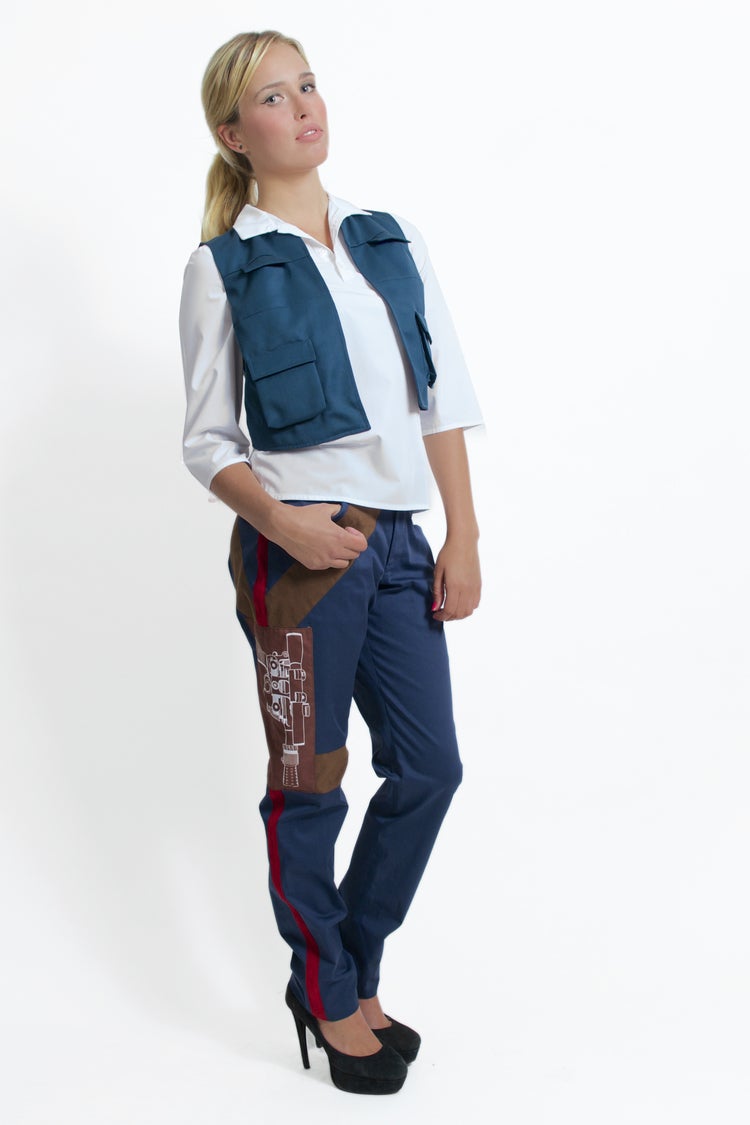 Han Solo-inspired vest and blaster pant.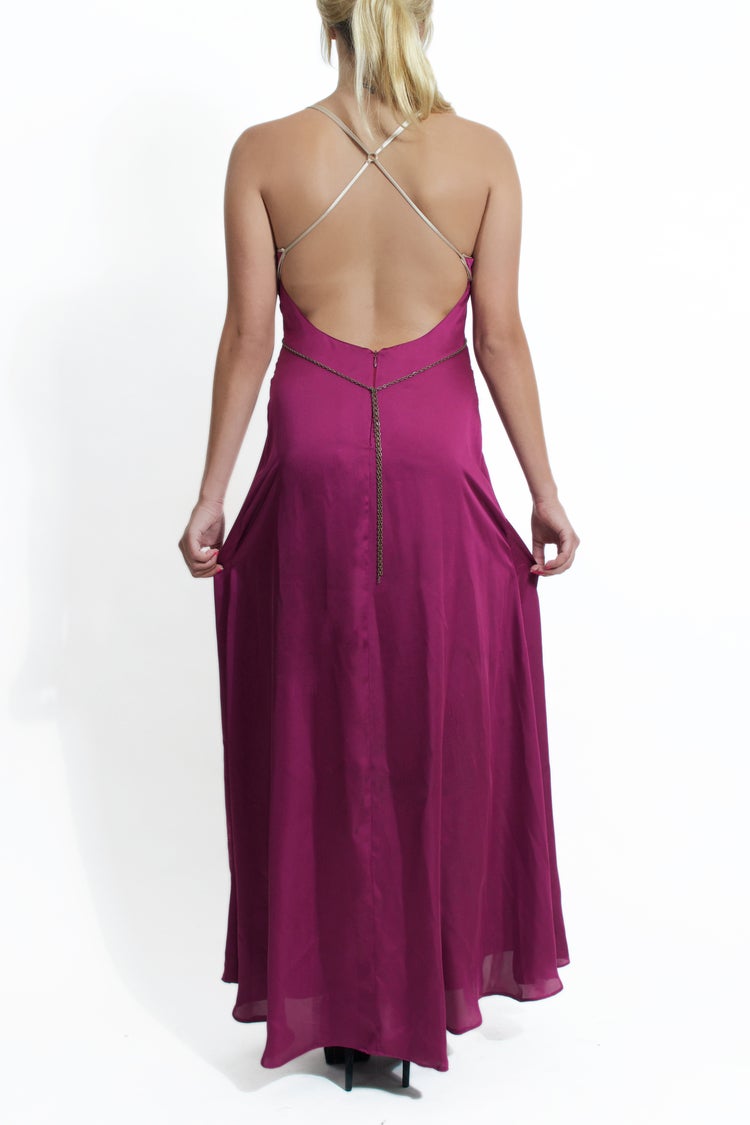 Princess Leia-inspired chain dress.
Platt's "geek obsession" has always revolved around movies, and when she remembers films from her childhood, it's the costumes that standout clearest to her. Inspired by these looks but not necessarily a cosplayer, Platt wanted to create a brand with subtle designs.
"I want to incorporate these characters into who I am already, but I wanted to be able to still fit in with the highest fashion crowd. That would be the greatest, no? To wear something that reminds you of Star Wars, but wouldn't sell you out if you were to, say, wear it on a date. However, if your date high-five's you because he recognizes Princess Leia, well then, he's passed your first test!" she said.
Platt started this concept in 2013 and her first collection is a group of looks that she began around that time. It includes designs inspired by Star Wars and Battlestar Galactica. Platt said these looks are from costumes that gave her immense inspiration and mean a lot to her. The biggest challenges when creating the collection were narrowing the looks down and resisting the urge to create a whole collection from one look, and stepping away from being a fan to accept the changes current trends and manufacturing limitations require.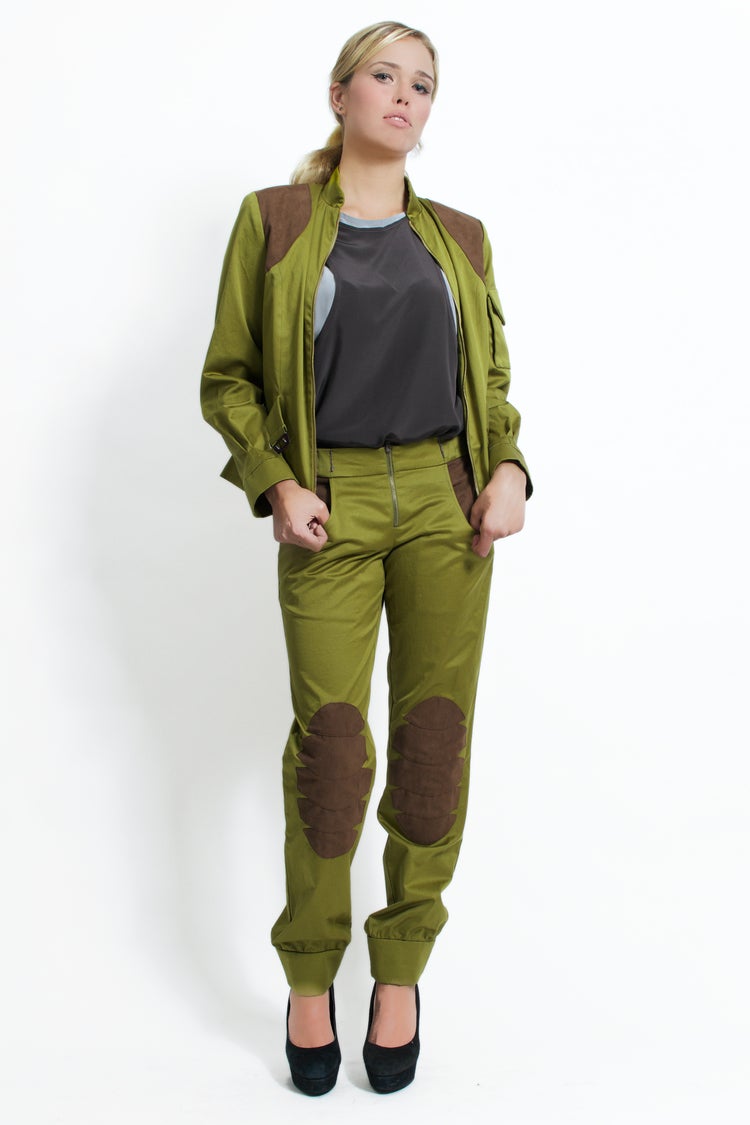 Viper pilot-inspired jacket and pant.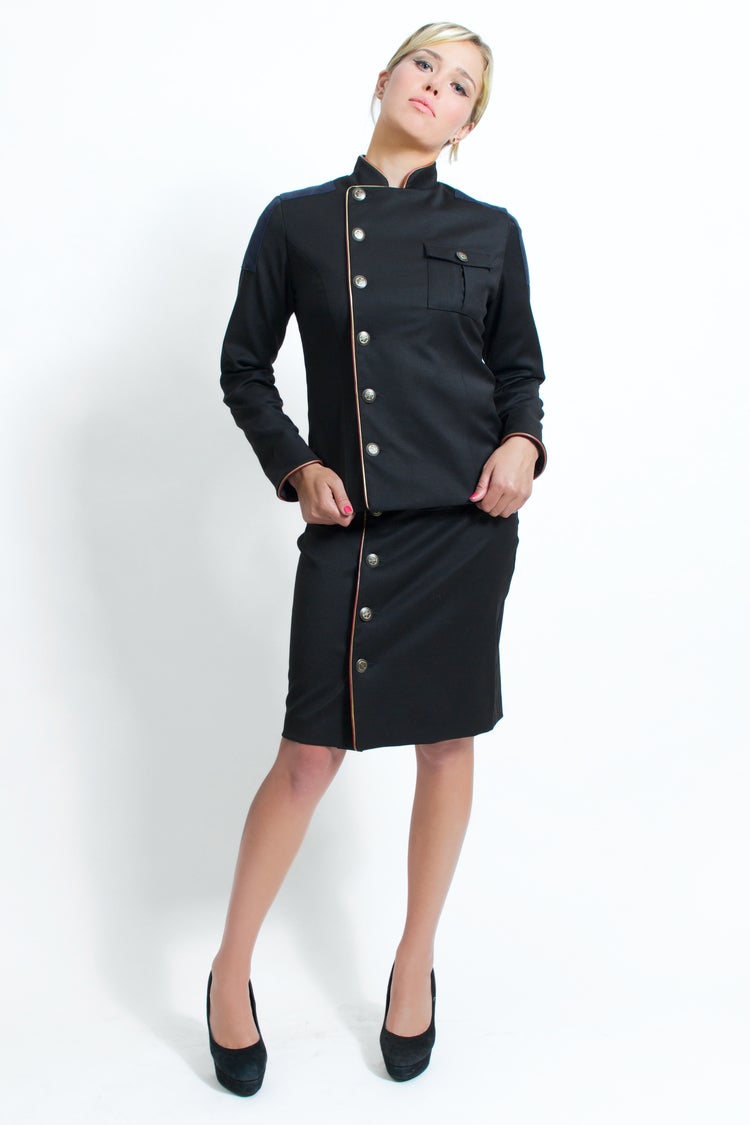 Admiral-inspired jacket and skirt.
The collection launched at a Comic-Con event co-sponsored by GeekNation. Platt called the timing perfect, not just because it was Comic-Con but because she was taking part in the fashion show as well. Her Doctor Who-inspired Dalek wedding dress was one of 36 designs featured during the show. Platt said it was fun taking part in the show because it was focused on couture designs and the designers were supposed to try and "wow" the audience with designs "that took a lot of time to make and were likely pretty impractical."
"Of course I chose the Dalek because it's a natural fit for that gala gown silhouette, plus the idea of the light-up headband and bouquet of wires was just too good. I actually had trouble coming up with things for them because I kept designing things I thought would be good for Cozday in the future!" Platt said. "Cozday is ready-to-wear so one thing it will likely never do is a big poofy wedding dress with 50 yards of tulle, so I went with that."
While the wedding dress is for sale, Cozday's first collection is also now available. It launched for a pre-order sale Thursday. According to Platt she's seen a great response to the collection from the Comic-Con launch and beyond, and has enjoyed watching people see her work and immediately get the idea behind it. However Platt plans for prices to range between $80 to $400, which may make some hesitate when it comes to purchasing a piece.
"Sadly, it takes some people time to warm up to designer prices, but that's because we make everything in extremely limited quantities manufactured in the U.S.A. Every dollar supports small business!" she said.
If this first collection does well, fashionable geeks can expect more high-end collections. There's a lot of material Platt would like to explore in future collections, including "bringing subtlety to the insanity of anime." She also teased that there's so many iconic costumes in a certain long-running TV show that it needs a whole collection.
With these plans, Cozday might just fill the couture gap in geek fashion. A gap that Platt sees as a result of big companies unable to grasp how much the market has changed in the last few years.
"We're slowly seeing geek chic coming into higher levels of merch and art, the jewelry and makeup industry has caught on to that," Platt said. "I see the geek chic trend seriously cresting in the next few years. It's really exciting, but it will only happen if we fans make it happen on that higher level and demand and purchase better quality goods."
Photos via CozdayClothing.com