Warning: This article contains minor spoilers for Game of Thrones' season 7 premiere, "Dragonstone."
The Game of Thrones season premiere contained a noticeable nod to last season's most unexpected and rooted-for potential romance between Brienne of Tarth and Tormund Giantsbane, and now one of the actors took it upon himself to give Brienne and Tormund the happy beginning fans so desperately want for them.
The scene in the show is a more blatant moment of fan service (which seemingly acknowledges Game of Thrones fans' interest in the pairing). What the two characters say to one another—after Tormund shows envy toward Brienne's training session with her squire, Podrick Payne—goes unheard while the show focuses instead on Littlefinger and Sansa Stark's conversation.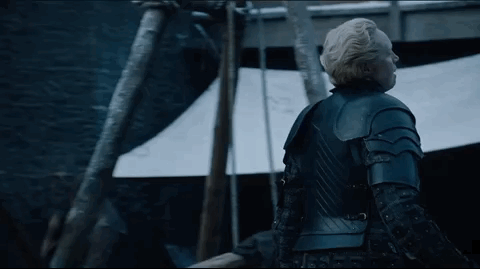 However, in a recent Instagram post, Tormund actor Kristofer Hivju used character action figures—the Brienne model is comically larger than Tormund—to demonstrate one way Brienne and Tormund could get together. If you're wondering what shorthand to use for the pairing, Hivju is going with "Briemund."
Sure, it's a silly video, but it gets even better once Hivju reveals he's not just voicing the two figures; he's the one making them smooch. 
Seriously, we can't get enough.
And although Hivju seems jokingly willing to indulge Brienne and Tormund getting together, he revealed in a video clip with HBO Nordic that there's just one woman for Tormund. (It's not who you think it is.)
Hivju is, of course, referring to the bear Tormund allegedly (and drunkenly) had sex with, which he tells as a campfire story in season 4. He doesn't get to finish the story because Ygritte isn't having it, although book fans believe the bear was possibly a woman from House Mormont (whose House sigil feature a bear).
And don't worry, Hivju made a video for that too.
As for whether Brienne and Tormund will actually make it through to see a happy ending? Don't count on it, especially now that winter is here.
"We need to kill one of them now," Game of Thrones showrunner David Benioff told Entertainment Weekly last month. "There can't be a happy ending or any romantic connection on the show. But we're not going to tell you which one."
While Benioff is probably joking here, the likelihood of two people who love one another—in whatever capacity—making it out alive is highly unlikely.