After four centuries, you might think that all of Shakespeare's tricks have been revealed. After all, as many times as the bard has been re-imagined and re-intepreted, what else can there possibly be left to add?
Plenty, as it turns out—or so Boston audiences are learning in an astounding new production of The Tempest that incorporates magic from Teller (the silent half of Penn & Teller), music from Tom Waits, and monsters from the "zombie choreographer" of The Walking Dead.
The central character of The Tempest is Prospero (Tom Nelis), an exiled duke who is shipwrecked on a strange Mediterranean island with his daughter Miranda. He becomes a powerful sorceror, ruler of all the elements—except for the most uncontrollable one of all, the human heart.  
According to Posner, the production is a dream realized for Teller. "He has been thinking about this play and living with this play for 30 or 40 years," he said, "loving it, caring about it, dreaming about when he could bring it to the stage."
For the new production, Teller and Las Vegas illusionist Johnny Thompson designed and staged Prospero's magic as Shakespeare intended it to be, one of the show's dramatic elements rather than a superimposed trick. The 80-year-old Thompson told Boston's WBUR that the experience of working on a Shakespeare play after years of doing Las Vegas magic tricks was "wonderful."
The production is co-directed by Teller and Aaron Posner and began as a big-tent production in Symphony Park, Las Vegas, before moving to Boston for a stint at Harvard's American Repertory Theatre.
In addition to the magical effects, which are dictated by Shakespeare himself, the production has enlisted theatrical dance troupe Pilobolus, a double-jointed crew, whose Associate Artistic Director Matt Kent has done zombie choreography for The Walking Dead. The dancers make up the island's many strange and weird monsters, led by the monster Caliban, played in this production as a two-headed conjoined beast. The fairy Ariel (Nate Dendy) is another trickster, joining Prospero in directing the play's onstage illusions as if they are regular magicians rather than actors.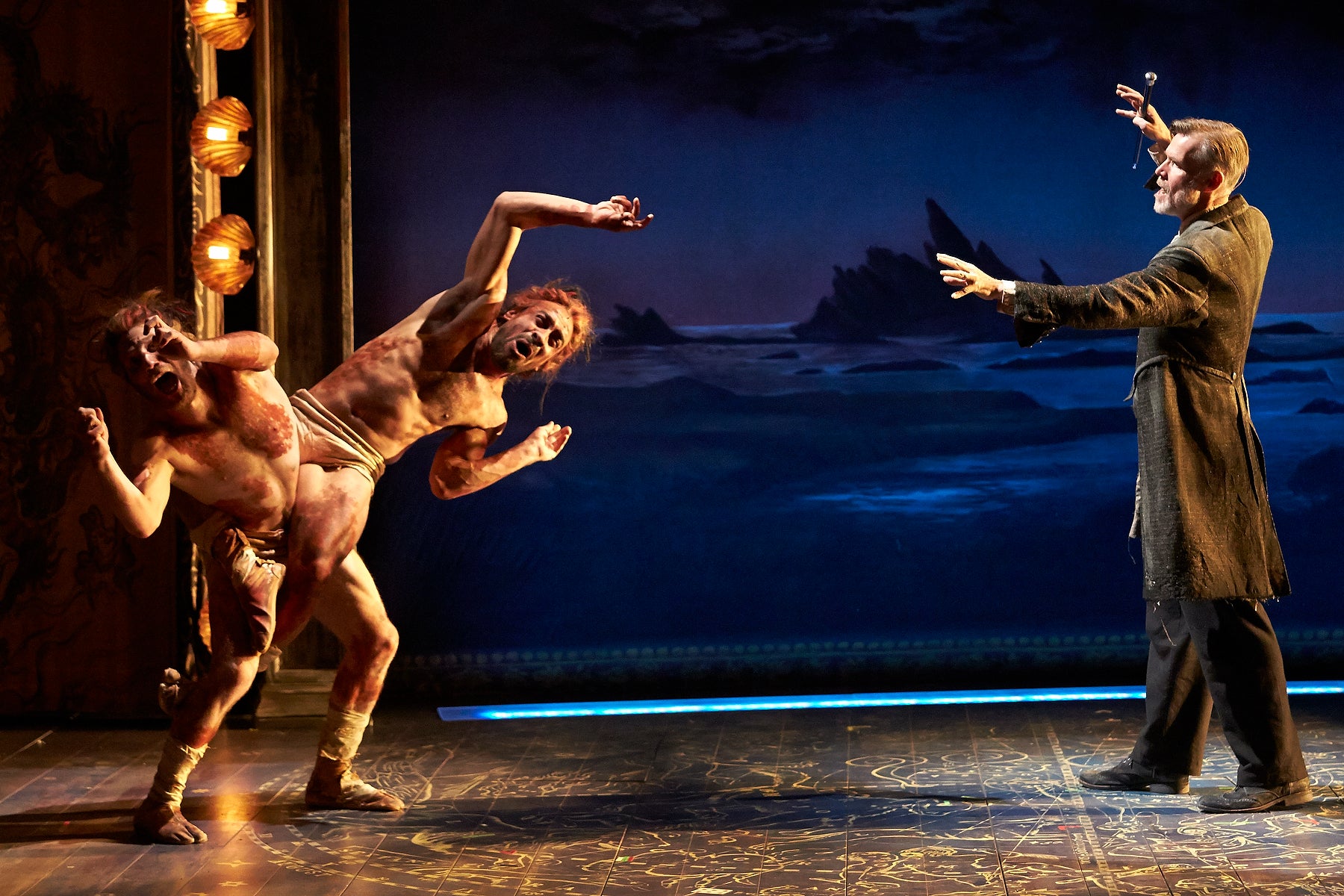 Photo via American Repertory Theatre
The overall effect is mixed—the Las Vegas Sun called it "mind-blowing" while the LA Times felt the production was overblown and noisy, noting, "[T]his roaring storm has no eye."
But it's clear that for the cast and crew, the production arises from deeply held passions for the stage, Shakespeare, and the combination of elements that Prospero's island brings together: theatre, dance, and magic. 
"I feel like I am a kid in the greatest candy store that has ever been created for anyone," Posner said.
It's a candy store that will most likely be headed to Broadway after its Boston run, and possibly a stop in California.
Theatre lovers, put on your raincoats.
Photo via American Repertory Theatre