Though the summer's Nintendo Direct suggested Banjo and Kazooie would hit the Super Smash Bros. Ultimate stage this fall, Nintendo surprised viewers by announcing the dynamic duo would in fact be available today. Below, we've summarized everything we learned about Banjo and Kazooie in Super Smash Bros. Ultimate from today's Nintendo Direct presentation.
Banjo and Kazooie moves
The 1998 N64 classic Banjo Kazooie got updated for the modern consoles, so while their motions and animation are very reminiscent of the original games they appeared in, some of the complex moves needed for Smash gameplay required a little additional finesse. You can see that fresh animation in all of the duo's actions, including:
Talon Trot (dash)

Flap Flip and Feathery Flap (jump)

Claw Swipe (neutral)

Rat a Tat Rap (flurry)

Forward Roll (dash)

Beat Bar (down tilt)

Bill Drill (up smash)

Breegull Bash (side smash)

Wing Whack (neutral air)

Air Rat a Tat Rap (back air)

Beak Buster (down air)
They also have a robust set of specials, including: Eggs Firing (neutral special, which transforms into the Breegull Blaster with a button hold), Rear Egg (down special), and the Mighty Jinjonator (forward smash). Shock Spring Jump (the duo's up special) is a massive upward leap that allows for quick recovery by letting players tack on a midair jump as well. The initial height depends on how long you hold the button, making it a very handy move in a pinch. But Banjo and Kazooie's side special is the real game-changer: Wonder Wing is a powerful move that will trump most counter-moves. Because it's so beefy, you're limited to only five until you lose stock. Be careful when you deploy this mega-move, as it can be blocked with a shield, and you're vulnerable to being grabbed while in motion.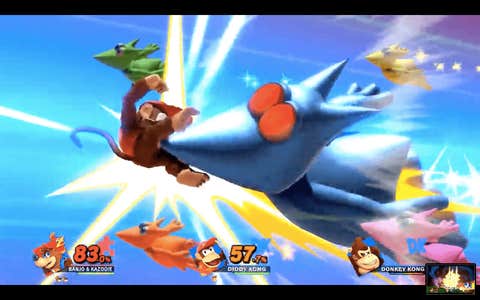 New Banjo Kazooie Smash stage
Nintendo introduced Spiral Mountain as a new stage to Super Smash Bros. Ultimate. The level's main fighting platform is the top of a mountain that, as the name would suggest, has a pathway spiraling down away from the top.
Banjo Kazooie cameos
Several familiar faces from the original Banjo Kazooie games will make an appearance when the dynamic duo launches on Switch. These include:
Gruntilda

Bottles

Mumbo Jumbo

Tooty

Jinjos

Buzzbombs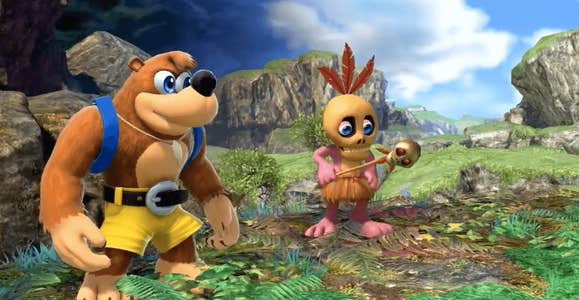 All of them were billed as "sad souls," but no one got as much screen time during the demo as Tooty, who raced along the bottom edge of the screen before trouncing some vegetable gardens, taunting the players, and running away toward a hut. I'm not sure exactly what Nintendo's playing at here, but I wouldn't be surprised to see more Tooty action in the future.
How to play as Banjo and Kazooie in Smash
Unlike many of the other announcements from today's Nintendo Direct, Challenger Pack 3 is available today for $5.99, which includes the players, new stage, and fresh music tracks.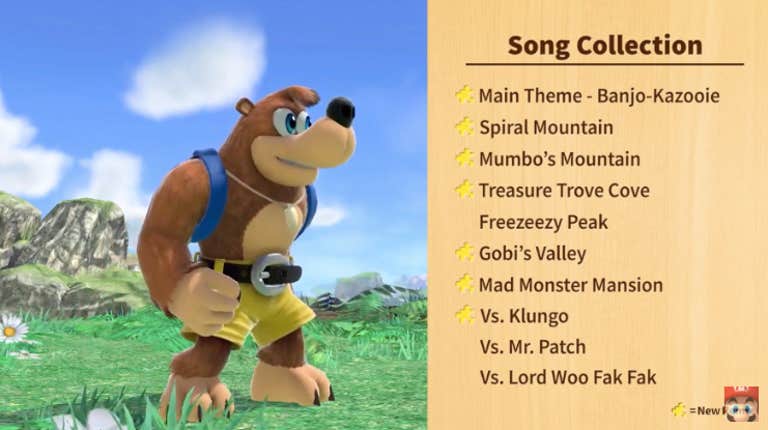 If you want to subscribe to the Fighters Pass to receive the subsequent two characters as they become available, you can buy that pass for $24.99 from Nintendo.com. They're also currently available for Xbox, which is a weird thing for Nintendo to advertise, but let's roll with it.
Other Super Smash Bros. Ultimate updates
New game mode: Solo or together with a friend, deal damage to a sandbag in a limited amount of time, before launching it into space for the Homerun Contest.
Mii fighters: It's about to get easier to customize special moves for Mii fighters, and extra costumes are due out as well.
Three new amiibo will be available on Sept. 20: Squirtle, Snake, and Ivysaur.
Challenger Pack 4 was announced to be Terry Bogard, from the Fatal Fury franchise. That component of the Challenger Pass is currently in development, due out for release in November.
Nintendo also announced that, contrary to the original word about the Fighter Pass being merely a five-pack event, more DLC is currently in development.