A polar vortex isn't a special move Mortal Kombat's Sub-Zero does when you press down+right+B on the controller. It's a large wintery cyclone that made a rare appearance over the midwest Monday, dropping degrees far lower than usual time-for-a-Netflix-marathon levels.
Temperatures plunged to negative 23 degrees Fahrenheit around Minneapolis and minus 12 in Chicago. Hundreds of schools and government offices closed for the day. 
Since 9:30am Monday morning, "polar vortex" has been tweeted more than 4,800 times, mostly by people who don't know what the heck it is. 
Some of the best guesses people have made so far:
Polar Vortex is the worst pro wrestling name I've ever heard.

— Lee Mays (@OriginalLeeMays) January 6, 2014
#PolarVortex the official reason @DamonLindeIof quit twitter pic.twitter.com/gypaDkLew7

— Dan Milano (@DailyDanMilano) January 6, 2014
It could be worse. Instead of a polar vortex, we could be experiencing a polar sharkvortex.

— Bill Kempin (@BillKempin) January 6, 2014
BREAKING: X-Men battle Polar Vortex.

— Warren Holstein (@WarrenHolstein) January 6, 2014
Random thought: #PolarVortex https://t.co/hBZSyB7yyG

— Calvin (@GorillaProducer) January 6, 2014
I was going to try to make a joke about a "polar vertex" but then I remembered that I barely passed high school geometry

— Michael Roston (@michaelroston) January 6, 2014
Polar Vortex drinking game: every time you see a TV reporter hold up a thermometer outdoors. (Can be played with Hot Chocolate too.)

— Mark Knoller (@markknoller) January 6, 2014
Every time somebody says "polar vortex:" pic.twitter.com/wcdBET0emn

— Alex Fitzpatrick (@AlexJamesFitz) January 6, 2014
The actual roads may not be THAT bad…but it doesn't mean driving conditions aren't hazardous. #PolarVortex pic.twitter.com/EKjiscgtKe

— David Skidmore (@sycamoreskid) January 6, 2014
What's the best filter for a polar vortex

— Michael Roston (@michaelroston) January 6, 2014
While polar vortexes (vortices?) are typically "found around either the north or south poles," the U.S. has seen several this winter season.
Jason Samenow, the chief meteorologist for the Washington Post's Capital Weather Gang blog, said "the polar vortex will bring some of the lowest temperatures in decades. … About 115 million people were under a wind chill warning, watch or advisory Sunday."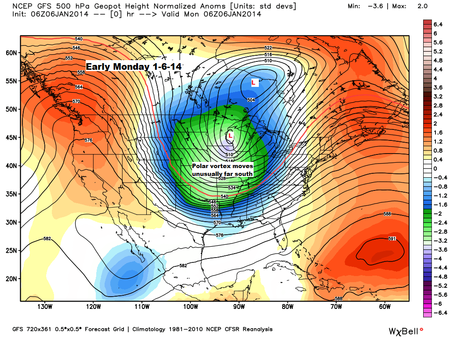 Photo by torremountain/Flickr