It turns out you can put a price tag on one's virginity.
After 15 publicly placed bids, the winners of the virginity auction have taken home the prizes with $780,000 bid for Catarina—and just $3,000 for Alexander.
According to one screengrab, the cover photo for Catarina (whose real name is Ingrid Migliorini) was once far more, well, virginal than it was by the time she racked up nearly $800,000. By the time the auction was over Catarina had transformed from this: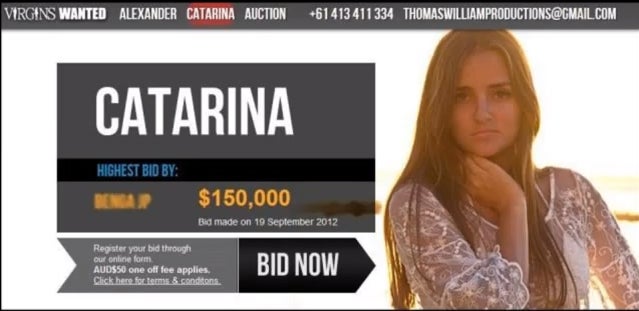 to this: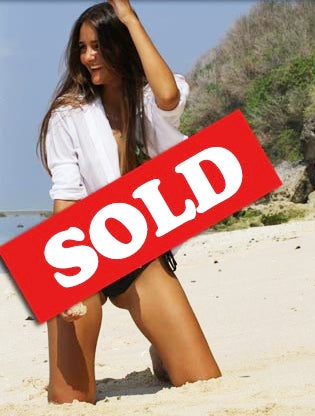 As the publicity rolled in, auctioneer Justin Sisely pushed the final deadline for bidding back twice, from Oct. 15 (at which point the highest bid for Migliorini was a paltry $200,000) to Oct. 24.
At least one of the bidders wanted to marry Migliorini, but according to the official "Virgin Sex Terms" they'll have to settle for one-time-only copulation instead.
Full names have not been announced for the winning bidders. "Natsu," the winning bid for Catarina, is presumably a Japanese man, since the rules of the auction allow only for heterosexual intercourse only. He won the right to bed Migliorini by offering $40,000 more than the nearest competitor.
Meanwhile, the winning bid for the Russian Alexander, whose real name is Alexander Stepanov, went to "Nene B" from Brazil.
The only thing needed to bid, according to the site, was "a legitimate email contact address" and a $50 deposit. While the auctioneers are going to strenuous lengths to ensure buyer satisfaction, requiring gynecologist exams and certification for Migliorini and statutory testimony from relatives of Stepanov, there is a pointed lack of mention as to what precautions they might be taking to ensure the safety of the participants. No mention of identity or criminal background checks appear on the site, nor of any safety measures that might be undertaken during the act itself.
Migliorini told Fohla de Sao Paolo that she intends to donate the money—she gets a $20,000 fee as well as 90 percent of the highest bid—to help build houses in her hometown of Santo Catarina. The 20-year-old has dreams of becoming a doctor and hopes to study medicine in Argentina.
Stepanov told Russia's Life News that he wanted to put part of the money towards helping himself recover from lifelong depression. He stated that Sisely offered both participants psychiatric assistance if needed.
Given that Sisely is also planning on filming the sexual acts as part of his "documentary" on the event, a little therapy seems like the least he could do.
Photo via VirginsWanted.com