@LennayKay, the Twitter account for the fake girlfriend that Notre Dame linebacker Manti Te'o publicly claimed was the love of his life until her existence was outed as a hoax by a Deadspin exposé on Wednesday, is back on Twitter.
And she's trolling hard.
To be fair, there's little reason to think whoever's controlling @LennayKay right now is the same person as "Lennay Kekua," or whoever was behind the account when Te'o would tweet out such sweet nothings as the one he posted the evening of Nov. 6:

The entire incident "is incredibly embarrassing to talk about," Te'o later said.
But if Lennay Kekua never existed, how is she trolling now? It's all thanks to a quirk in the way Twitter handles are registered.
Once anyone deletes or changes the name of their Twitter account, Twitter makes it available for anyone else to use. According to WhenDidYouJoinTwitter.com, the person behind @LennayKay only registered that name on Wednesday—the same day the scandal broke. Deadspin reported that whoever was behind "Lennay Kekua" has a history of switching up Twitter handles, and dropped @LennayKay in favor of @LoveMSMK in September.
That freed up the @LennayKay name for some enterprising, yet-to-be-identified soul.
At first, on Wednesday evening, @LennayKay simply retweeted two of Te'o's sweeter tweets: The "miss you" one above, and one where he gave a shout-out to Kekua's entire made-up family: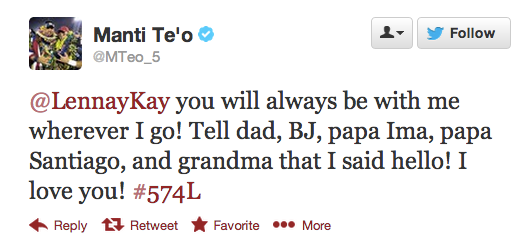 There was some confusion as to how this happened: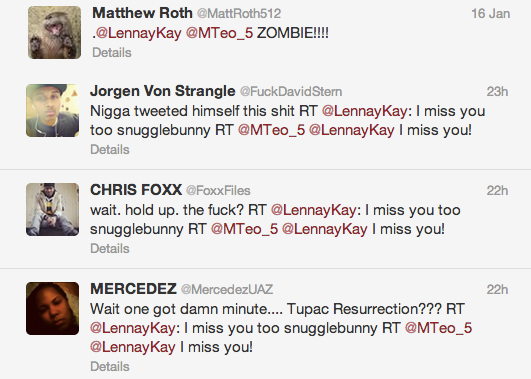 On Thursday, @LennayKay upped the game, promising an official statement. A "lot of truths and myths need to be addressed here," the account wrote.
This prompted more confusion:
Finally, nodding to the fact that in Te'o's final game, the BCS National Championship game against Alabama, Notre Dame defense gave up an embarrassing 529 yards and six touchdowns, @LennayKay closed with an already-viral joke.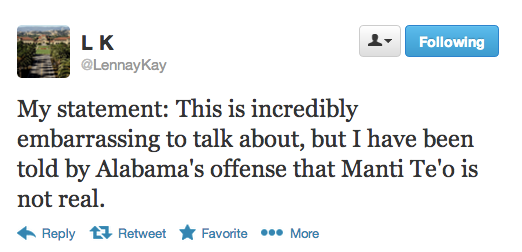 Screengrab via @LennayKay/Twitter