The list of headliners for next year's Legatus Summit, a conference for members of a business-minded Christian group that also hews to some pretty appalling positions on homosexuality, was a bit of a head-scratcher: Bill Donohue, Rick Santorum, and … Bob Newhart?
The iconic comedian is a practicing Catholic, but this hardly felt like his sort of scene. 
On Facebook, his fans made the same point. Angrily. Many were dumbfounded that a man beloved for his dry wit and intelligence would appear alongside such hateful figures, and for Legatus, an organization that has railed against the "intrinsic evil" of gay marriage, labeling same-sex attraction a "disorder" that must be "cured." They piled onto the most recent update to Newhart's page—a warm Thanksgiving message—to make themselves heard.
"I really hope you aren't really supporting this anti-gay group," one person wrote when the event lineup became public. "I'm a lifelong fan and it would be heartbreaking if it's true." Another described his sense of "being betrayed by a lifelong friend." The question of the 84-year-old's legacy was also brought into play more than once. "Say it ain't so Bob! Is this how you choose to end your career?" someone asked rhetorically.
What's amazing about the thread is that it retains a respectful, measured tone—truly a testament to Newhart's polite, gentle, nice-guy persona. There are practically no epithets, and nobody uses caps lock. The most common word throughout is "disappointed," and the appeals to reconsider the gig are deeply personal. "Mr. Newhart, don't appear with a group who openly condemns people like my daughter, her wife, and their son. You are better than this," reads one.
Six days after news of the Legatus appearance blew up, Newhart's Facebook page was again updated with a simple clarification: "Upcoming Bob Newhart Tour Date Change—Bob will not be performing at the Legatus Summit in Orlando FL on February 6th, 2014."
A similar message appeared in the Thanksgiving thread. His fans, of course, were elated: "Childhood Hero Status = INTACT!!!" one gushed, while another applauded the decision on a religious basis: "thank you for standing up for the Christian values of love and inclusion."
It seems, then, that Newhart may not have previously known the extent of Legatus's bigotry and propaganda efforts; it's entirely possible his Catholic connections brought him to their doorstep without fully elucidating their agenda. As of this writing, the group's website still prominently features a photo of Newhart in an image advertising the summit, and he remains on the list of scheduled speakers for the event. There's no way they'll persuade him not to pull out, but we sure wouldn't mind hearing the other side of that phone call.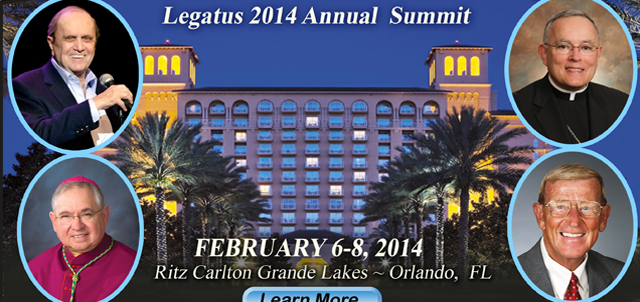 Photo by aaronwhardin/Flickr