Say what you will about former congressman Anthony Weiner, but the man keeps his promises. This May, the disgraced legislator and candidate for New York City mayor admitted that more lewd photos of him existed, and that more women might come forward about sexting relationships with him.
Today, one of those women has anonymously done just that. 
According to a report from gossip blog The Dirty, the 48-year-old conducted a heated Facebook relationship with a 22-year-old woman. Weiner allegedly went by the name "Carlos Danger" and promised the woman a job at Politico and a condominium in Chicago.
"The relationship consisted of Anthony Weiner and Anonymous [woman] sending sexually explicit pictures of each other and having sexual conversations via phone," The Dirty reported. 
The timeline of Weiner's activity is unclear, although the woman claims their online relationship lasted six months, with some of the messages sent last August. The woman also provided the The Dirty the following photo allegedly sent to her by Weiner: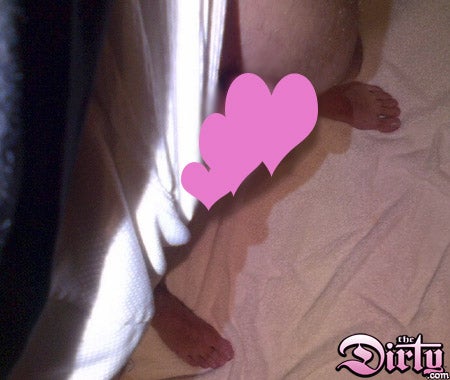 Weiner, who has been busy campaigning for mayor since May 21, released a statement today through his campaign, seemingly confirming the accuracy of The Dirty's report.
"I said that other texts and photos were likely to come out, and today they have," Weiner said "These things that I did were wrong and hurtful to my wife and caused us to go through challenges in our marriage that extended past my resignation from Congress."
On June 16, 2011,  Weiner resigned from congress after he accidentally sent an explicit photo of his bathing suit region to a woman publicly on Twitter. Since then, Weiner has been one of the Internet's favorite punching bags. 
News of Weiner's latest sexual exploit has spawned one Twitter parody account, @carlosthedanger, and the hashtag #WeinerPickupLines. 
And who's registered CarlosDanger.com? Apparently it was TV personality Glenn Beck's company, the New York Times' Brian Stelter tweeted. The site redirects to a YouTube video supporting mayoral candidate Dunkin Schoanhauer. 
Check out a few of the best tweets below. The name "Carlos Danger" has also been mentioned 5,300 times. 
#WeinerPickupLines Hey girl….would you like to flirt with a little Danger?

— Proud Libertarian (@ZJConley) July 23, 2013
(2 of 2) "When you're in New York look behind you/'Cause that's where Carlos Danger's gonna be." — theme from TEXTER CARLOS DANGER

— Patton Oswalt (@pattonoswalt) July 23, 2013
My name is Danger, Carlos Danger. Because Danger is my mid… my last name. #WeinerPickupLines

— Stephen Green (@VodkaPundit) July 23, 2013
The names Danger. Carlos Danger. #WeinerPickupLines

— RB (@RBPundit) July 23, 2013
UPDATE: At a press conference with his wife, Huma Abedin, Weiner owned up to sending the photos and messages in question. He said he engaged in the behavior both before and after his resignation. Weiner will not be pulling out of the New York City mayoral race as a result of these revelations.
Photo by bosstweed/Flickr