The encrypted messaging app all the cool kids use just got even better.
Signal, which provides users with end-to-end encryption for secure messaging, released on Tuesday a standalone desktop app that frees users from the frustrating confines of Signal's clunky Chrome App.
Signal Desktop is available now for PCs running 64-bit Windows 7 and up, MacOS 10.9 and up, and popular versions of Linux like Ubuntu and Debian.
If you're already a Signal user, getting the desktop version of the app is quick and painless. If you were using the Chrome App version, login to that version then launch the new desktop app and click "set up as Chrome App export" to port your data into the new app.
Those of you who stuck with the mobile version only should click "set up as new install" to get the process going. You'll need to launch the app on your phone and scan a QR code to finish setting up the app.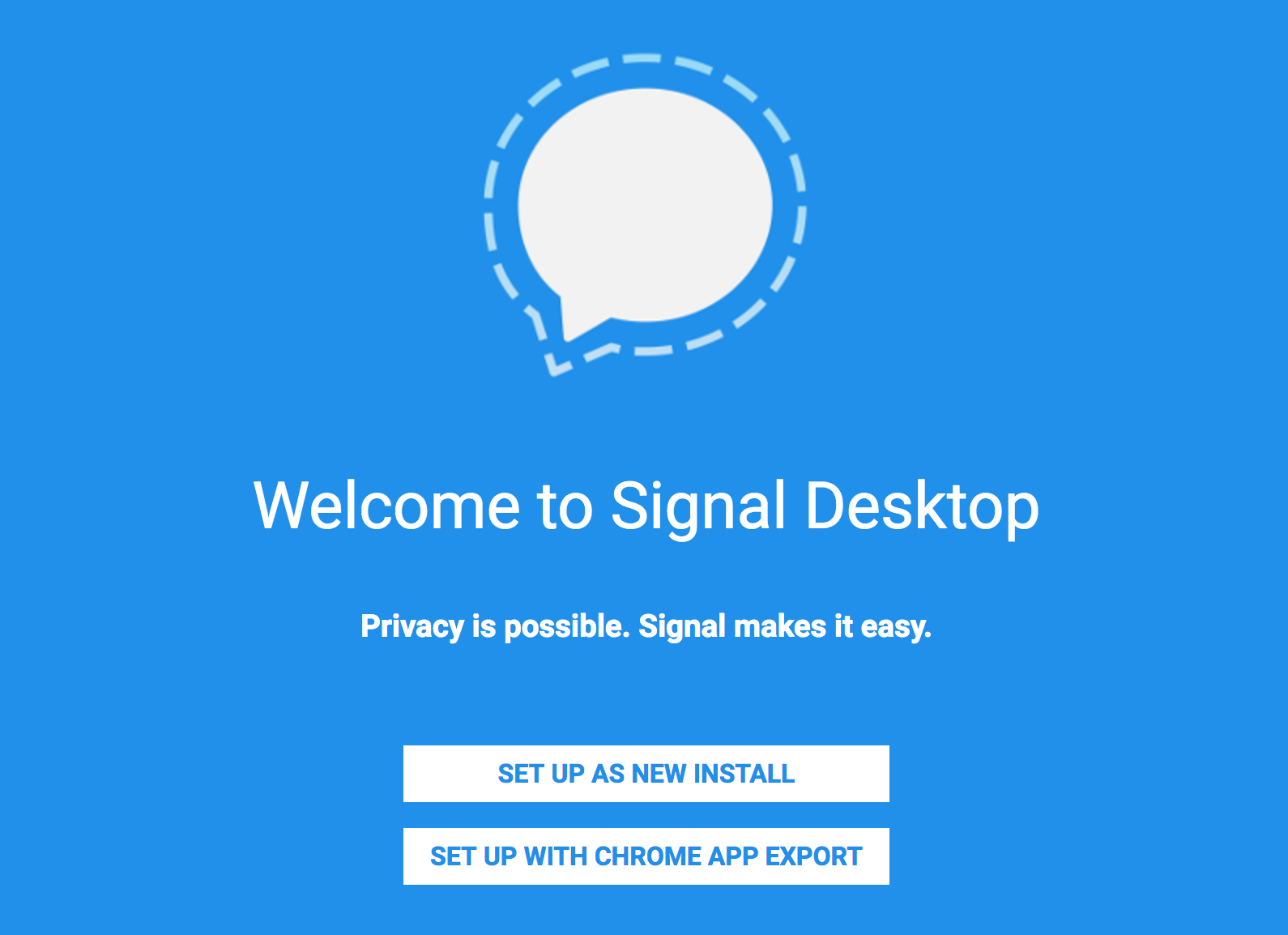 End-to-end encryption means your computer or smartphone scrambles data (like a text message) in a way that only the recipient of that data can unscramble it. That means anyone who might intercept your message cannot decipher what it actually says. If you use Signal, this whole process is entirely invisible, and you won't notice any meaningful difference between chatting on Signal and chatting on some other messaging app, in terms of sending and receiving messages.
While other messaging apps offer end-to-end encryption—Apple's iMessage, WhatsApp, and Viber are popular alternatives—Signal sets the standard for encrypted messaging, which is why it's preferred by people who need to ensure their conversations stay private, like journalists, members of the United States Senate and their staff, and staffers at the Environmental Protection Agency hoping to keep their conversations out of President Donald Trump's hands.
Signal's technology powers the end-to-end encryption feature in WhatsApp, one of the most popular messaging apps in the world. The difference between Signal and WhatsApp is that Facebook—a company built upon the collection of private data—owns WhatsApp, while Signal is an open-source app without any corporate entities hankering to get their grubby mitts on your data.
In fact, Open Whisper Systems, the company behind Signal, maintains so little user data that when the Federal Bureau of Investigation demanded data on two people, the company only had phone number and a log showing the most recent time that account had connected to the Signal system.
The downside to Signal for some is that it has very basic features. Like WhatsApp, you can set a timer to have messages deleted automatically; send texts, photos, and video; group chat; and even record audio messages. The mobile app also allows you to make voice calls. But that's about it—no fancy animations or doohickies that, in my view at least, would unnecessarily bog down the streamlined app.
After using the new Signal Desktop for just a day, I'm thrilled with the improvements over the Chrome App version, which was slow to load and often buggy. (Not to mention that you had to have Chrome running to use it, which isn't great if you prefer a different browser.) It loads quickly, syncs well with the mobile version to avoid lingering notifications, and uses very little memory.
The only thing to do now is, come up with something worth chatting about securely.