Fake news is still a sensitive subject.
Nearly 70 percent of people were concerned about the credibility of the news and where it comes from, according to a 2018 Edelman Trust Barometer, CNBC reports. People often expressed their concerns about fake news being used as a weapon to trick innocent people on the internet. And according to the Statista, 52 percent of respondents said they believed online news sources regularly published fake news stories.
While many are wary, one coder is leaning into the production of fake news—but not for the reason you might think
Justin Hook is behind online games like Google Feud and Push Trump Off A Cliff, the latter of which generated more than 26 million clicks, according to its website. His latest gimmick is a fake news generator website, launched in April, which allows anyone to input a headline, description, and photo to create a fake news article thumbnail that looks mostly legitimate.
"My thought was as long as fake news is easy to make, let's make as much of it as possible, and make it as silly as possible and make sure that what's going viral is harmless fun that draws attention to the real fake news that could be damaging and hurt people," Hook told the Daily Dot.
When you create one of his platform's fake news links, you can choose phony news site such as cbsnews.us, thenewyorktimes.company, theasociatedpress.com, and share on just about any social media outlet. If you click on the link, it will automatically reload to the website with a note: "You clicked on this fake news story! Now make your own." But in theory, you could fool less astute friends, family members, or colleagues with fake articles—especially if they only read the headline.
Hook, 31, has been working in the TV industry for the past decade. Based in Los Angeles, he was a script coordinator and freelance writer for Bob's Burgers for four years. Now he works as a writer and producer for game shows, including Beat the Internet With John Robins, for British channel UKTV.
He said the main inspiration for creating the fake news generator was to promote productive conversations among people to point out what is a fake news source or not. Hook said his website is very transparent because the links that people generate inform anyone who clicks that the headline is fake. But, of course, there's a chance that people won't click.
https://twitter.com/epicslow/status/1038291012404342784
A recent story created by Hook had more than 2,000 likes and 1,000 retweets. The headline and short description claims that a Chinese mobile game was banned in a New Jersey high school due to "promiscuous images of women" using assault weapons in the game. Needless to say, this is not an actual article. It's obvious even by the URL, cbsnews.us, which is not an existing news source.
But some people replied to the tweet, thinking it was real information.
funny I play the game at my school the long time ago also my teacher saw I played the game and he ignore it. also, wonder what part of New Jersey is this from

— sniper201minecr (@sniper201minecr) September 9, 2018
Idiot teachers.
Sure taking the phone away is fine but offended that girls with guns?

Oh perish the thought.

— Your friendly neighborhood dapper fox (@Straitfox) September 9, 2018
What a sickening story

— Henskelion (@henskelion) September 8, 2018
Others quickly pointed out the article was troll work.
https://t.co/s09qrHv0mw is a literal fake news website, replies gotta chill

— Pasuno (@Pasun0) September 9, 2018
https://twitter.com/holupitsaurelie/status/1038534656306466816
Hook isn't too concerned about the people who take his fake news at face value.
"All I can do is to make the website be a public service, not a public menace," he said. "There's no grand design behind it. It's a very simple thing, but I'm doing my best with making it for good, not for evil. But ultimately fake news is an evil thing that is perpetuated by people and I don't think evil people will want to use this generator because it's so transparent."
Hook said the fake news link cbsnews.us, in particular, shot up to 1 million visitors in the beginning of September (screenshots from Google Analytics and Cloudflare seem to confirm the statistics). He's not sure what caused the spike. He also said most people accessed his site through Facebook and Twitter on their mobile phones.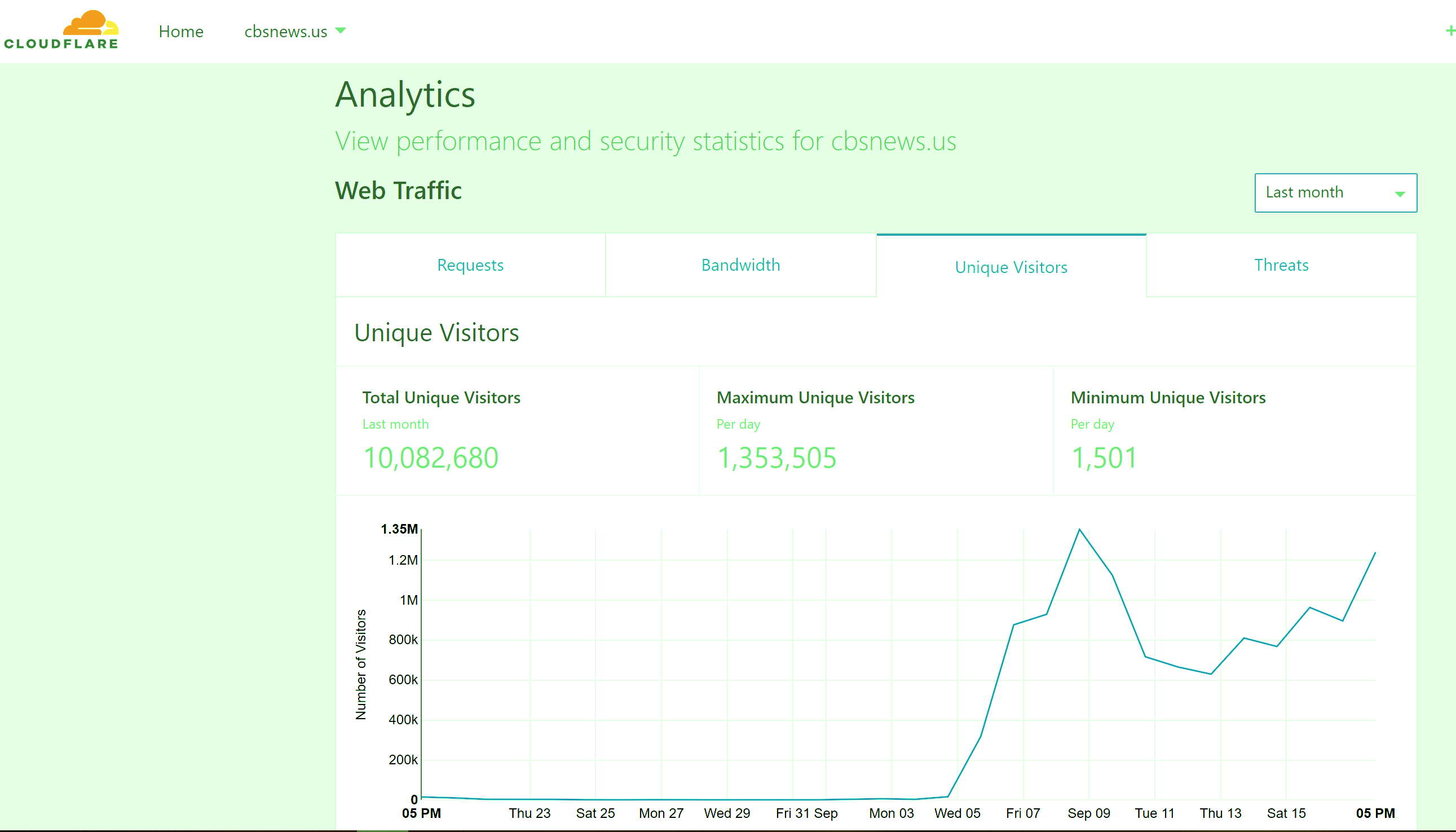 Hook speculates that most who use the fake news generator are pranksters or trolls trying to outsmart their friends. Perhaps it's counterintuitive, but he hopes that his website will help raise awareness about fake news—not perpetuate it.
"I think this is something that we can all get behind," Hook said. "You know, Republican or Democrat, everybody wants the best possible person representing them. We all have to recognize it as a tool that can be used by either side."