This week, it was reported that Donald Trump Jr. had direct contact with WikiLeaks during the 2016 campaign. Did he do this in a dark parking garage a la Deep Throat? Did he send a raven on his behalf like Varys on Game of Thrones? No. He DMed with them on Twitter.
This is just one of the ridiculous things that Don Jr. has done lately. In fact, his amateur PI work during the campaign was just the beginning of his sheer stupidity on the public stage. Whether on Twitter, Instagram, or IRL, Donald Trump Jr. manages to bring shame upon his family at every turn. Let's look at the many ways that Don Jr. has been a national embarrassment this year.
1) Defending his WikiLeaks communications on Twitter
Not only did Don Jr. DM with WikiLeaks, he asked his father to carry out marching orders from them fifteen minutes after they made a request. On Oct. 12, 2016, WikiLeaks sent him a message reading, "Hey Donald, great to see you and your dad talking about our publications. Strongly suggest your dad tweets this link if he mentions us."
Fifteen minutes later, the President tweeted this:
Very little pick-up by the dishonest media of incredible information provided by WikiLeaks. So dishonest! Rigged system!

— Donald J. Trump (@realDonaldTrump) October 12, 2016
What does strategic mastermind Don Jr. do after numerous outlets including the Atlantic and the Washington Post report on his dialogue with WikiLeaks? He tweets out his entire correspondence with them.
Here is the entire chain of messages with @wikileaks (with my whopping 3 responses) which one of the congressional committees has chosen to selectively leak. How ironic! 1/3 pic.twitter.com/SiwTqWtykA

— Donald Trump Jr. (@DonaldJTrumpJr) November 14, 2017
We are by no means legal experts here at the Daily Dot, but this seems… unwise.
2) He tweeted his emails from a Russian lawyer  
The WikiLeaks communications were not the only intrigue that Don Jr. got himself into during the election. During the summer of 2016, Don Jr. met with Natalia Veselnitskaya, a Russian lawyer who claimed to have Kremlin connections. That this lawyer was introduced to him by a music producer should have been enough to deter him, but even after the lawyer promised information to "incriminate Hillary" courtesy of the "Crown prosecutor of Russia," Don Jr. still took the bait.
After becoming a laughingstock in the media (one journalist said, "Don Jr. is why Nigerian email scammers keep trying their luck."), Don Jr. released screencaps of his conversation with the Veselnitskaya, further fanning the flames of ridicule.
Here's my statement and the full email chain pic.twitter.com/x050r5n5LQ

— Donald Trump Jr. (@DonaldJTrumpJr) July 11, 2017
He claimed he was doing it to "scoop" the New York Times. That's not what that word means.
3) He hunted prairie dogs on Earth Day
While many in politics carefully consider every public action, anticipating the blowback from even the slightest faux pas, Donald Trump Jr. takes a decidedly different approach. He celebrated Earth Day this year by hunting prairie dogs. Just a few weeks before, a federal appeals court ruled in favor of protecting the threatened Utah prairie dog. But that isn't all. He went on the hunting trip with then Montana congressional candidate Greg Gianforte, who would gain notoriety for body slamming a reporter one month later. Gianforte went on to win his election by a comfortable margin. USA!
4) He wore this shirt once
https://twitter.com/DonaldJTrumpJr/status/853341481175789571
Look at that shirt.
5) He urged people to vote the day after an election
On the morning of Election Day on November 7th, Donald Trump Jr. urged Virginians to vote… tomorrow. Twice. One was less explicit. Perhaps here he was referring to when the results would be tabulated. 
Let's take @EdWGillespie across the finish line tomorrow! Virginia: get out and vote for Ed & entire @GOP ticket #VAGov #VA

— Donald Trump Jr. (@DonaldJTrumpJr) November 7, 2017
But this one, which he deleted, left no question.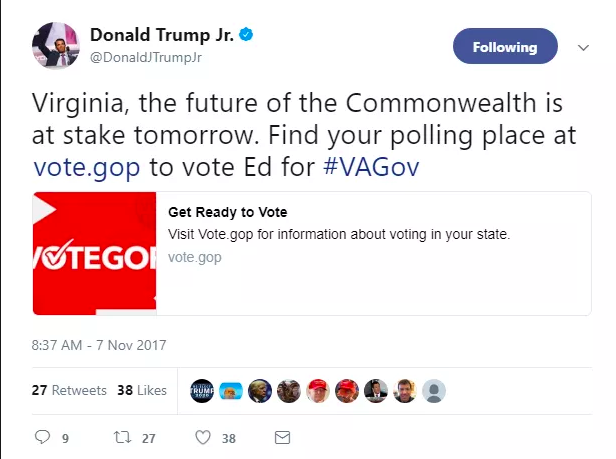 Nice.
6) He said Pizzagate conspiracy theorist Mike Cernovich should win a Pulitzer 
Congrats to @Cernovich for breaking the #SusanRice story. In a long gone time of unbiased journalism he'd win the Pulitzer, but not today!

— Donald Trump Jr. (@DonaldJTrumpJr) April 4, 2017
It is no secret that Don Jr. follows and routinely favorites controversial conservative figures on Twitter. He even went as far as to say that far-right blogger Mike Cernovich should be awarded the Pulitzer Prize, for his scoop about Susan Rice. Cernovich is perhaps most famous for spreading the baseless Pizzagate story, which accused a number of prominent Democratic party members of running a pedophilia ring. Cernovich's work likely led directly to an armed gunman walking into DC area pizza shop Comet Ping Pong in December of 2016, delusionally thinking he was going to liberate imprisoned children.
Things perhaps the committee should consider.
Maybe.
7) He tried to make Halloween about socialism
I'm going to take half of Chloe's candy tonight & give it to some kid who sat at home. It's never to early to teach her about socialism. pic.twitter.com/3ie9C0jv2G

— Donald Trump Jr. (@DonaldJTrumpJr) October 31, 2017
On Halloween, Don Jr. dragged his poor daughter into his web of bad tweets. He posted that he was going to take half of his daughter's candy and "give it to some kid who sat at home" to teach her a lesson about socialism. Don Jr.'s metaphor doesn't really hold up when you consider that Halloween candy is handed out for free, just like healthcare in this country should be.
8) Then he also dressed like his dad on Halloween
Nothing says "well adjusted normally functioning adult man" like dressing up as your father for Halloween. Though it's not surprising that Don Jr. doesn't have many other heroes to look up to, considering his life largely been about occupying a corner office in his father's shadow, this is sad, even for him. We're not sure if its the incredibly cheap mask or the patriotic spandex, but this is one of those images you can't unsee.
Imagine dressing up in a spandex American flag onesie and a cheap plastic mask of your own father's face and thinking you owned anyone pic.twitter.com/rfvY8naZRu

— Scott Wampler™ (@ScottWamplerBMD) November 1, 2017
This story really didn't get enough attention thanks to his candy tweet. Don Jr. is truly too dumb for the media cycle to keep up.
9) He posted this Instagram deadlift video 
Don Jr. took a break from bumbling his way through political intrigue to post a deadlifting video on Instagram. You might be thinking, "This is more douchey than it is stupid." Just wait.
Emily Price at Lifehacker did the Lord's work of analyzing the video from a fitness perspective, and found that in breaking his personal record, Don Jr. "hit five out of seven common beginner deadlift mistakes."
10) Don Jr. doesn't know how photographs work
I, too, casually arrange photographs of my 100 children to face outwards so I can only see the backs of frames pic.twitter.com/Pa0cHP5ayj

— Ashley Feinberg (@ashleyfeinberg) September 8, 2017
HuffPost's Ashley Feinberg is a tireless chronicler of the Trump family's stupidity. In September, she found this photo in which Don Jr.'s family photos are facing away from his desk.
Wow.
And while all this may seem tough to top, he's still got at least three more years in the public's eye.