King of the Hill ended its 13-season run in 2010, with Hank, Bobby, Dale, Boohaumer, and the rest of the gang eating steaks in the backyard of the Hill residence, as the sun slowly set behind them.
But did one man in that shot have a secret the entire time? All while he was hanging with the gang, sipping beer in front of the fence, was he was also running a conspiracy-peddling website and radio show that presaged our scourge of fake news and misinformation which calamitously changed the 2016 election and thus the face of America.
Or, to put it another way, is Bill Dauterive, our boy Billdozer, also Alex Jones? On the face of that, it seems absurd. Or does it? While Bill may be a fictional cartoon, Jones is a cartoonish character who exists in his own fictional universe.
Then there's this stunning side-by-side.
https://twitter.com/brentknepper/status/991306273168740352
That is a jarring comparison, even factoring in the baldness, which is nothing InfoWars' Bio-PCA with Zinc Orotate to promote healthy hair growth (allegedly) can't solve.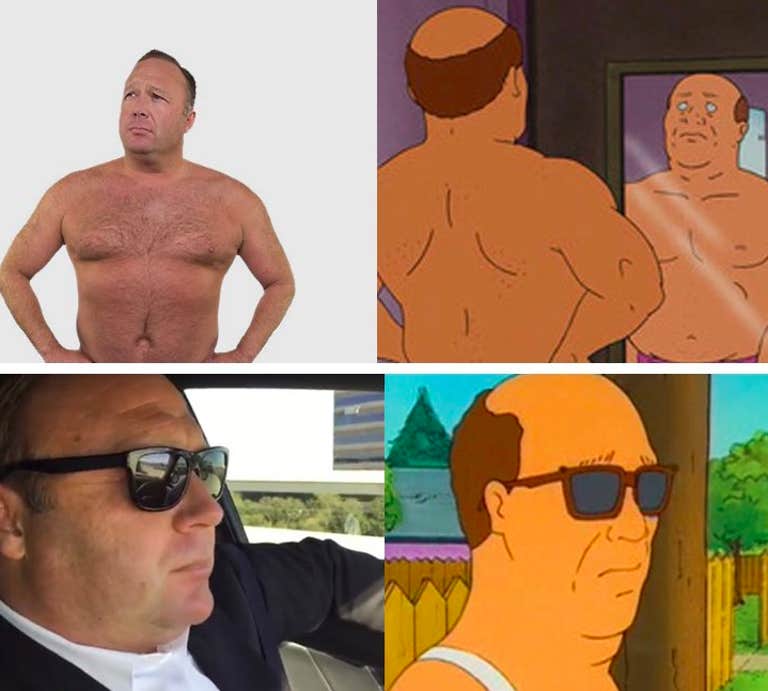 It seems so … possible. But the comparisons are much more than skin deep.
Read a couple of these biographical details and try to discern whether they come from Alex Jones' regaling you about his past life or the sad story of Bill Dauterive.
His father was abusive, spanking him regularly, locking him in a rabbit hutch and making him wear dresses.
He was unknowingly part of a government experiment called "Operation: Infinite Walrus" to create a hybrid soldier capable of operating in freezing cold waters. The experimental drugs he got caused his weight gain, excessive body hair, and terrible body odor.
He has emotionally masochistic tendencies and is often depressed and lonely.
He is overwhelmingly patriotic and cries when an American flag is burned.
Those are all from Bill's Wikipedia page, but damn if 100 percent of those don't sound like Alex Jones.
Face it, King of the Hill's most downtrodden character is secretly one of the most influential people in the world. It's canon.