The entire internet was wrapped up yesterday in the now famous "Yanny vs. Laurel" debate, and though the Air Force couldn't pause its bombing campaign in Afghanistan because of it, that didn't mean it didn't want to get in on the "fun."
In a now-deleted tweet, the Air Force joked that anyone on the ground in Farah, Afghanistan, couldn't hear Yanny or Laurel because all they could hear were the roar of U.S. bombs.
Ha ha get it?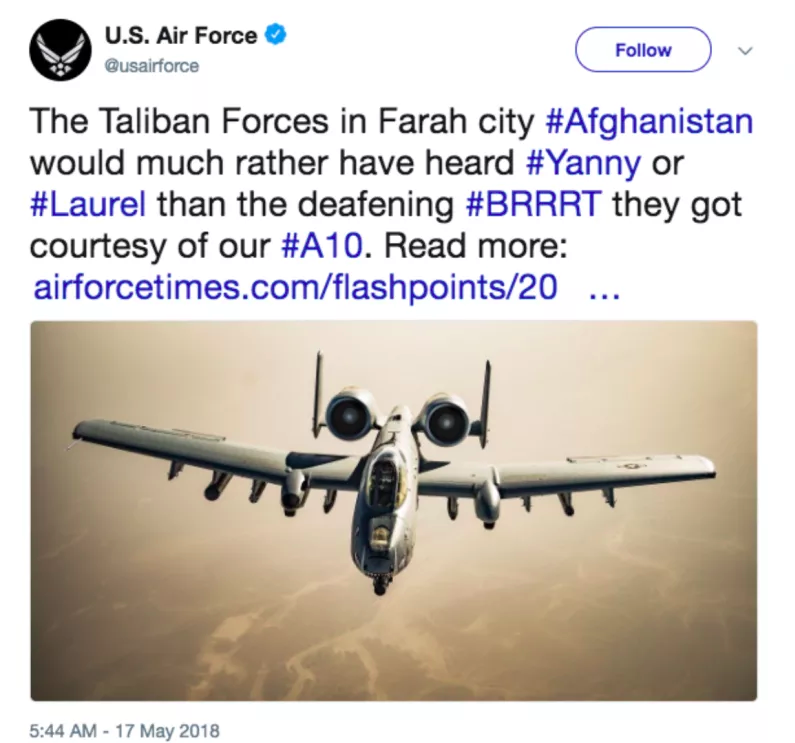 The linked article discussed how A-10 Warthogs were brought in to help repel a Taliban attack.
The A-10s conducted shows-of-force, while MQ-9 Reapers struck multiple targets. Afghan A-29 light-attack aircraft and Mi-17 helicopters "conducted the majority of strikes," Army Lt. Col. Martin O'Donnell, a U.S. forces in Afghanistan spokesman, told Military Times.
The tweet has thankfully been deleted because, naturally, using a meme to kid about killing people didn't go over great online.
thanks for the lovely reminder that we are why god has abandoned us! https://t.co/E9p5yLxYtt

— clover (cram salesman) (@deityhearted) May 17, 2018
https://twitter.com/MC_Nyberg/status/997169896273268737
https://twitter.com/Cha1rman_M30W/status/997167747950960640
As the outrage grew, the Air Force issued this apology.
We apologize for the earlier tweet regarding the A-10. It was made in poor taste and we are addressing it internally. It has since been removed.

— U.S. Air Force (@usairforce) May 17, 2018
It's not that hard. Memes are funny. Brands using memes are less funny. Brands using memes to talk about killing, the least funny.