The hashtag #WouldYouHideMe started circulating on social media this week, prompting posts from Jewish and non-Jewish people about what they would do in the event of another Holocaust.
Fashion influencer Ellie Zeiler attempted to raise awareness around the controversial hashtag earlier this week—and ended up turning off her comments on TikTok after facing a wave of backlash.
Viral TikTok faces backlash
Zeiler, who has more than 10.7 million followers, attempted to explain the hashtag #WouldYouHideMe, which started circulating on TikTok and X in the last week.
"It means that Jewish people all over the world are under attack," Zeiler said. "And we are so scared that another Holocaust is going to happen."
On Oct. 7, Palestinian militant group Hamas launched a surprise attack on Israel, which resulted in civilian deaths and hostages. Israel then declared war on Gaza and subsequently shut off water, electricity, and fuel supply to the region, which was already labeled an "open-air prison."
Zeiler says in the video that "the Nazis were a terrorist organization, similar to Hamas," which commenters pushed back against. The Nazis were an authoritarian regime that held great power and influence.
Zeiler also filmed the video in what looks like the luxury bathroom of a hotel or home, wearing a full face of makeup.
Singer Kehlani, who's been a vocal advocate for Palestinians during the conflict, reposted a tweet that criticized the optics of this shot: "Fresh beat, fresh manicure, in a hotel, a ring light set up while you film yourself peddling propaganda about how you're scared for your life with perfect angle, while Palestinians are filming surrounded by bodies."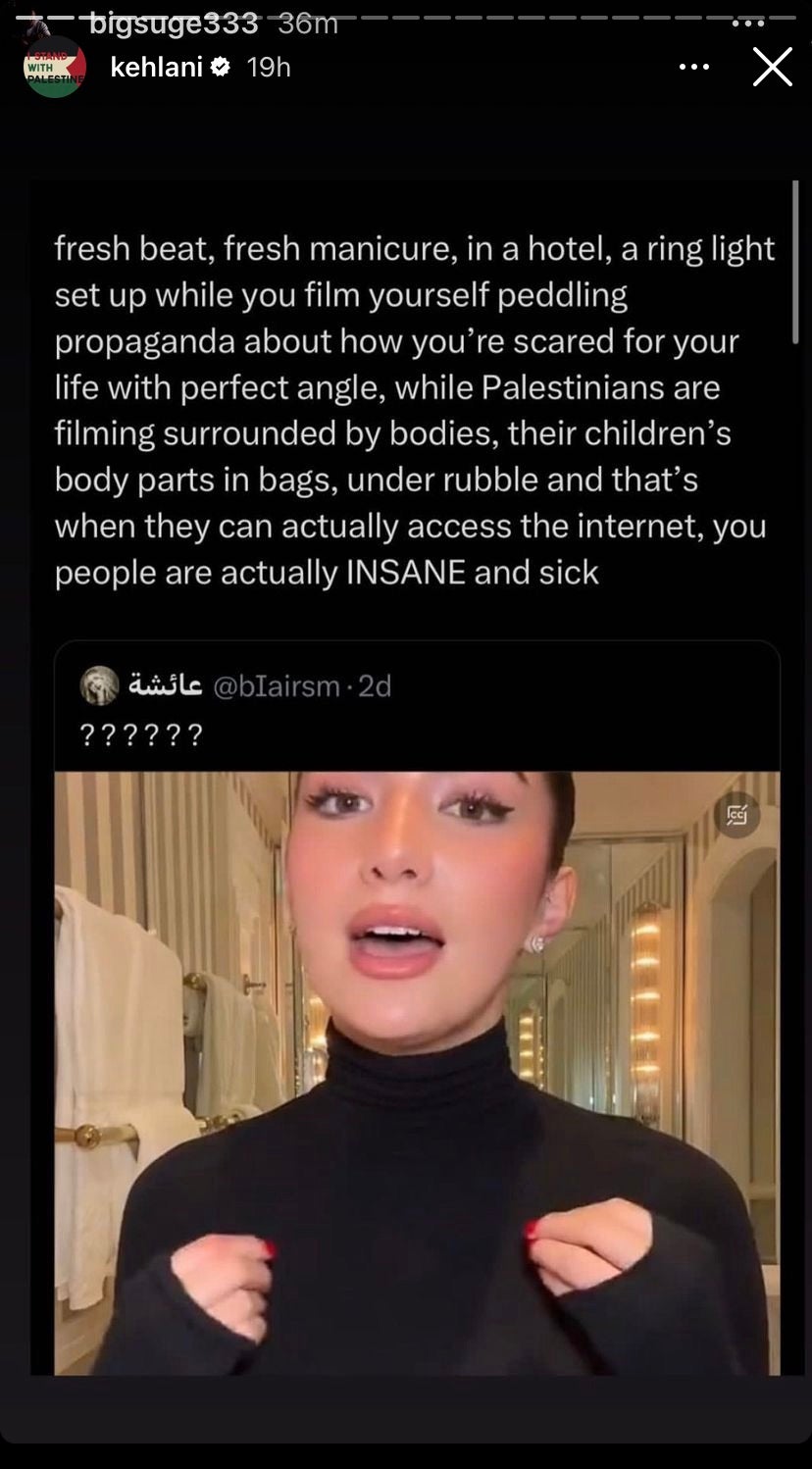 The comments on Zeiler's TikTok, which has more than 750,000 views, have been turned off, likely due to the volume of backlash she received. TikTokers still responded with stitched videos.
"Meanwhile, the people of Gaza can't even get internet access, no fresh water," said @hershiiliqcour in a stitched video.
"Yes, antisemitism is on the rise and that is scary," said @chillingadventuresofsab in another stitch. "But it's on the rise because Israel perpetuates the myth that it stands for and protects all Jews, and then it's committing mass murder in our names. … We have to stand arm-in-arm with our Palestinian comrades, our Muslim comrades. Because our liberation is tied."
Commenters called out the cognitive dissonance of expressing anxiety about another Holocaust happening to Jews when Palestinians are currently under attack. The Daily Dot reached out to Zeiler for comment.
The origins of #WouldYouHideMe
The #WouldYouHideMe hashtag has more than 800,000 views on TikTok, and it's been posted by several high-profile X users who answered whether they would hypothetically accept Jews into their homes in the event of another Holocaust.
The first usage of the hashtag on X appears to be Oct. 31.
Meghan McCain, who is not Jewish, shared the tag. "What starts with the Jews never ends with the Jews," she wrote. "Hamas and Isis are threats to all of us."
There's already dubiously sourced info about where the tag is coming from, with one post claiming an "unknown org" is "paying influencers hundreds of dollars each to post it." Compounding this are fake accounts amplifying misinformation about events in Gaza.
While she hasn't shared the hashtag, this week comedian Amy Schumer was called out for weeks of anti-Palestine posts and for harassing actress Asia Jackson, accusing her of antisemitism.
Schumer was criticized for centering herself, and not the people suffering in Gaza, in the post. The #WouldYouHideMe tag received similar criticism.
'Would You Hide Me?': The documentary
The hashtag echoes the former title of a new documentary from director Beth Lane, now called UnBroken.
As described on the film's website, the documentary "chronicles the seven Weber siblings who evaded certain capture and death, and ultimately escaped Nazi Germany following their mother's incarceration and murder at Auschwitz."
The documentary, previously called Would You Hide Me?, is a personal story about Lane's mother's siblings having to hide on a farm for two years to survive. It's now debuting at film festivals, including Doc NYC this month, as Lane tries to sell the movie.
Lane told the Daily Dot that this current campaign and the white wall/black text images circulating with it are not tied to her film, which was titled Would You Hide Me? up until August. Lane said she was asked to change the title to make it more accessible—but now regrets that.
However, she said she is "thrilled" about how #WouldYouHideMe is being used now.
"It's exactly the reason I made the movie," Lane said. "The whole reason I made the movie is because I started asking that of myself: 'Would I be able to hide you?'"
Lane said her production team had been using that hashtag for more than three years, but the events of Oct. 7 might have revived it.
A Would You Hide Me X account was created in October 2023, though it has no tweets and only 11 followers. Two of the accounts that follow it were also created in October 2023. Lane said this wasn't her team.
People engaging with the #WouldYouHideMe tag on X are also making racist and antisemitic comments.
"I absolutely stand with Israel, one thousand percent," Lane said. "I do believe that anti-Zionism is exactly the same thing as antisemitism."
She added that she "does not wish any bloodshed on any Palestinian family of any kind, but you also can't let Hamas do what it's done, because it won't stop at Israel. They will carry on throughout the world."
Many users across social media have pointed out, however, that there is a distinction between anti-Zionism and antisemitism. Anti-Zionism is applied to critics of the modern state of Israel. Antisemitism is hatred of Jews.
There's been a push to equate the two, but as Dave Zirin writes for The Nation, "to say that anti-Semitism is anti-Zionism is also a way of communicating the idea that Jews are by definition Zionists. This is dangerous and anti-Semitic, branding Jewish people as supporters of Israel's war on Gaza no matter our personal politics."
Regarding Zeiler's and McCain's posts, and the criticism they received, Lane said she sees "backlash as an opportunity.
"And although it's really difficult to have conversations with people that don't want to hear the other side, I think it's really important to hear the other side," she said.
Lane said the fact that McCain is a Republican, and Zeiler looks like a "reality television star," only helps them "bust out beyond the echo chamber" if it helps them get any cross-promotion with the film.
"The white Jewish elderly people love my movie," Lane said. "But they're not the people I made the movie for. … I just told my film festival strategist, I'm thrilled we got to Miami [for a film festival], but can we please go to Oklahoma? Can we please go to Idaho?"
However, Lane disagreed with the criticism that neither McCain nor Zeiler is in any real danger for their views.
A few of the #WouldYouHideMe posts reference a report from the Anti-Defamation League (ADL), claiming that antisemitic incidents have increased nearly 400% in America since Oct. 7.
The ADL tells the Daily Dot it doesn't know where the hashtag came from.
Update 12:39pm CT, Nov. 7: The official name of a film festival has been removed because the title has not yet been publicly announced.

We crawl the web so you don't have to.
Sign up for the Daily Dot newsletter to get the best and worst of the internet in your inbox every day.