A woman, being dubbed "Racial Profiling Karen," seemingly assumes a Black man is a drug dealer in a viral TikTok.
The man, who was racially profiled, recorded and posted the video to TikTok under the username @l.a123.
In the video, @l.a123 is in his car. He rolls down the driver's side window to a woman on a sidewalk and asks her what she needs. She tells him that she wants to buy a "dime bag of weed" from him. When he asks if she is a police officer, she tells him she's a "Sicilian Gypsy." He tells her to "hold on," before driving away with the money she gives him for the exchange.
"This is my motherfucking money now, bitch," @l.a123 says in the video. "I don't sell drugs."
Commenters focused on the creator being racially profiled.
"Props to you for taking her money just cuz she racially profiled you, thinking you had drugs," TikTok user @jan.soko wrote.



Others accused him of committing a crime by taking her money.
"The fact that you stole from a Gypsy… literal Karma right there," TikTok user @angelicar15 wrote.



The video was also shared to r/instantkarma, where the creator wasn't the topic of conversation. Rather, the woman's claim that she is a "Sicilian Gypsy," along with the racial and ethnic implications of their interaction, were explored. Redditors theorized that if she really is a Sicilian Gypsy, it's possible that living in an insular community of Romani may have misinformed her perception of Black people.
"What I'm trying to say is that there may be a lot of self swaddling going on in this community that we might not all understand," u/sneezed_up_my_kidney wrote. "This woman might have only seen black people on TV. This is no reason to drag her. It's a time to educate her. And this guy is looking for internet points."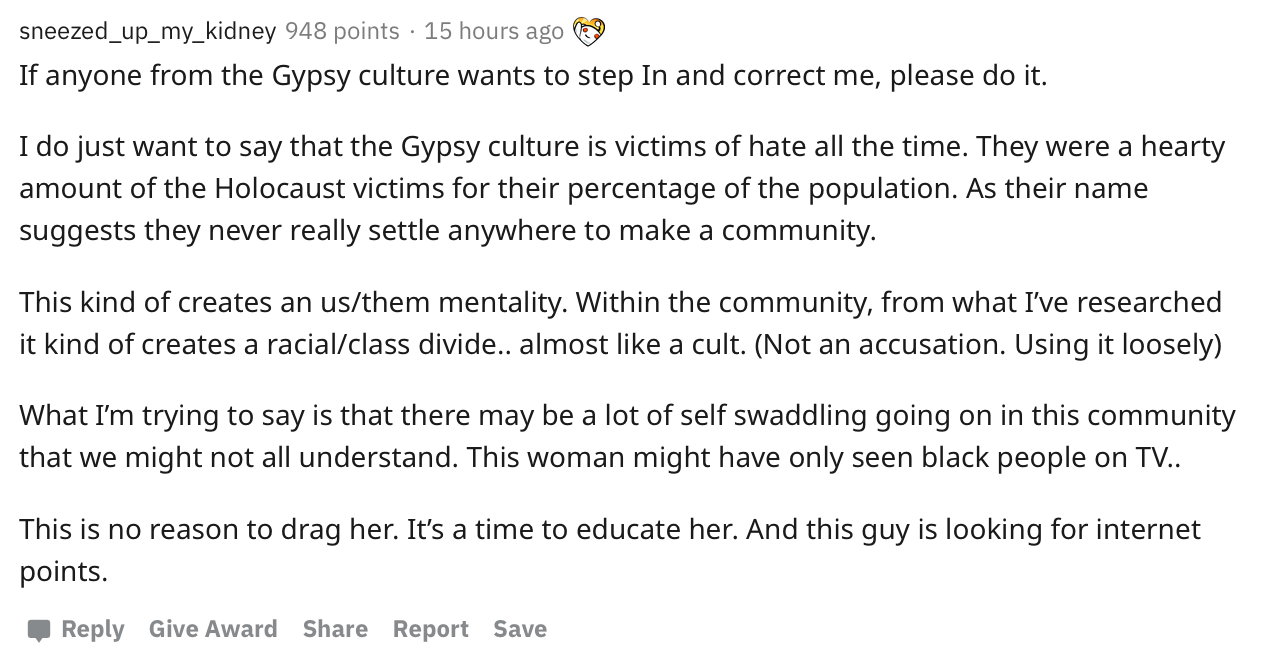 READ MORE: